Buddha Magic TV
The Official Channel of Buddha Magic Multimedia & Publications. Thai Buddhism, Animism,  Buddhist, Animist and Occult Amulets, Necromancy, Thai Lersi Hermits. Kata Chanting Tutorials, Thai Legends and Ghost Stories,
Enjoy Our Channel and learn about the Inner Secrets and Sciences of Thai Buddha Magic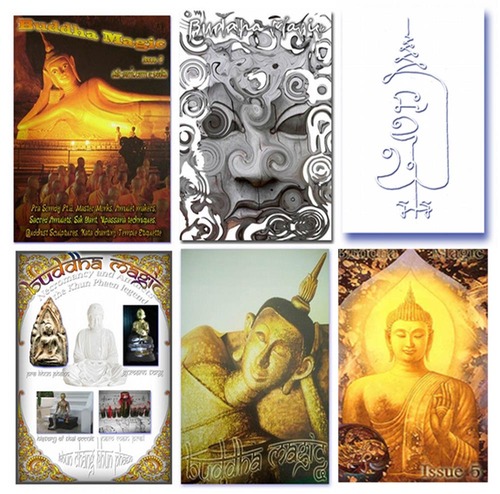 Sak Yant E Book + Buddha Magic 1 - 5 (Six Ebook Megapack save 32$)
SKU 00157
Product Details
Super Discount Pack featuring the first Sak Yant Ebook, and the first Five Issues of Buddha Magic, making up a total of nearly 850 pages of exclusive and fascinating info on all aspects of Thai Buddhism,. Deity worship, Sak yant tattooing, Animist practices and beliefs, Sacred Buddhist amulets, and a host of peripheral topics such as Pasa Khom and kata Chanting for amulets and deity worship, Monk Biographies and many more fascinating topics.
Save 32 dollars on this set. This is a digital download (virtual goods) and is in Ebook form, not print. This set would cost 111.94$ buying each book separately. whereas you can get all six books for the 80$ in this Mega Pack.
Buddha magic e-mag is very Thai Buddhist Amulet orientated, so for those who wish to learn about Thai amulets or are collectors, the e-mag should prove very useful indeed.
Occultists and Anthropologists will also find it a very useful reference work for their studies and projects, or for research for their own essays and manuscripts.
The First Issue began to form a structure of what topics were to be delivered as one-offs, with other topics requiring continuation in the following episodes. This came to be the main structure as the ezine developed each issue.
The subject of amulets and Thai Occultism was brought into focus with the first issue presenting some detailed info about the Pra Khun Phaen amulet and legends, Necromancy and Nam Man Prai Oil.
This first issue began the ongoing five part series which delves into the legends of the Pra Somdej amulets of Olden days Master Somdej Pra Puttajarn (Dto) Prohmrangsri, of Wat Rakang Kositaram
Amongst other things covered, the topics of how to practice and perform ceremonies is one of the main topics of the Ezine, which aims to help Buddhist people who are trying to practice the Thai form of Brahman influenced Theravada Buddhism properly, and wish to know more details on how to properly perform acts of reverence, praying, setting up the altar etc.
Buddhist art and sculpture is also a regular topic each issue. Biographies of Thailands greatest Master Monks, Folk legends, Deities, Rituals and Ceremonies, magic spells and animist effigies..
Each issue delves further and further into the myriad of Mystical arts to be found existing and being practiced in Thailand.
---
Buddha Magic Issue 2
Contents Issue 2
• Sacred Yant in Candle Magic; Yant Sai Tian - the use of Sacred Geometry in Thai Occult traditions. Part One of a two part Manuscript which starts with the history and design and in the second part, will cover the aspect of how to empower and activate the magic of an amulet using Kammathana methods and Jhana meditations using the Pra Piti Haa method of Wat Plab temple. Wat Plab was the place where most of the famous Gaeji Ajarn Master Monks we know to this day have passed through in order to learn the Wicha of how to empower amulets by mastering the Pra Piti Haa in the Hong Kammathan.
• Pra Sivali – The importance of the Great Arahant of wealth and Metta Mahaniyoms role in the development of the Buddha Sasana, and whose magic power to transform poverty into wealth has made him almost a Deity for those who seek great fortune and wealthiness. • Prataat Sivali – Sacred Buddha relics of the Arahant Pra Sivali.
• Pra Somdej Legends, History, Makers and recognition methods - part two of an ongoing mega series, which is later to be recompiled into one book exclusively dealing with Pra Somdej amulets.
• Pra Somdej, King of Amulets - Chapter Two of the Pra Somdej Mega Series on the six Eras of Somdej amulet Making, and their Makers. Both before and after the Pra Somdej Wat Rakang Era is discussed.
• LP Dto Prohmrangsri - Part 2 of the ongoing series which is published in each issue, along with the Pra Somdej amulet articles, which are related and intertwined, but published as separate ongoing series. These hope to become the longest and most detailed synopsis and literary evidence of the Dtamnan Pra Somdej Wat Rakang Amulets, its Maker, Somdej Dto Prohmrangsri, and the methods and related amulets and their makers which are connected to the Dtamnan.
• Phii Thai - Thai Ghosts; There are various kinds of Thai Ghosts, which are given a lighthearted introduction to in this short article.
• Pra Mae Torani Dharani Tales (Mother Earth) - The legend of Pra Mae Torani and her role in Thai Buddhist worship.
• Luang Por Dte Kong Tong - Master Gumarn Tong maker and previous Abbot of Wat Sam Ngam in Nakorn Pathom. Wat Sam Ngam continues to receive much recognition from devotees around the World for the Gumarn Tong which LP Dte's heir, abbot Luang Phu Yaem, is making and preserving the Wicha and tradition with.
• Tudong 13 - the thirteen practices applied in Thai Forest Tradition Tudong asceticism. • Tudong Tales - tales from various Master Monks as they were on Tudong - stories of Miracles or Enlightenment. This is first of a series of Tudong Tales, which will be appearing regularly in Buddha Magic, and will be recounting tales of Tudong Masters or renowned Monks from various Eras of Thai History.
• See Hoo Haa Dtaa – four eared five eyed animist Deity from Lanna Legends. This animist wealth bringer is one of the Lanna legends which makes Thai Culture so rich and intricately intertwined with various forms of Mysticism, so deeply influenced by the Buddhist, Animist, and Brahman Traditions.
• Pra Putta Roop Paed Samai – Eight Eras of Thai Buddhist Art and Sculpture. The eight Eras have already been explained in the first Issue of Buddha Magic E-Zine, and now each Issue will present a few sculptures of various Eras , which can be considered the most well known, rare, ancient or popular Buddha statues in Thailand. Statues that are worthy of both visiting for Cultural appreciation as well as for paying reverence to as memorial of the Buddha are presented.
This Issue presents the following sculptures;
• 1. Pra Putta Roop Hyok – the Onyx Buddha
• 2. Luang Por Wat Rai Khing. - Nakorn Pathoms Nationally famous Buddhist sculpture. Two legends concerning the History of this Massively revered Buddhist Sculpture built with the influence of Chiang Saen and Ratanagosin Eras.
---
Buddha Magic Issue Three
Issue three continued with the following;
1. Intro
2. Candle Magic used in Theravada Buddhism – Chapter Two; Tian Look Sagod Magic Bead
Candle Meditation and the Wicha of Wat Plab temple.
3. Pra Somdej – King of Thai Amulets - Part Three of the ongoing series about Pra Somdej amulets, all amulets of the Six Eras of Pra Somdej, covering various models from various accepted Masters.
4. Somdej Pra Puttajarn (Dto) Prohmrangsri (Wat Rakang Kositaram). Part Three of the
Biography and Legends of Somdej Dto Prohmrangsri, maker of the Legendary Pra Somdej Wat Rakang – King of Thai amulets. This third part of the series begins with what is perhaps one of Somdej Dtos signature works, and the subject of Legend – the 'Pra Kata Chinabanchorn' – The Chinabanchara Mantra.
This Kata is chanted by almost all Thai people everywhere in Thailand, and is considered to be one of the most Sacred Kata for Chanting - Kata Chinabanchorn - The Kata is transliterated for Chanting phonetically.
5. About Kata Chanting – The Benefits of Chanting Pra Kata - Chanting is an essential part of the Thai Theravada Buddhist Practice. The blessings and benefits of Chanting Kata are evident in various aspects of life. The Buddha himself stated that there are 5 ways to enlighten to any Dhamma or to become fully enlightened, and that one of them was whilst Praying, or Chanting Prayers.
6. Somdej Dto's Sermon on the Benefits of Chanting Prayers - Tan Jao Prakhun Somdej Dto Prohmrangsri was once invited to the Ngan Mahad of Jao Praya Sanpaetcharapakdee, in the times of King Rama 4, to give a sermon - this is the transcript of that Sermon (rough Translation).
7. Pra Kata Chinabanchorn of Somdej Dto - The Legend of the Chinabanchara and where it came from.
8. Pra Kata Bucha Khor Laap Jed Wan – Seven Day Chant for Luck and Riches – A set of seven Kata to be chanted during the whole week. It is a Kata to improve your Fortune and to increase Riches, as well as acquiring Metta Mahaniyom charm and Happiness, Respect and related Auspicious Blessings.
9. Kata For When Luck and Business Sales are Down; Ancient Kata from the hand of Por Hnaan Bun Ban. The Kata is called 'Montr Kaa Khaay Bpen Dtok, meaning 'Kata to sell till you drop'
10. How to Empower Nam Montr - Methods for making your own Magical Prayer Water (Nam Montr) using Kata Chanting (and candles as an optional addition)
11. Kata for various Deities; Brahma, Garuda, Naga, Vishnu, Pra Laks, Various Ruesi (Por Phu Narot, Por Phu Narai, Por Phu Hnaa Suea).
12. What to offer the Deities – The necessary offerings for making Bucha to the Deities. How to make Bucha offerings to the Ruesi Deities.
13. About Animal headed Ruesi; Legends of the Monkey, Tiger and Deer Faced Ruesi Deities.
14. Naga Head Ruesi – Pra Rasi Gasirotha
15. Kata Pra Laks Hnaa Tong - The Mantra for Pra Laks - Deity of attraction charm and luck.
16. Deity Portrait - Pra Laks - In Thai Culture and spiritualist belief, there is a very popular and
powerful magical charm and incantation which bears the Name of Pra Laks, called 'Na Hnaa
Tong' or 'Na Pra Laks Hnaa Tong'. This means literally "Golden Faced Pra Laks".
17. Various Kata for Riches
18. Kata for Deity Taw Waes Suwan – The correct Mantras for Lord Taw waes Suwann,
Northern King of the Jatumaharachiga Realm, iconic Asura Deity of the those with great riches.
19. Kata Hua Jai - Important Heart Mantras - short abbreviated easy to remember, but extremely powerful root Kata to chant and invoke your protective, healing or charming energy with.
20. Saan Pra Poom – Saan Jao Tee Jao Tang, Saan Prohm – Spirit Shrines; A shrine house for the local spirits, ghosts or Deities to reside in. Almost every Buddhist home has one of these in Thailand.There are three main forms of spirit house; Saan Pra Poom, Saan Jao Tee and Saan Prohm; This article explains in great detail (10 pages) about this tradition and the ceremony which is performed to invoke the Deities.
21. Pitii Gruad Nam – Pouring Water Ceremony to offer Fruits of your Merits to the Dead; What instruments to use for Gruad Nam? When is the best time to perform Gruad Nam Ceremony?,Benefits of Dedicating Merit. Dtamnan Gruad Nam – legendary Origins of the Ceremony.
22. Dto Hmuu Bucha – How to set up a tiered Bucha Altar Thai style. A detailed synopsis of the correct methods for setting up a sacred Altar for practice using the tiered Thai Bucha tables known as 'Dto Hmuu Bucha'. A useful article for those wishing to know the proper method for setting up an Altar according to Thai Theravada Tradition.
23. Luang Por Kasem Khemago - Tan Khemago Bhikkhu (Luang Phu Kasem, or, Luang Por Kasem, Khemago), is an extremely revered monk of the Lanna tradition who the is considered one of the greatest Ajarn of modern Thai history, and has a massive and devoted following in the North of Thailand (and indeed all over the country). His devotees believe that to pay reverence to him or wear his amulets, results in receiving protection and safety wherever they go. His amazing dedication to his practice and purity is common knowledge with Thai people, which is easy to see since the very beginning of his path as he gave up the title of abbot of the temple and went to practice Vipassana Kammathana forest tradition methods residing in an old cemetery in the forest on a mountain side, which is where heremained practicing in humility and simplicity to the end of his mortal days.
24. Pra Putta Roop Bpaed Samay - Continuation of the series; 'Eight Eras of Buddhist Art and Sculpture', which began in Issue one with a full synopsis of the Eight Main Artistic Eras of Thai Buddhist Art and Sculpture, and continues every issue presenting different Buddha Statues from Different Eras and Cultural Styles, and the story behind their origin. This Month the following Two Sculptures are presented;
25. Pra Luang Por Dto - Luang Por Dto is a classic example of Sukhothai Period Sculpture.
26. Luang Por Tong Kam - late Ayuttata Period Buddhist Sculpture
---
Buddha Magic Issue Four has over 100 Pages of Full Color Articles about Thai Occult and Buddhism, Sacred Amulets, Master Monks and Temples, Buddhist art and sculpture, Thai Mythology and much more. This was the first ever of Spencer Littlewoods Ezine Publications, which are now slowly enjoying a Cult status and ever increasing popularity for the depth of revealing information on the Mysteries of Thai Occultism and Ancient Mystical Traditions. Thai Buddhist amulets are a major theme of the Ezine, and has a treasure trove of rare and detailed information for the student of Thai Sacred Amulets, to aid in recognition, appreciation and evaluation of Thai amulets. Thai Master Monk Biographies, Sak Yant, Buddhist Ceremony and practice, How-Tos, sacred geometry, Kata Chanting, Deities, Magic Spells…
Preview some screenshots of Issue 4 Below
Contents Buddha Magic Issue Four

Yant Duang Pichai Songkram – the great Yantra to win Wars – The legend of the most powerful and sacred Yantra in the eyes of Thai people. A Yantra design with Astrological permutations which was once only reserved for Royalty and high ranking officers of the Royal Palace.

Dtamra Duang Pichai Songkram – before modern War Strategy was introduces in the Twentieth Century, Thailands Military used a mix of Strategic Positioning using sacred geometrical shapes in the form of Animistic Yantra which had been drawn out in auspicious astrological alignments, and Sacred Buddhist Kata and magical ritual on the battlefield.
Luang Por Pratueang – Wat Daan Jaroen Chai – Biography of the Sak Yant master whose habit of using a Katana knife to test the magic of his tattoos on the Looksit became so legendary that the catchphrase 'Saeg Laew Sap' (cast spell then chop with a knife), was coined for his style of Sak Yant blessing. This article covers the biography of Luang Por Pratueang and his role in the History of Sak Yant tattooing – his Looksit who continue the Lineage of Sak Yant at Wat Daan Jaroen Chai are also documented, as is their work in Sak Yant tattooing.
Nang Gwak – 2 different legends tell differing tales of the origins of the lucky lady of Merchants and salesmanship, which is so often seen in Thai shopfronts and places of business, as well as in almost every home.
Somdej Dto Prohmrangsri – Chapter five of the ongoing Biographical tale of Jao Prakhun Somdej Pra Puttajarn (Dto) Promrangsri (Wat Rakang Kositaram)
Pra Somdej King of Thai amulets - part four of the ongoing series covering all Pra Somdej from all six Eras of Somdej making history. This issue deals with Pra Somdej Wat Gaes Chaiyo Pim Hok Chan and Jet Chan, and uncovers some of the main criteria used in discriminating authenticity and age through examining the Muan Sarn within various Pra Somdej Wat Gaes Chaiyo amulets as a means to fine tune the eye into recognizing the subtle differences of discolouration, dryness, hardness and shape of the various Pim Song which were made by Somdej Pra Puttajarn Dto Prohmrangsri, and hidden in the large Buddha image at Wat Gaes Chaiyo.
Use of Incense in Thai Buddhist Ceremony and Prayer – instructions in how to use different numbers and colors of incense and candles to symbolize different motives. What each number of incense sticks means, and how to pray with them.
Wicha Sak Yant of Luang Por Guay, Wat Kositaram – Biography of Luang Por Guay with a special focus on his practice of Sak Yant tattooing. This story is a two part Biography of the great Master of Wat Kositaram, whose Sak Yant and amulets were so very famous for their power.

Siarn Bucha Kroo Duryataep – The Duryataep, Brahman Deities and Ruesi masks are used in Yearly Wai Kroo ceremonies, not only in Magical Arts, but also the Performing and Engineering professions, as well as other respected pastimes such as teachers. Teaching profession is perhaps the most logical profession to have a Wai Kroo for, due to the fact that the word 'Kroo' means 'Teacher' and 'Wai' means 'raise hands in reverence'
Buddhas Body Parts – Thailand has specialized terminology for the anatomical features of a Buddha image – this article is a phonetic transcription of how to pronounce the names of various anatomical features of the Buddha, using Auspicious terminology according to traditional Dogma.
The Minor Arcana of Yant – part one of a continual series of presentations of lesser known Yantra designs used in Sak Yant tattooing, and Buddha Magic in general. This issue presents two smaller Yantra, one for Love charm and good commerce and one for Merchant seamen and people who do business in boats or floating markets. Magic spell-casting methods are included for the first of the two designs – Yant Sariga Lin Tong.
Pra Putta Roop Bpaed Samay – two more Buddha sculptures from the series of articles compiling the eight Eras of Thai Buddhist art and Sculpture. This issue presents us with an ancient statue from Lopburi; Pra Sae Dtangka Manee, and a twin pair of wooden carved sculptures from Wat Okas in Nakorn Panom.
All E-publications are now distributed through Thailand-Amulets.net, who now serve you a private download link to your ebooks immediately after completing payment with no waiting. Your download is a single download, but don't worry, if you pause it and restart later, it will resume (albeit from the beginning again) the download. The Download link is valid until you complete the download.
Buddha Magic 5
Issue five completes the first set of five Volumes. The second set of 5 Volumes will begin in 2012, with no continuing episodes, rather each issue will have complete stories in them. This issue is a Bumper Issue with 153 pages crammed with amazing info on Thai Occult Mysticism, Buddhist Ritual, and Sacred Amulets.
Contents of Buddha Magic Issue 5
1. Pra Somdej – King of Thai Amulets – The fifth, and Final episode of the Pra Somdej Saga and the Biographical section about Somdej Pra Puttajarn (Dto) Prohmrangsri of Wat Rakang – This last episode reveals a host of information on how to examine and recognise the Pra Somdej Wat Bang Khun Prohm Chedi Yai and 2509 Edition amulets, as well as continuing to reveal more essential information on the Pra Somdej Wat Rakang.
2. Piti Puttapisek – Buddha Abhiseka empowerment and blessing ceremoies for Buddha Images and amulets. How is a Putta Pisek Ceremony performed? A detailed investigation into the Ceremonial Methods of the Buddha Abhiseka.
3. Other Important Ceremonies – various other Ceremonial Rites used in Thai Buddhist Life to mark important occasions Auspiciously
4. Dtu Pra Tam – Thai Scripture Cabinets used for containing the Buddhist Scriptures. What are their Origins?
5. How to Worship King Rama 5 – Thai People Revere His Majesty King Rama 5 of the Chakri Dynasty every Tuesday – many Buddhist people of other countries also wish to perform this method of Prayer too. This article explains the basics of how to revere and give offerings according to Thai Buddhist tradition.
6. Suang Sawan Hok Chan – Six Heavenly Realms – A synopsis and description of the Heavenly Pantheon in Thai Buddhist Cosmology and its Denizens.
7. Lek Lai – Introductory article on the Mythical substance known as Lek Lai. Lek Lai is considered one of the most powerful Natural sacred substances available in Thai Occultism. Believed to be the Indestructible Adamantine body of a Ruesi or Deva, Lek Lai has become one of the most sought after, and elusive Sacred Bucha items. Its popularity has caused much deception and forgery to occur, but the Truth about Lek Lasi and its amazing properties remains above the reach of sceptics.
8. Pra Putta Roop Paed Samai – Eight Eras of Buddhist Art and Sculpture. The final entry on Thai Periodic Buddha sculpture completing set of 5 Buddha Magic Ezines. This Issue we will take a look at three important sculptures found in the South of Thailand; Pra Put Thaksin Ming Mongkol (Naratiwat), Pra Pud (Pukhet) and Pra Putta Roop Song Krueang (Pattalung).
SAK YANT BUDDHIST TATTOOS
300 pages of detailed information and images on the Sacred Art of Sak Yant tattooing and the Sacred Geometry of Yantra. An insiders look into the world of Thai Buddha Magic. The book is written by by Anthropologist, Sak Yant Artist and Thai Buddhism Expert Ajarn Spencer Littlewood, whose experience as a tattoo artist, occultist, and a devout Buddhist led him to begin a 13 year quest which would lead him into the inner sanctums of Thai Buddha Magic and the Samnak Sak Yant, which he has studied, documented and indeed also practiced throughout his apprenticeship to Magic. This book is the result of his first years of study.
Sak Yant Buddhist Tattoos, Animist beliefs, Spirit Possession, Ritual ceremonies, Magic Amulets, Necromancy, Magical Incantation, Sacred Geometry, Khmer Sanskrit..
All of the aforementioned topics are talked about in the book. The book goes into surprising amount of detail uncovering some of the still unknown facts about Thai Saiyasart and Buddha magic, as well as revealing the magical methods and rituals for performing some of Thailands most famous and powerful magic spells The Sak Yant E-book is not only about Thai Buddhist and Animist Temple Tattooing.
It also delves into the Sacred geometry of the Yantra designs, Ritual ceremonies, amulets and their creation methods, and local Animist beliefs and traditions.
The Sak Yant Buddhist tattoos book was published on July 15th 2010.
Anyone interested in Sak Yant Tattoos, Thai Buddha Magic, Brahman or Animist practices, or Magic charms and amulets, will find a treasure trove of detailed information in the book. It is of both Occult and Anthropological interest, as well as useful to practicing Buddhists. How to Buy; Once you have paid using one of the links below using either Paypal or your Credit card, you will be taken to the download page. T
Download Links cannot be shared, and each file has an individual digital stamp with the name of the owner, so they cannot be copied or shared. Ten years of study went into the making of this book, and it would not be fair to ruin what small chance of a few sales the author may get by filesharing.
Sak Yant is a niche subject and does not allow for many copies of the e-book to be sold, so please respect the author and do not share your files if you purchase an e-book. The author works very hard for little rewards. You are permitted to print and bind one single copy for your bookshelf if you like, which is why the ebook is in pdf format instead of .lit format (pdf is for printing not ebooks, and .lit is for reading. But only PDF can print or display pages exactly as they are, so i did this with the idea that people may wish to print a hard copy of the book.
The Author would like to see people do this, and let people hold and read it, because this was his original dream. The Ebook would have been printed if it was not for the unfair offers of Publishers. A second book on Sacred Yant is in motion which plans to include 500 - 700 pages of info and images, and complete what was started with the sak yant ebook. This will then hopefully go to print and should be ready in late 2012.
How to download digital files (ebooks) from Thailand Amulets (watch video tutorial)
Save this product for later