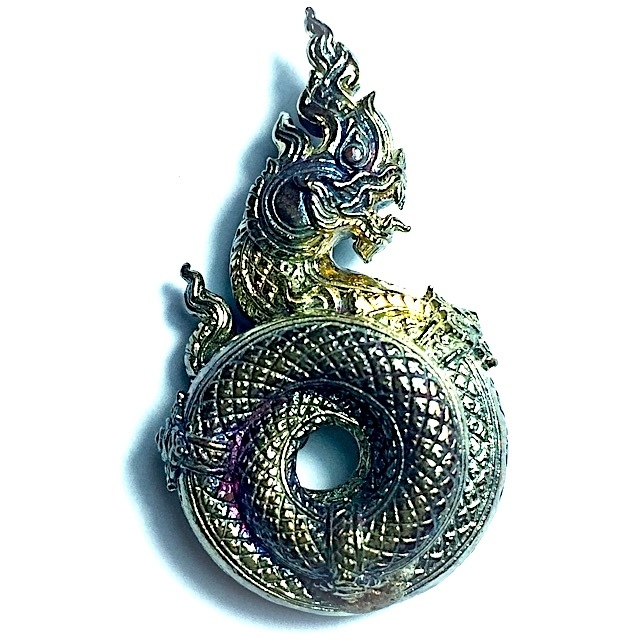 Buang Nakabat Muan Hang - Naga Sling to Catch Wealth and Treasures - Nuea Sadta Loha - Luang Por Raks Wat Sutawat Vipassana
SKU 03895
Product Details
Buang Nakabar Naga Sling coiled Nāga serpent of Bodhala in seven sacred alchemical metal alloy with rainbow colours, from the great Ayuttaua Master Luang Por Raks Analayo, of Wat Sutawat Vipassana. The amulet works as a Treasure Trap to reel in prized possessions with (including customers, admirers and lovers).
The Buang Nak is a coiled Naga Serpent enclosed tightly upon itself, in a ringed form, like an armband, and is representative of Maha Pokasap Wealth enclosing containment of riches, and Cornucopia type Prosperity. The 'Buang Nakabat' (Magic Naga Ring), is an image of a serpent or Naga coiled into a ring, or sometimes seen swallowing its tail. Much like the Oroubouros serpent of Hermetic Magick, the attributed meanings are manyfold.
Buang Nakabat of the Lanna Folk is Maha Pokasap through 'Maha Ud Sap' enclosure, or containment of accumulated wealth and treasures. it also insinuates impermeability, and hence Maha Ud Gunstopper and Kong Grapan Chadtri Invincibility against all forms of Penetrative Weaponry and Ammunition.

The Buang Naakabat Nāga Sling can be found in the legends of Manorah, where the Pran Bun hunter asked Phu Sri Sutto Nakarach, the Naga King of Bodhala, to borrow his magic ring.
Above image; Pran Bun Hunter, With Buang Nakabat Catches Manorah
The Naga King was scared that the Pran Bun hunter would not return the ring, but he risked it and gave it to the Pran Bun, on the condition that he would return it. The Naga King also explained that it would fulfill all of his wishes and make whatever happen that he wished, however large or small the wish.
The Pran Bun Hunter was thus able to catch more than his fill of game, and then used the Buang Nakabat as a sling and rope to capture the Manorah Kinaree Goddess, and returned the ring to the Naga King thereafter.
The Naga is a Very powerful Magical Entity and a Deity of the Thai Buddhist Pantheon. the Naga Kings are devotees of the Lord Buddha, and Protectors of the Dhamma. The Buang Nakabat is an ancient amulet used by the Lanna People, primarily as a Maha Pokasap 'Kin Mai Roo Sin' (eat drink, live and be merry without limits) type 'Krueang Rang' (Occult Talisman). The Buang Nakabat is imbued magically with Metta Mahaniyom Kaa Khaay Mercy Charm for Prosperity and Good Business.
Luang Por Raks (alternatively called ' Luang Por Luck') is one of this Century's new Arya Sangha and Gaeji Ajarn, who is becoming every more prominent, as his merits become noticed in all the Regions of Thailand. His amulets are of the finest and most fairly priced, empowered by this and other monks of only great purity.

Luang Por Raks is Famous for his Immortal Saying 'Powerful or Not Powerful, depends on the Mind Itself". This means of course "The True Power, comes from the Mind, and From Faith". So many of Luang Por Raks' amulet editions have recieved great attention and many cases of positive experience with his amulets has caused Luang Por Raks amulet to look like they are going to become some of the Most Prized Classic Buddhist Amulets of the Future, and whose spiritual and collector value is almost certain to always rise, and never lessen.

This is also one of the blessings of making Bucha to Luang Por Raks amulets, is that wealth will always increase and never lessen. Luang Por Raks is an Able Master when it comes to the various Types of Empowerments possible with amulets, be it Metta Mahaniyom, Klaew Klaad, Maha Sanaeh, Choke Lap, Maha Ud, Luang Por Raks has a method of empowerment equally potent for all of the Major Buddhist White Magic Wicha.
Luang Por Raks' amulets have since some time now received increased interest of official collectors and those who define the standards of the collector scene, and it looks as if it is a very wise idea to get his amulet whilst they are still available for an affordable price.
Past editions have now begun to rise in price rapidly as they deplete, as the trajectory of a Great Monk who is destined to be of the Highly Attained Masters of this Century in Thai Buddhist History, for his immense and continuous meritorious projects, which he completes with miraculous ease, despite the magnitude.
Luang Por Raks has not only given us some of the greatest Classic Buddhist Amulets, preserving the Dtamra of many ancient methods and styles of Thai Buddhist Amulet, but he has in addition, always made sure that his amulets were released at affordable prices for all of his Devotees to be able to afford themselves one.
The quality of Artisanry, and the Purity of the Monk who empowers them is worthy of Bucha. Luang Por Raks is seen incredibly often on almost all Major Puttapisek empowerment Ceremonies around Thailand, in addition to those he makes for his own amulet creations.
We sincerely recommend and advise our Customers and readers that this is a Master to whose amulets are of high Sacred Value and worthy of Bucha. The progess and trajectory of Luang Por Raks has risen from that of a simple and humble monk, whose diligence has attracted the love and respect of Thai Buddhist people and of the High Sangha, and Even the High Officials of Government, and who has become the Top master of the Ayuttaya Province for his great attainments in building Buddhist Monuments and Auspicious Projects.
Kata Bucha Paya Nak
Na Dti Dtang Payaama Naakaaya Apinang Naakaa Saatuno Pandtae Ya Ma Ya Ma
Kata Anchern Paya Nak
(to Invite the Naga King to Come and be present)
Namaami Lila Saakhae Badt-Tha La Bpa Tammae Sa Ka Lab Dtii Sayae Dtaa Naaka Laa Chaena Yabpi Sadto
Kata Saggaara Bucha Paya Nak (Kata for giving offerings to the Naga Deity) Aehi Sangkang Bpiyo Naaka Subannaanang Mayang
Specific Kata
If you wish to pray to particular Deities of the Naga Variety, you can do so with the following Kata;
Gaaya Waaja Jidt Dtang Ahang Wantaa (then Use the Name of your Chosen Naga Deity here, e.g. 'Waasugrii Naakaraach', or 'Anandta Naakaraach' - 'Naakiaatibodee Sri Sutto' etc) – Wisutti Taewaa Buchaemi
In the case of let us say, Phu Ruesi Naakaraach Deity, the Kata would go like this;
Gaaya Waaja Jidt Dtang Ahang Wantaa Phu Rasi Nakarach Wisutti Taewaa Buchaemi
Kata Bucha Paya Nak (Alternative Version)
Naaka Taewa Brii Dtaa Pawan Dtiha Kaandtimaa Bpanondti Waena Wiipii Samsaandti Loga Maa Saatya Motadtae Saasadticha Smaacha
Abbreviated Form
Kad Sa Ma U Ma (Chant 9 Times).
KATA BUCHA PHU SRI SUTTO NAKARACH
Always Chant the Maha Namasakara (Namo Tassa) 3 times before Chanting to Buddhist Amulets.
Namo Dtassa Pakawadto Arahadto Sammaa Samputtassa
Namo Dtassa Pakawadto Arahadto Sammaa Samputtassa
Namo Dtassa Pakawadto Arahadto Sammaa Samputtassa
Then Chant;
Aehi Sangkang Bpiyo Naaka Subannaanang
Mayang Gaaya Waaja Jidt-Dtang Ahang Wantaa Jao Phu Payaa Naakaatibodii Srii Sutto Naakaraach Wisutti Taewaa Bpuuchaemi
Tudtiyambpi GaayaWaaja Jidt-Dtang Ahang Wantaa Jao Phu Payaa Naakaatibodii Srii Sutto Naakaraach Wisutti Taewaa Bpuuchaemi
Dtadtiyambpi Gaaya Waaja Jidt-Dtang Ahang Wantaa Jao Phu Payaa Naakaatibodii Srii Sutto Naakaraach Wisutti Taewaa Bpuuchaemi
Ayang Mahaa Naako Itti mandti Tudtimandto Imichaegaalaena Mahaa Naakang Bpuuchaemi
(Chant 3 Times).
Save this product for later