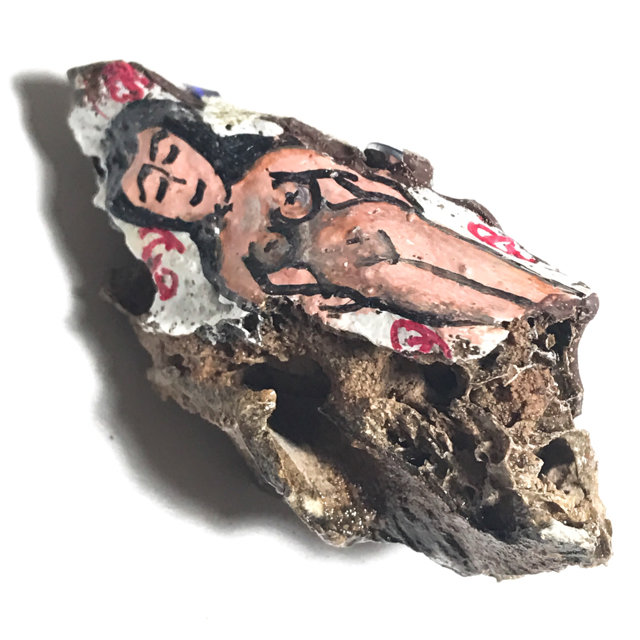 Chin Aathan Mae Nang Prai Dtua Kroo Khmer Ghost Bone 6 x 3 x 2 Cm Prai Powders Yae Hyae Wood Corpse Cloth 5 Gems - Ajarn Surak Khmer Necromancer
SKU 04296
Product Details
Large piece of Chin Aathan Hoeng Prai Nang Khmer (Dtua Kroo), Ghost Bone Carving with Pha Hor Sop Corpse Cloth, Mai Yae Hyae Sacred Enchanted Treewood Takrut Insert, and 5 Pokasap Gems, inserted into Prai Maha Sanaeh Muan Sarn powders affixed to the bone.
Empowered with the power of Ancient Khmer Necromancy for Gambling, Business, and Seduction, from Lay Sorceror of the Khmer Necromantic Dark Arts, Ajarn Surak Montr Paetch Khmer. This large piece is a special 'Dtua Kroo' piece, one of a whole batch created from the complete skeletal remains of the Hoeng Prai Khmer Seductress in its entirety. The piece measures 5.5 x 4.5 x 2 Cm and is one of the larger pieces of the batch.
This particular Necromancy is a Bone piece from from a Hoeng Prai Ghost of a Khmer Temptress, imbued with the power of Maha Sanaeh Gaama Suudt. to attract, seduce and enchant both people, and even other ghosts (such as the ruling Devas of the Gambling Dens. Instilled also with power of 'Prai Grasip' (ghost whisperer), which pre-emptively warns of both lucky windfalls, lottery numbers, and of impending perils. A real piece of Necromantic Wizardry with the Immense Power of Khom Prai Spirit Magic.
This Chin Aathan Ban Neng Bone Carving with Hoeng Prai Spirit of a Khmer Temptress, is an extremely powerful amulet for Good Business, Improved Social and Love Life. Auspicious Causes for successful business, Charm and Attraction power in all walks of Life. It is also used by professional Gamblers for its 'Prai Grasip' Ghost Whisperer abilities to hint to its owner that imminent lucky windfalls and The Nang Prai Ban Neng is carved according the curvature of skull in a round shape, and has a design on the face of the bone.
Chin Aathan and Ban Neng are powerful magical assistants for seduction, increasing luck and wealth, and protecting against black magic, evil entities, ghosts and demons. This amulet is Empowered with the Invocations of the Akarn 32, Maha Phuudt, and the Kata Riak Taat See, Hnun Taat See, Pluk Taat See, the Nibbana Sutta, in adherence with the Ancient Formulas Mastered by Ajarn Surak Montr Paetch Khmer, from the Ancient Khmer Grimoires of Necromancy of his lineage of Kroo Ba Ajarn.
The Ban Neng is possessed and reanimated with the Mae Nang Prai, who is a Hoeng Prai Spirit. The Hoeng Prai Spirits are Bhūta Ghosts, who has power to convince the ruling Devas of the Gambling Tables, and to call lucky windfalls in Lottery (Maha Lap). For those who wish to use the amulet as a love charm to find the love (or solution) to their life, the Ban Neng Mae Nang Prai is an extremely powerful temptress, with 'Kote Hian' wild psychic powers.
The Prai Spirit in the Chin Aathan has been invited to Gather and Share Merits with its Owner with the Correct Buddhakun Method of Buddhist Invitation to a Spirit, offering it a way to escape its Predicament in Limbo, and rise up to Higher Celestial Realms by assisting Humans to reduce suffering by increasing their wealth and protecting them from Dangers, warning of what to do, and what not to do.
Below; Ajarn Surak Montr Khmer
This Buddhist method of inviting Prai Spirits to assist leaves the User without any karmic disadvantages from using the amulet. To get your wishes, you can direct your mind's focus towards the Pra Ghost within the Chin Aathan, and ask it to fulfill your wishes. It is not allowed to give raw, or pungent foods as offerings.
The Prai Spirit within the Chin Aathan is able to bestow blessings, lucky windfalls, protect from dangers and black magic, and induce Maha Sanaeh power of attraction, they will do your bidding but must be rewarded by alms-giving to the Sangha and then sharing the Merits in your heart by praying in Buddhist Method. Before bringing the Chin Aathan into your Household.
About Chin Aathan and Ban Neng
Chin Aathan (and 'Ban Neng'), is a powerful and useful agent for both those who have been hit with black magic or have bad karma, and who dont seem to be able to get even the best amulets to do more than just a little improvement for them, due to 'Toraniyasarn';
Some things we carry over from our Karmic Rebirths, are very hard for the amulets to overwhelm, and magic influences from the past. Some people may have a certain must or aroma for example, that is not consciously noticeable, but that affects customers and social friends to the point where one can not find any popularity at all. In this case, the Chin Aathan is like snake serum, you counter one thing with a little of the same.
You should perform Ritual offerings to the Local Spirits of the Household and surrounding area to inform that the Ghost in the Chin Aathan is a member of the Family and is coming in to the Household. Use the same method as used for Kumarn Tong by lighting Incense and Making prayers and Offerings, and inform them of your intentions.
Kata Bucha Chin Aathan
Na Ya Dta Sa Dta Bpa Dta So Sa A Ni Sa A Ni So
Kata Bucha Ban Neng Mae Nang Prai
So Sa A Ni So Sa A Ni Sa A Ni So A So A So Ni Ni Sa A So Ni So A So A Ni Yo Sa A A Ni So Sa Sa Ma Su
Kata Riak Mae Nang Prai
Jijeruni Jidtang Jaedtasigang iibpang Nimidtang – 'Mae Nang Prai' – Aakajchaahi Aehi Aehi Na Ma Pa Ta Na La Poo Dtaa
Kata for giving calling to receive food and drink offerings
Offer whisky (one small glass), Light one stick of incense, and chant the following Kata;
Yanginji Jidtang Itawaa Arungwaa Pochanangwaa Punchandti Aehi Na Ma Pa Ta Na La Poo Dtaa
Kata for Erotic Seduction
Hee Ho Hae Haa
Bucha Phii prai (Prai Ghosts)
Light one stick of Incense (or Mae Hong Prai), and chant the following Kata
Jijeruni Jidtang Jaedtasigang Iibpang Nimidtang – Phii Prai – Aakajchaahi Aehi Aehi Na Ma Pa Ta Na Sa Poo Dtaa
Kata for giving food and offerings
Yanginji Jidtang Itawaa Arungwaa Pochanangwaa Punchandti Aehi Na Ma Pa Ta Na Sa Poo Dtaa
A truly Rare Example of Authentic Hardcore Necromancy, Powerful Khmer Sorcery from Lay Sorceror Ajarn Montr Paetch Khmer, a reclusive Hermit Sorceror, of the North-eastern Provinces close to the Thai-Khmer border, whos powerful Wicha is renowned in the area for its power to aid in increasing the chances of Gambling luck, Prosperous Business, Mercy Charm, and Maha Sanaeh Attraction.
These pieces of Chin Aathan and Ban Neng ghost bone are nowadays so ultimately rare and sought after, that one should count oneself extremely lucky to even see a real example (never mind find one available!). They are renowned and highly prized items that are soon to become a thing of History, and are amongst the most prized and highly sought after articles in the world of Thai Occultism.
The combination of Prai Magic and Chin Aathan is powerful enough to overcome even the worst karma influencing the wearer, and successfully allow luck and charm to work, by nullifying the Karmic residues which may be blocking any good luck from happening. Chin Aathan is one of the Rarest and most Expensive Magical Substances for Maha Sanaeh and Khaa Khaay magical charms. Price of each piece is individually calculated according to size and anatomical location.
Hoeng Prai Magic and Chin Aathan is powerful for the following purposes
Maha Sanaeh - Love Charm (Both Heterosexuals, and Gays of both Sex)
Kaa Khaay - Business improver, sales increase
Metta Mahaniyom - Popularity, Attraction
Siang Choke - Lottery and Gambling, Speculative Risk
Gae Aathan - Protect against Black Magic
Save this product for later