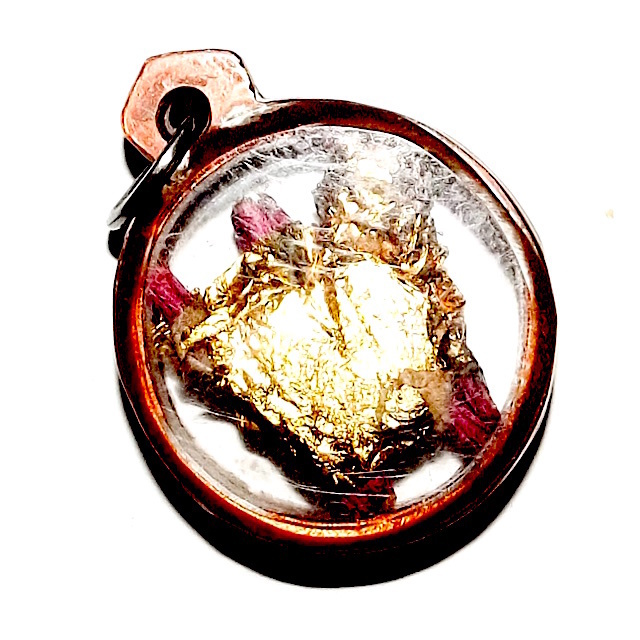 Dtua Por Pan Pitsadarn - Ancient Hun Payont Wicha Luang Phu Taep Loke Udorn - Luang Phu Yen - Wat Sra Bprian Circa 2490 BE
SKU 03574
Product Details
The Legendary Dtua Por Pan Pitsadarn - Sinister Letter P - Wicha Luang Phu Taep Loke Udorn - Luang Phu Yen Thanaradto, Wat Sra Bprian (21/3/2445 BE - 12/5/2539 BE) - Extremely Rare Ancient Animist Talisman from one of the great Olden days Guru masters of the Chainat Province. The Por Pan Pitsadarn of Luang Phu yen is Inimitable and an All Time Historical Classic, renowned for its Immense Puttakun Power.
It is said, that Luang Phu Taep Loke Udorn gave the method of making this Spell to Luang Phu Yen, who then shared it with his friend Luang Phu Yai, who passed it then onwards to both of their Looksit respectively, on to reach the current Wicha Holder Luang Por Tong.Luang Phu Yen was a very famous Master for his Powerful Hun Payont effigies, which he would make in the shape of a Thai letter 'P' (Por Pan).
The Hun Payont Por Pan Pitsadarn is empowered with the Lineage blessings of Luang Phu Taep Loke Udorn and prayer to the Hun Payont Por Pan Pitsadarn will call the miracle powers of the Great Master down through the lineage and emanate from the amulet.
One should ask both Luang Phu Yen and Luang Phu Taep Loke Udorn for the blessings you wish when praying. The Por Pan Pitsadarn is a type of Hun Payont Effigy of the 'Say Bon' veriety (higher path - sai lang and say bon are the lower and upper paths, meaning white, or black magic). The meaning of the Por Pan effigy is 'Triple Gem' of Buddha, Dhamma and Sangha. It is therefore not simply an Animist Charm, but is in fact a Buddhist Sacred Artifact of the New Era.
The amulet is still in the case it was first put into. The amulets will be seen to have a sligh amount of white powdery subsytance o the outer casing, which is 'Kraap Paeng' Sacred Powder Past from Luang Phu Yen smearing in blessing ceremony
Magical properties;
The Por Pan Pitsadarn emits Countless Magical Properties, including Klaew Klaad, Kong Grapan, Maha Lap, Metta Mahaniyom. The letter P stands for 'Por' (father) and the great father of all Buddhists is of course the Lord Buddha.
Kata Bucha Por Pan Pitsadarn
Por Jong Maa Prode Look Kon Nee Hai Khao Kin Im Non Hlab
Por Jong Maa Prode Look Kon Nee Khao Ja Ao Arai Gor Khor Hai Chuay Khao Som Pratanaa
Pra Jao Por Jong Maa Prode Look Kon Nee Putta Dtaechaena Kwaam Dai Yaa Hai Thook Bpadtisaewaami
Putta Maedtaa Jidt Tamma Maedtaa Jidt Sangka Maedtaa Jidt
Na Maedtaa Mo Karunaa Put Bpraanee Taa Yin Dee Ya Aen Doo - Iswaa Su Suswaa I - Put Ta Bi Dti I
The Por Pan of Luang Phu Yen, of Wat Sra Bprian, is highly reputed for its Klaew Klaad, and Metta Mahaniyom Power, as well as its power to 'Riak Choke Riak Lap' (Call for Luck and Good Fortune). It is said to harves wealth and treasured possessions and reel them in, but it is also said that the Por Pan Pitsadarn, has other Magickal Powers that are unlike that of any other type of Talisman, and which no other Talisman Posesses. It is said that these secret abilities become apparent to the owner over time, and that it is responsible for many mysterious and miraculous happenings.
Luang Phu Yen learned Wicha Akom with Luang Phu Sri of Wat Pra Prang, and Luang Por Im, of Wat Hua Khao. He was also famous not only for the P Pan, but also for a special Wicha he learned from his Masters, called 'Wicha Mer Yaw' (Long Arm Magic). He was a great friend and companion, of the great Luang Por Guay of Wat Kositaram.
Luang Phu Yen was older than Luang Por Guay, but strangely would call him 'Luang Pi' (used for older brother age group - 'Luang or, is for father age group, and Luang Phu is for grandfather age group). This was one of his Idiosyncrasies, and shows his lack of arrogance, and great Humility. He would call him by that name, because he said that he was younger as an ordained monk, for indeed, Luang Por Guay ordained first, despite his younger age.
Once upon a time, Luang Phu yen was staying for rainy retreat at Wat Rakang Kositaram temple. One day, Luang Phu Yen saw a young Monk walk past his Kuti hut, and Luang Phu Yen invited him to drink some tea with him. As they partook of tea, they conversed about ordination and learning the Buddha Dhamma. The monk told Luang Phu yen that he had lots of experience, and should go wandering on Tudong (Ascetic Solitary forest wandering). But Luang Phu yen said that he preferred to build a temple as his work for this lifetime, but that he didn't have a clue how he should achieve such a thing. The monk replied, that Luang Phu Yen should go fetch some incense sticks, and he would show him how it is done. Then Luang Phu Yen brought the mysterious monk some incense sticks, and the monk took them, and made them into the form of a Thai letter P. He then took some white Sincana Cord thread, and bound it around the Por Pan Letter P. As the Monk bound the Siincana Cord thread around the letter P made from incense sticks, he chanted Incantations, and blew spells into it.
He then performed a final spell at the end and blew it over the Por Pan Pitsadarn Letter P. He then taught the whole formula of making and empowerment of the Dtua Por Pan Pitsadarn, to Luang Phu Yen, in all its facets and subtle depths as to how the secret method of empowerment is performed. Luang Phu Yen then bowed down to the Monk in thanks and respect, but as he looked up again, the Monk had mysteriously disappeared into thin air! But Luang Phu Yen remembered he appearance of the monk very well in his memory.
>Later, after this time at Wat Rakang Kositaram, Luang Phu yen travelled to visit Luang Phu Buddha, who at that time was staying at Wat Awut. Luang Phu Yen told the tale of the strange monk and the Wicha Dtua Por Pan Pitsadarn which he had received from the Monk. As he was telling the story, Luang Phu Yen gazed over at the Bucha Altar in Luang Phu Buddha's Kuti, and got a surprise, because it was the same Monk who had taught him the Wicha Dtua Por Pan Pitsadarn!
He pointed at the Picture, and asked Luang Phu Buddha who the Monk was in the Picture frame on the Altar. Luang Phu Buddha then replied, saying that it was the Picture of Luang Phu Taep Loke Udorn.
Above; Luang Phu Taep Loke Udorn, as he often appears
The Miracle then became evident, because Luang Phu Taep Loke Udorn is a Legendary Mystery Monk, who is never found, but who appears from time to time to perform Miracles or bestow Wicha to Adept Monks and Practitioners, and to Protect the Buddha Dhamma - it is said that Luang Phu Taep Loke Udorn Luang Phu Taep Loke Udorn is believed by some Thai People to be the still living Miracle Buddha 'Kassapa', who appeared as Luang Phu Taep Loke Udorn.
After this, Luang Phu Yen began to make the Dtua Por Pan Pitsadarn, empowering them with the Wicha he was taught, and developing and discovering the secret methods in his practice. He managed to fund and build the temple of Wat Sra Bprian with the merits made from Devotees receiving the Dtua Por Pan, and with the ever increasing Faith of the People of Chjainat, he received the support necessary from the Folk, to acheive the Meritorious Deed of building a Buddhist temple. He also managed to build a Sanitary Station and Offices for the Ministry of Health and the Local Folk to have Higher health Standards, called the 'Sathani Anamai Hua Den'.
The Por Pan is in fact a type of Hun Payont Effigy, but it has a completely different inpidual style of Magic that differs from all other kinds of Hun Payont. Most Hun Payont amulets and effigies, use animal parts or shapes, or humanb shape, and may have bone or other kinds of Invokes spirits within them, being Necromantic.
Such types of Hun Payont need 'Sen Hwai' (praying and offerings) on a regular basis and a lot of ritual practice for Bucha. But the Dtua Por Pan, is empowered with Buddhakun Power, not Necromancy, and invokes the 'pra' (The Good Sangha Monks) and their Purity, and the Buddhas and Bodhisattvas), which always bestows blessings and Metta, without need of any offerings. It is empowered also with the Power of Bidaa Marndaa (Father and Mother). The Por Pan means 'Por Piang' (Enough Wealth to survive), and also 'Por' (father) who provides food, sustenance, and support constantly. It is empowered with Maha Pokasap Maha Lap Power that pours wealth and possessions down.
Kata Bucha Luang Phu Taep Loke Udorn
Lokudtaro Ja Mahaa Thaero Ahang Wantaami Dtang Sataa Maedtaa Laapo Nasomiya Aha Putto
Luang Phu Yen gave the following Kata to his Devotees to Perform with the Dtua Por Pan
Por Theung Kraw Juan Dtua Por Chuay Look Duay (Chant 3 time)
The above Kata means 'Father, it is time for you to appear' - 'Help your Son/Daughter'
Alternatively, you can chant the following instead
ISWAASU (3 times)
This is the Hua Jai Gaew Sam pragarn (Heart Mantra of the triple Gem), and is the abbreviation of te Itipiso Mantra.
I is 'Itipiso'
Swaa is 'Swaakaadto'
and Su is 'Supadtibanno'
The full Kata is;
Itipiso Pakawaa Arahang Sammaa Samputto Wichaa Jaraana Sambpanno Sugadto Lokawituu Anudtaro Bpurissa Tamma Saaradti Sadthaa Taewa Manussaanang Putto Pakawaadti
Below, The body of Luang Phu Yen during the Abhidhamma Funeral Chanting Period after his passing.
Save this product for later