Hmor Som Hmay
Doctor Som Hmay, or, 'Hmor Som Hmay', is a specialist medical Doctor and Spritual healer who opened his Clinic to heal Cancer in Singhburi, and has cured more than 100 patients successfully! This has caused him to become Legendary and recieve the name 'Hmor Tewada' (Angelic Doctor). He is the creator of the Ruesi Chiwok Gomarapaj amulets which were empowerewd by Luang Por Jaran of Wat Ampawa, Singhburi.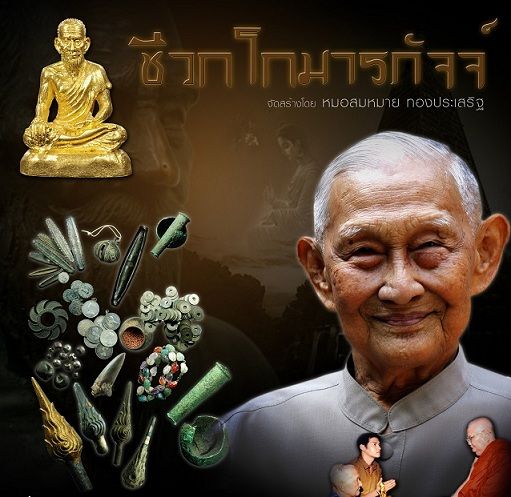 Hmor Som Hmay began experimenting with sacred and natural healing herbs (called 'Samun prai' in Thai) in 2512 BE and completed his testing and experiments in 2520 BE, and left the Civil Service to open his own clinic and began to treat patients with an amalgamation of samun prai natural medicines in conjunction with modern medicines.
He studied in Julalongkorn University and at Sirirat Hospital, as well as running his own pharmacy until he Graduated in the year 2494 BE, where he entered the Profession in the Surgery Department of Sirirat Hospital.
Apart from studying official Scientific Medicine, he had also spent years studying and researching Samun Prai Natural Medicines which may be useful in curing Cancer. This was due to the fact that there were already a host of cures or treatments for most other ailments, but there is still no common cure for Cancer.
After he founded the blood bank at Sirirat Hospital, he moved to work at the Police Hospital, where he served, until moving back to his home town in Singhburi to help care for his aging Mother, and working at Singhburi Hospital. He also recieves people in his Private Clinic, where he administers a mix of natural and Scientific Medicines.
One of his latest patients comments that, before he came to Hmor Som Hmay, he was only able to eat soup and rice soups, but only shortly after meeting with Hmor Som Hmay, and taking a mixture of two glasses of herbal tea, and a few capsules a day, he is already able to eat again normally, despite his intestinal cancer. He has helped and cured so many people to this day, and what is even mor worthy of respect, is that he has never charged exorbitant prices despite the success of his treatments, and says that he has been a Doctor for over 40 years and has not gone hungry yet, and that the reward he feels from seeing someone helped or cured, remains in his heart as a priceless treasure, and that this is more than enough reward.
His effective herbal mixture has now been sent to Sirirat Hospital, for them to reproduce and give to their patients, so that his formula will not be lost with his passing. He says he will retire from the Profession at 90, but that he will always be available for Advisory services. "I do not want my Secret Medicine to die with me". He says.