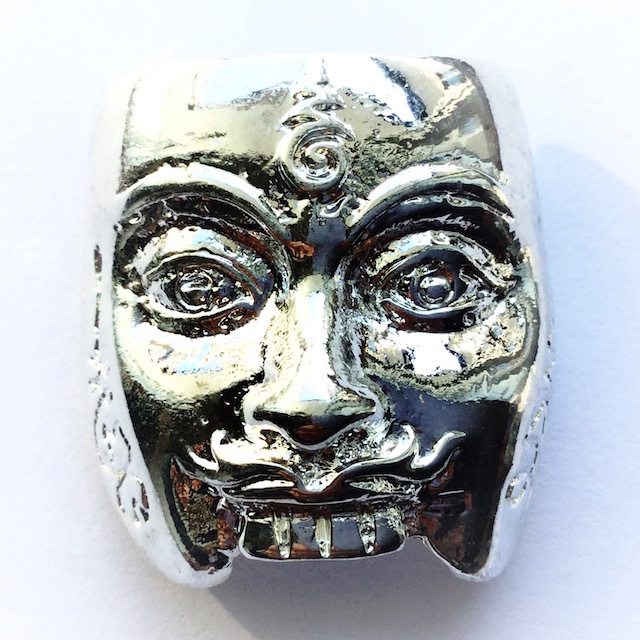 Hnaa Gaag Kroo Pran Bun Manorah Gammagarn - Nuea Loha Chup Ngern Only 200 Made - Luang Por Prohm Wat Ban Suan 2558 BE
SKU 03542
Product Details
Hnaa Gaag Pran Bun Hnun Baramee Wicha Normo Khao Or - Great Hunter Amulet 'Hnun Baramee Normo Khao Or' Series Released in the 2558 BE Kathina Robe Donation Ceremony at Wat Ban Suan - The Amulet is a Southern Thai Manorah Performance Arts Sorcery Kroo Deity Mask, smelted from ancient artifact metals, Yantra Foils, with a Silver Plated Surface - the rear face has embossment of Sacred Na Agkhara, from Luang Por Prohm, of Wat Ban Suan, in Pattalung.
The Pran Bun Manorah Masks were made in only limited numbers of 200 per model. Eight different models were made both in Natural Clay and in Painted Colors, and various other Sacred Powders, as well as some special Gammagarn versions, which were made in Painted Gold with Gemstone Eyes in Baked Clay, and These cast Metal Gammagarn models.
The funds from this edition were to build the Rong Dhamma Building at the temple. Only 8 different models were created, with only a mere 200 of each model of amulet were made.
Size: 2.5 x 2.5 Cm
The Manorah Mask is an amulet that is used for Metta Mahaniyom Mercy Charm and Maha Sanaeh Attraction, and is used by the Performance Artists of Ligae and Manorah alike (Ligae being another kind of Vaudeville seen in Thailand, of which there are many regional and artistic forms). In the below Video You can see the Great Ekachai Srivichai Narrate as Presenter and Master of Ceremonies (and comedian) some Regional Traveling Stage Theater Tour of Manorah Performance Arts.
The Masks are used to attract admirers and audiences, and to charm them into enjoying the show. The sacred powder used in the masks for Wicha Manorah, always contains talc face powders taken from Manorah Theaters, who do not just us any kind of talcum, rather only magically empowered talcum which possesses the Wicha Manorah.
Hence both the sacred powders themself, and the mask, are both ancient and powerful forms of Manorah magic, for Metta Mahaniyom Maha Sanaeh and Maha Lap to enter into your Horoscope and Improve your Karma, and Profession. It is not often that we see Temples release the Sacred Hnaa Pran Bun Manorah Mask amulet, but this year, due to the right Astrological Circumstances, various masters of the Southern Traditions are honoring the Wicha, and preserving it with a new revival of Pran Bun Manorah, and related Deity amulets.
For those in the entertainment and leisure professions, as well as escort services and those who have to secude their listeners, the Pran Bun Manorah Mask is a perfect Magical Mascot and Companion to Inflect Mercy Charm and Maha Sanaeh Seductive Influence, and Metta Mahaniyom (Great Preference) Enchantment Spell.
This is a perfect opportunity to Bucha the Boroma Kroo Guru Deity of all the Manorah Performance Arts, to bring 'Siri Mongkol' (Auspicous Blessings) to the Practitioners of this Profession, who are also simultaneously all Looksit (Devotees) of the Protective Ruling Deities and Angelic Devas of the Manorah.
The amulets were made in various colors and sacred substances; 3 Metallic Gammagarn Versions in Nuea Dtakua Dee Buk, Nuea Loha Chup Tong, Nuea Loha Chup Ngern. Five versions in Nuea Din Phao with painted colored faces, with one of them as a golden colored model with gemstone eyes as Gammagarn version.
You can see an example of the Magical Aspect of Manorah Sorcery performed by another great Master, Pra Ajarn Prasut, of Wat Nai Tao (Trang), who also is a Master Adept of Southern Manorah Magic.
Manorah is the Southern Thai Style of Dance, Musical and Theatrical Performance Arts, and has been an integral part of Southern Thai Culture for Centuries if not Thousands of Years. The Manora Theater performance is known commonly as 'Norah'. The word 'Manorah' however, does not originate from the South of Thailand. The word Manorah, first came into use during the Krung Sri Ayuttaya Kingdom.
The word Manorah appears in the tale of Pra Suthon, who is the Princess of his Desires. The Pran Bun Hunter is also both a figure who appears in the Southern Manorah Theater, coming from Pra Suthon Legends. In this legend, the Kinaree winged Maiden is also a powerful Feature of the story of Pra Suthon.
It was the Hunter Bun (Pran Bun), who spied the seven Kinaree Maidens and ensnared one of them, to take and present to the Palace, and it was this Kinaree maiden who was named 'Manorah'. The Manorah Kinnaree is prolific in Southern Manorah Theater, appearing in a host of different acts.
The Manorah Dancing Style is almost certainly influenced directly from the Hindu People of the Indian Continent, who travelled over for trade and to stay here in the times prior to the rise of the Sri Vichai Empire in Southern Siam. The amulets contain Sacred Bpaeng Manorah powders for attraction and business improvement, with ancient Southern Buddha Magic of the Manorah tradition empowering it with powerful Wicha. This item is particularly powerful as a business and professional success tool.Manorah Arts are theatrical dance and musical arts which have walked hand in hand with the Southern Magical Tradition as if born together. The Manorah Artists believe in the use of the Manorah mask as not only a Theatrical tool, but also as a Sacred and Magical tool.
Below is another Wai Kroo ceremony of Manorah tradition for you to enjoy, from Ajarn Prasut's 2554 BE Wai Kroo Manorah at Wat Nai Tao in Trang Province for a series of Nang Kwak statues made.
Kata Pran Bun
Om Namaa Mee Maa Na Nae Nu Ni Na Swaaha Swaahome
Chant the Kata three times either out loud or if you are out and about, can chant it silently within the heart and mind, when calling admirers. The amulets were blessed in Traimas Buddha Abhiseka at Wat Ban Suan, with full Invitation of the Devas and the Manorah Wai Kroo, and subsequent Buddha Abhiseka, with Luang Por Prohm of Wat Ban Suan performing the Administration of the Buddha Abhiseka Blessiing Ceremony.
Wat Ban Suan is one of the Dtamnak Dtak Sila Khao Or Southern Academy of Sorcery Temples, and is the Home of Khao Or Magic and the Root Lineage Center of the Great Master of Khao or Magic, Luang Por Kong. Luang Por Prohm is the current Abbot of Wat Ban Suan.
Luang Por Prohm is the Looksit, and Continuation of the Khao Or Tradition, the Greatest and most Famous Southern School of Sorcery in Thailand. He learned his Wicha from Luang Por Kong directly, who was in fact also the Kroo Ba Ajarn in Wicha Saiyasart (Sorcery) to Ajarn Iad of Wat Don Sala. Luang Por Prohm Received his Lineage Mastery Wicha bestowed from the previous abbot of Wat Ban Suan, Kroo Ba Ajarn, Luang Por Kong.
Luang Por Prohm's Wicha Are indeed many fold, For he has Mastered many different forms of magic spells, invocations, and mastery of elemental magic and forces. Developing his Psychic Powers and Practicing the path of Kammathana forest tradition Buddhism, Developing his meditative skill with the Practice of Vipassana. Luang Por Prohm Has truly mastered a large array of different forms of sorcery and ways of invoking and inviting Devas, and spirits, to dwell within the various forms of animals and Deities, and other effigies which Luang Por Prohm Has learned to master, and control.
Luang Por Prohm was present and assisted in empowerments of many famous editions made by his predecessor, and of other earlier Khao Or amulets too, including the Pra Pong Kong Chai Chum Chai of Ajarn Chum, which had Ajarn Tong Tao on one side, and Ajarn Kong on the other, and is a ver famous Kong Grapan amulet from 2512 BE.
The Dtamnak Dtak Sila Khao Or Southern Academy of Sorcery, is perhaps the most famous and long standing lineage of Occult practice that is still alive and kicking to this day, and has a large array of truly adept masters under its list of members, past and present. There is no lineage more famous respected or feared for its truly powerful sorcery, as the Dtamnak Dtak Sila Khao Or.
Few masters and temples these day are like Luang Por Prohm, and produce not only very rare and exclusive amulets, but also release many kinds of ritual ceremonial instruments, and other kind of Talismans which serves to also preserve the ancient traditions and Wicha through the present Era into the Future. This also brings what would usually be extremely difficult items to obtain, into the hands of, and for the use of the common people, the active practitioner, and lay devotee.

Save this product for later