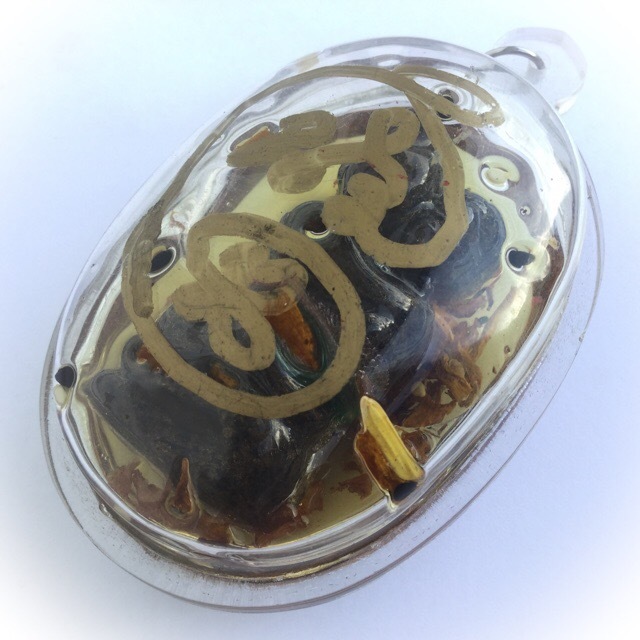 In Koo Plord Rak (Jumbo) - Maha Sanaeh Love Charm Binding Spell in Nam Man Prai with Hand Inscription - Luang Phu Khai Wat Lam Nao.
SKU 03346
Product Details
In Koo Plord Rak Maha Sanaeh Lovecharm Amulet in Nam Man Prai Sacred Consecrated Oil, with hand made Yant spell inscription in Khom Agkhara, by deceased Master Luang Phu Khai of Wat Lam Nao, Nakorn Sri Tammarat. This particular amulet is a Jumbo size version Pim A Model.
These amulets were individually blessed one by one through hand inscription of Khom Agkhara Spells and Sacred Yant on the exterior of each amulet. Inside the waterproof bubble casing, is a statuette effigy of the In Koo Male-Female Yab-Yum Devas entwined in loving and erotic embrace.
They are swimming in an immersion of Nam Man Prai Wan Dork Tong, Nga Khaw, with sacred Herb and 'Pha Sam See' Tricolored magical ribbon binding spell. Sacred Herbs are also immersed into the Nam Man Prai Potion, which charges up the Power of the In Koo, and is full of Natural Earth Magick with Maha Sanaeh and Metta Mahaniyom, Maha Lap power of its own right, through natural and magical sciences.
The In Koo is pure Maha Sanaeh and Metta Mahaniyom Magick, to bring Lovers closer together, and to induce an intense Loving Relationship that is unbreakable. It is also an Immensely Powerful Maha Sanaeh Charm in itself for Singles to attract a Lover, and then Bind them with the Love Spell of the In Koo Devas.
The In Koo (also known in South East Asia as 'Yin Tong') is a symbiotic Deity in the form of a Man and a Woman embracing each other. It is a magical animist effigy which ancient people believed represents the first ever pair of Man and Woman (male and female) in the History of the World, and is a symbol of Love between a man and woman.
The amulet measures 9 Cm High x 5.5 Cm Wide, with a depth of 3 Cm
It is believed that the holder of an In Koo Talisman is endowed with Maha Sanaeh power over the other sex, and that they will feel attracted to the wearer of the In Koo, and wish to approach and get to know you. If they approach then they will be helpless against the attraction power of the Palad In Koo. This is the Love Charm Magic of Maha Sanaeh (Charm and Attraction).
If the In Koo is kept in the House, then all the family and people in the household will love each other and be happy together. If it is worn as a love charm or carried on ones person, then it will cause everyone the wearer meets to feel friendly and compassionate towards them, and even make others fall in love with the wearer if Bucha is made to the In Koo, and this request is asked for in exchange for Bucha. Business will flourish, money and gifts will flow in, good fortune will come, and life without disturbances. The In Koo is a sacred Love and Metta Maha Sanaeh Talisman which has been used by ancient folk for thousands of years, and shows no sign of disappearing soon, for its popularity as a love charm is still as evident as it ever was.
The Magical Properties and attributes of the In Koo;
Maha Laluay – powerful charm and attraction magic causes those nearby to applaud, admire and feel friendliness towards the wearer of the In Ko
Maha Sanaeh – powerful enchantment magic causes those who are targeted to fall helplessly in love with the wearer of the In Koo.
Kong Grapan – protective magic prevents ballistic weapons and sharp objects from piercing or penetrating the skin.
Gan Kun Sai – protects against black magic and evil spirits, defends against Hun Payont, magic spells and the like.
Metta Mahaniyom – Discussions, Debates and Business talks or Diplomacy matters will be discussed easily and you will be able to get your point across and be convincing.
Luang Phu Khai was the direct apprentice in Buddha Magic and Sorcery to the Great Por Tan Klai Wajasit, and was his main lineage transmission inheritor of the Magical Wicha of Por Tan Klai. He went on to become one of the top 3 Master Monks of his Generation of the Nakorn Sri Tammarat wing of the Dtamnak Dtak Sila Khao Or Southern Academy of Sorcery.
His passing left his devotees devastated, and his memory endured in the hearts and minds of all of those who were is students and followers, and those who have enjoyed the powerful magic of his amulets.
In Koo Plord Rak is just one of a number of different Animist Deva Spirits found within the Pantheon of Amulets which are catalogued as 'In Koo'. The In Plord Rak is a 'Krueang Rang' (Occult charm/talisman) that the Ancient Masters used to symbolize the Power of Love, and that this amulet endows the wearer with the power over the minds of those of the other Sex (or same Sex if that is the Inclination).
For those who already have a Lover, but who seems to be a little distanced and not too close, the In Koo Plord Rak is the best kind of charm to improve and increase the persons love towards you, and increase intimacy.
Is the In Koo for Men Only? The In Koo can be worn and used by both Men and Women. For Choke Lap wealth increase, place the In Koo inside a money bowl or savings box. Before you put or remove any money from the box, you must tap or knock on the side of the container with the same hand you shall be using to remove or place money in the box with.
Chant the Kata 7 times before putting your hand inside the container. It is said that if you do this regularly, that money will never cease to flow. Those who perform this well will find time to sit and meditate and chant the Kata whilst tapping on the container. About 5 minutes each time is enough.
Kata In Koo (Perm Sap/Increase Wealth)
Om Raachaa Taewaa Swaahome Om Taewee Maama Jidt-Dtang Arahang Swaahome
Na Rampeung Mo Kid Terng Put Norn Midtem Dtaa Taa Rong Hai Turon Turay Ya Hai Ma Haa Goo Putto Laluay Tammo Laluay Sangko Laluay Jid-ti Nimid-ti Aehi Jidtang Biyang Ma Ma
Kata for the In Koo (From the Great Kroo Ba Nandta)
Om Laluay Maha Laluay Nguay Ngong Jong Jai Rak Goo Hmuean Dang Chang Rak Ngaa Hmuean Pla Rak Nam Hmuean Khaw Orn Hai Hmuean Fai Orn Maw – then say; "Ai + Name of person you wish to charm" (Ai for Man, or Ee for a woman) – Then continue with; Rak Goo Yaa La Om Sitti Swaaha Swaahome Na Ma Pa Ta
(Chant 3 to 9 times and then blow on the In Koo amulet)
Kata Bucha Por Tan (Luang Phu) Khai
Por Tan Khai is known for his love of chanting the Kata Chinabanchorn - for this reason, the best way to Bucha Por Tan Khai is to chant the Maha Namasakara (Namo Tassa) 3 times, and then the Kata Chinabanchorn, with also if wished, the Kata for his Mentor por Tan Klai Wajasit.
Below; Por Tan Klai Wajasit - Mentor and Predecessor of the Nakorn Sri Tammarat Khao Or Master Lineage of the Dtamnak Dtak Sila Khao Or Southern Academy of Sorcery.
Kata Bucha Por Tan Klai Wajasit
Puttang Arahang Putto
Tammang Arahang Putto
Sangkang Arahang Putto
Pisit Athagaaro Namo Puttaaya
Save this product for later