Jao Sua Maha Sethee Yai Edition 2556 BE - Luang Por Jerd Nimmalo
Rian Jao Sua Sethee Yai 2556 BE edition amulets - Luang Por Jerd Nimmalo, Suan Badibat Tam Po Sethee (Nakorn Pathom).
Featuring Jumbo Size Jao Sua amulets in Sacred Metals or Ya Wasana Jinda Manee powders, with 108 Takrut spell inserts and Navagote Maha Sethee Buddha amulet in rear face.
The new series of Master Class Amulets from Luang Por Jerd of Suan Badibat Tam Po Sethee in Nakorn Pathom is as impressive as the immensely popular and luxuriously presented 'Serp Dtamnan Luang Por Noi' edition of Taw Waes Suwan and wua tanu amulets, and 2 models of luxury lockets which also featured the amazing insertion of 108 Takrut, 56 or 28 Takrut spells within a Muan Sarn base of Ya Wasana Jinda Manee paste.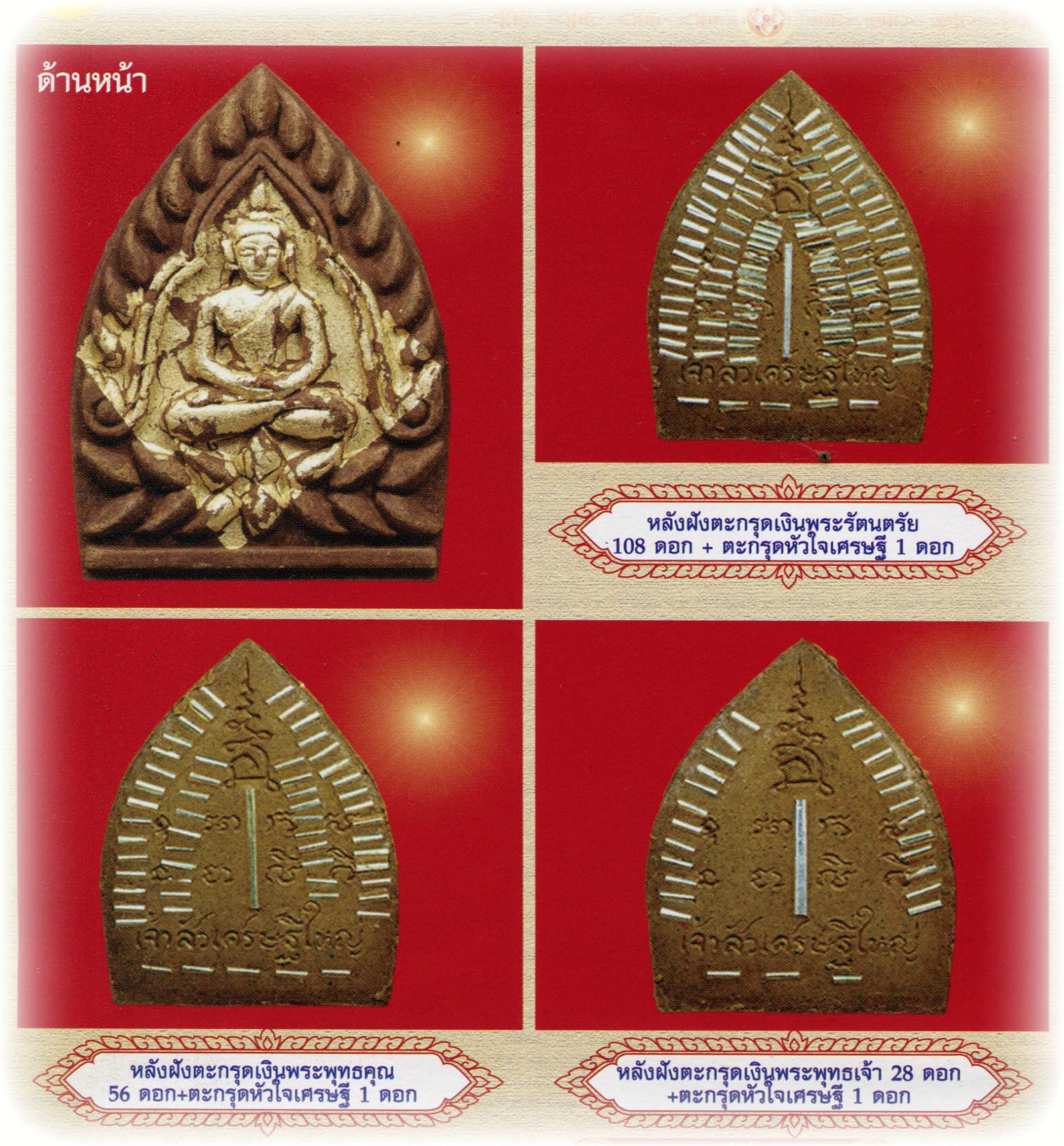 This follow-up edition from Luang Por Jerd continues to adhere to this formula and presents us with the largest Jumbo size Jao Sua amulets we have ever seen. The 'Rian Jao Sua Sethee Yai' Ongk Kroo Jumbo Masterpiece amulets are made in a vast array of models in differing Sacred Metals with three Sacred Powders.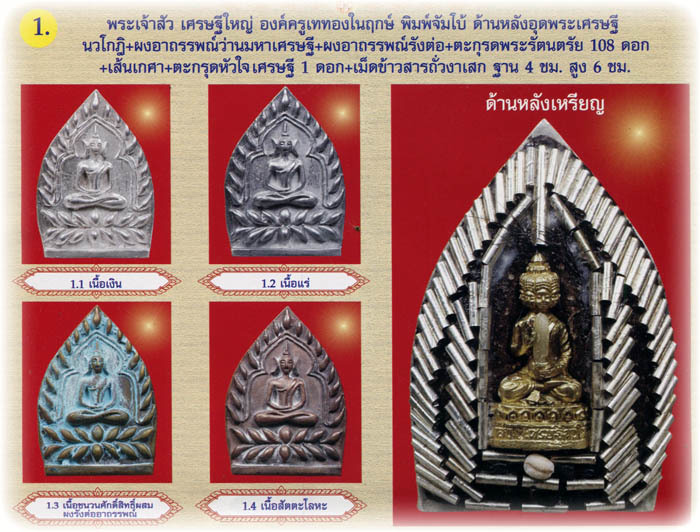 The rear faces have a Pra Sethee Navagote Budda as a Loi Ongk statuette holding a sacred rice grain inserted, and a mass of 108 Takrut inserted, along with a large array of other Sacred Muan Sarn ingredients.
Above; 'Rian Jao Sua Sethee Yai Ongk Kroo Nam Rerk Jarn Mer Nai Piti (Sadta Loha model)', with 108 solid silver Takrut Pra Radtanatrai ( 108 syllables of the heart mantra of the Radtana Mala of the Triple Gem), and a Loi Ongk statuette Sethee Navagote Buddha image inserted into a thick layer of Ya Wasana Jinda Manee.
Sacred Pong Athan Maha Sethee (Wealthy Riches powders), and Pong Aathan Rang Dtor (bees nest powders) were also used in the Ongk Kroo metallic versions.
The Buddha holds a Sacred rice grain with inscription during the ceremony. The whole series of metallic Ongk Kroo Masterpiece amulet range was inscribed during the ceremony as 'Ongk Kroo Nam Rerk Jarn Mer Nai Piti. A series of different Ongk Kroo Pim A amulets in various Sacred Metals were made in Sadta Loha (7 Sacred Metals), Chanuan Saksit (Sacred Artifact Metals), Nuea Rae Saksit (Lek Lai and Kaya Siddhi Alchemical Metals), and Solid Silver. These are the top level luxury models of this edition of Jao Sua Sethee Yai Multi Millionaire amulets.
Numbers made in Ongk Kroo Nam Rerk Jarn Mer Nai Piti
Solid Silver; 99 made, Nuea Rae Saksit; 399 made, Chanuan Saksit; 399 made, Sadta Loha; 399 made.
The edition included also some Pra Sethee Navagote Images in Loi Ongk Statuette Form.
The Pra Sethee Navagote Loi Ongk Statuette was made from Sacred Brazen metals with LP Jerd's hair and Sacred Maha Sethee, Rang Dtor (Bees Nest) powder filling in the base. A grain of sacred rice is inserted into the hand of the nine faced millionaire Buddha, who represents the nine wealthy Brahman Merchants of Vedic and Buddhist Lore.
Rian Jao Sua Baeb Boran Huang Chueam
A secondary series of smalller standard size classic Jao Sua coins were also released with olden style pendant hoop (Rian Jao Sua Sethee Yai Baeb Mee Huang).
The smaller classic Rian Jao Sua Sethee Yai Huang Chueam has three different Yantra on it; 1. Yant Na Sethee 2. Yant U - Aa - Ga - Sa (Hua Jai Sethee heart Mantra) 3. Yant Na Chaa Lee Dti (Heart Mantra of Pra Sivali/Chimplee). These Yant combine Maha Lap, Maha Pokasap, Kaa Khaay and Metta Mahaniyom to bring great lucky fortunes in commerce, professional advancement, social success, riches and treasures accumulation through direct and indirect sources (wages, business sales, lottery wins, gifts, windfalls..)
A very few 'Chor' casting trees with nine Jao Sua amulets attached were issued and instantly depleted at the ceremony.