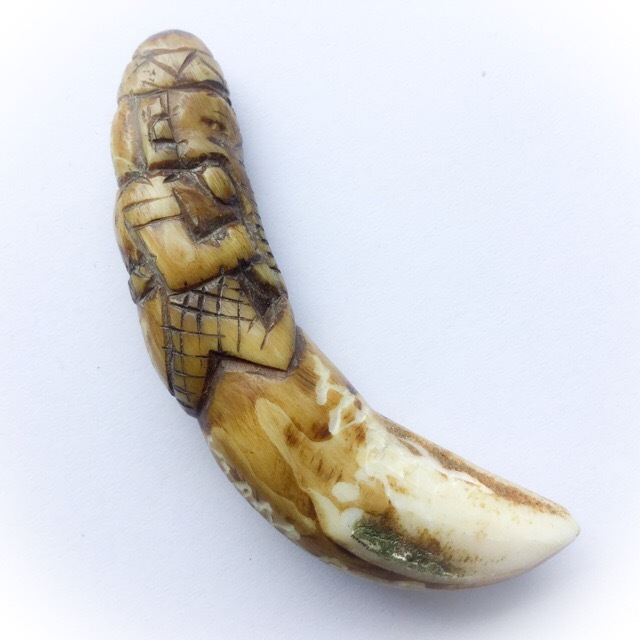 Khiaw Oot Pra Pikanes - Carved Tooth with Ganesha, Hand Spell Inscription for Plentiful Wealth, Success + Removal of Obstacles - Very few Made - Luang Phu Khai
SKU 03671
Product Details
This is one of a very small number of one-off Hand Carved, individually inscribed with Khom Spells, and empowered Talismanic Amulets, which were given to the great Guru Master Monk of Khao Or Sorcery Lineage, Luang Phu Khai (Now deceased), of Wat Lam Nao, Nakorn Sri Tammarat.
The tooth is hand carved with the image of Pra Pikanes (Ganesha), for removal of Obstacles, Success in one's Undertakings and Profession, Wealth and Promotion. Amulets of the deceased Master Por Tan Khai, who was the direct Nephew, and Inheritor of the Wicha Khao Or of the Great Port Tan Klai Wajasit (Wat Suan Khan), are now extremely rare, and in utmost demand with his devotees, and are now almost depleted from the amulet scene,since his passing away.
They were given to Luang Phu, to Empower and Bless with Maha Pokasap, Klaew Klaad, Ud Sap ('Treasure Trove' - Keep a store of supplies, treasures and wealth and not permit it to lessen). In addition, the Khiaw Oot Camel Tooth protects against poisonous or venomous animals, such as snakes and scorpions.
The camel's tooth is also a very strong tooth and the camel's jaws are known for their strength to be able to crack open the hardest of fruits and nuts, to get at the precious sustenance within them. Easy survival is the supreme ability of this Talisman.
These qualities of survival with more than plenty even in the hardest of economic droughts, is what empowers this camel tooth Talisman, to protect from financial depression and difficulties in times of trouble, and times when the world has fallen into bad economy, affecting everybody's lives, reducing their income and public spending.
Good for hard times and financial depressions, and to prevent poverty. Also empowered with Maha Lap Maha Pokasap Magic to Increase Wealthy Fortunes and 'Bat Upasak' Magic, to Evade unlucky loser situations, and with Pongan Pai protection against Danger. The butt of the tooth has been carved with an Image of Pra Pikanes, with Serm Duang for Karma Improvement Serm Yos for Status and Professional Success.
Luang Phu Khai was the direct apprentice in Buddha Magic and Sorcery to the Great Por Tan Klai Wajasit, and was his main lineage transmission inheritor of the Magical Wicha of Por Tan Klai. He went on to become one of the top 3 Master Monks of his Generation of the Nakorn Sri Tammarat wing of the Dtamnak Dtak Sila Khao Or Southern Academy of Sorcery.
Sacred Khom Agkhara Spells and Yantra are inscribed upon the surface of the tooth, in solo empowerment from Luang Phu Khai
His passing left his devotees devastated, and his memory endured in the hearts and minds of all of those who were is students and followers, and those who have enjoyed the powerful magic of his amulets.

Kata Bucha Por Tan (Luang Phu) Khai
Por Tan Khai is known for his love of chanting the Kata Chinabanchorn - for this reason, the best way to Bucha Por Tan Khai is to chant the Maha Namasakara (Namo Tassa) 3 times, and then the Kata Chinabanchorn, with also if wished, the Kata for his Mentor Por Tan Klai Wajasit.
Below; Por Tan Klai Wajasit - Mentor and Predecessor of the Nakorn Sri Tammarat Khao Or Master Lineage of the Dtamnak Dtak Sila Khao Or Southern Academy of Sorcery.
Kata Bucha Por Tan Klai Wajasit
Puttang Arahang Putto
Tammang Arahang Putto
Sangkang Arahang Putto
Pisit Athagaaro Namo Puttaaya
Because this amulet has received the Empowerment of Pra Pikanes, you can also use the Kata and Bucha Method for Pra Pikanes to Beseech Blessings from the Amulet. Praying to Por Tan Khai to assist is always recommended to empower the amulet.
Ganesha or, as we say in Thai 'Pra Pikanes' is the Deity for removal of obstacles and attainment of success. Pra Pikanes has many different forms, with different meanings. he may have four, six, eight, twelve or even fourteen arms, but almost never two arms, this being a Tabu. Pra Pikanes may carry any of a number of 57 different Cosmic weapons or regalia in his hands.
Ganesha has many different Emanations and Postures, but the most Common Traditional Posture of Ganesha, is four armed with Whip Goad, Ritual Axe, an Om in the palm of raised hand, and Fruits as consumable offerings. This Posture and combination induces not only the removal of obstacles and success, but also wealth and plentiful treasures and possessions and well being. The hand wielding an axe, is a symbol of the retrenchment of all desires, bearers of pain and suffering. With this axe Ganesha can both strike and repel obstacles. The goad restrains all inner and outer enemies.
Ganesha, has four arms, which symbolize his status as the universal ruler and establish his power over the four categories of beings – those who can live only in water, those who can live in water and on earth, those who can live only on earth and those who can fly in air.
Significance of four : It was God Ganesha who instituted the four castes and the four Vedas. One hymn in Sri Bhagavat Tattva , says: 'In heaven, this child will establish the predominance over gods, on earth over men, in the nether world over anti-gods and serpents.
He causes the four ruling forces of the elements to move, for which he has four arms. You can use the Chants to Ganesha (Pikanes) to epower the potion before use, and to beseech blessings, to attract, and improve your profession, charm, wealth, status, and remove any obstacle that may be preventing you from succeeding in your goals, be they amorous, financial, professional or social goals. Ganesha helps you in all these areas of life.
If you are Buddhist, always Perform the Maha Namasakara (Namo Tassa) 3 times before any other Chanting to Amulets;
We recommend using the Kata Aaratanaa Pra Krueang as a prelude to asking for wishes to be fufilled.
Kata for Chanting to Amulets (Kata Aaratanaa Pra Krueang)
Puttang Aaraatanaanang
Tammang Aaraatanaanang
Sangkang Aaraatanaanang
Puttang Prasittimae
Tammang Prasittimae
Sangkang Prasittimae
Chant this Kata 3 times whenever you are about to place the chain over your head or put on the amulets, and also when you take them off.
The Kata calls upon the power of the Buddha, Dhamma and Sangha to be with you and protect and Guide you.
Thai Kata for Chanting Daily to Pra Pikanes
Om Pikanesuan Sitti Bprasittimae Mahaa Laapo
Tudtiyambpi Om Pikanesuan Sitti Bprasittimae Mahaa Laapo
Dtadtiyambi Om Pikanesuan Sitti Bprasittimae Mahaa Laapo
Use when putting the amulet on and off each day, and as a short Kata when passing Holy Places with Images of Ganesha, or when during daily activities.
Kata Bucha Pra Pikanes (Thai Brahman Pali Adaptation)
Ongaarapintunaathang Ubp-Bpannang Prahm-Mano Ja Into
Pikanesadto Mahaa Taewo Ahang Wantaa Mi Sappadtaa
Sittigijjang Sittigammang Sittigaariyang Bprasitti Mae
Chant this 3, 5, 9 or 108 Times
Apart from wearing the amulet, you can use it as a ritual object to make prayer water (through immersion in the water bowl, and chanting with incense, flowers and offerings, preliminary prayers), or to place on a small tray on the altar and make offerings as a Bucha Deity.
Thai Kata for Chanting Daily to Pra Pikanes
Om Pikanesuan Sitti Bprasittimae Mahaa Laapo
Tudtiyambpi Om Pikanesuan Sitti Bprasittimae Mahaa Laapo
Dtadtiyambi Om Pikanesuan Sitti Bprasittimae Mahaa Laap
Kata Jai Awn (Heart Softener Kata for Mercy)
Bpanjamang Sirasang Khaadtang Na Ot Jai Na Gaaro Hodti Sampawo Dtiiwaana Na Gaarang Bpanja Sampawang
Use this when needing to Plead with your Debtors, or other similar situations where you need Mercy
Kata Jao Nai Metta (mercy from your Boss)
Bpanjamang Sirasankhaadtang Naahaaya Na Gaaro Hodti Sampawo Iswaasu
You can chant this into face powder,, See Pheung or perfume and use it before meeting with your Employer or Superiors, to make then feel favorably towards You.
Na Maedtaa Mo Garunaa Put Bpranii Taa Yin dee Ya Aen Duu Sappa Sittimang Biyang Ma Ma
Chant into your See Pheung, Metta Oils, perfume, face powders and apply to your skin. Chant and blow into Yantra cloths or amulets.
Kata Samak Ngaan (Applying for getting a Job Spell)
Puttassaahang Niyaataemi Sariran Chiwidtan Jidtang
Namo Midtaa Manussaa Ja Na Maedtaa Mo Garunaa
Save this product for later