Nia Kajia Maha Sanaeh 2554 BE Edition - Luang Phu In
The 2554 Nia Kajia Edition of Powerful Maha Sanaeh amulets by Luang Phu In, have enjoyed the same immense success as all of his previous editions. It seems that every edition brings us an even more attractive and powerful range of Paetch Payatorn, Nia Kajia, Gampong Jaam, and other rare forms of Maha Sanaeh Sorcery that only Luang Phu In and a few of his close accomplices (known as the 7 Great masters of Maha Sanaeh) are able to produce.
This group of Masters are precisely that; Masters of their Chosen Wicha. As far as feedback from our satisfied customers is concerned, Luang Phu In is one of our top three Masters for successful results from the amulet. This Edition included some Powerful Khun Phaen Taep Jamlaeng amulets with Butterfly Deva, some Luxurious Paetch Payatorn Lockets with Takrut, Gemstones and Rare Sacred Flowers and Herb Inserts, Python Takrut in Prain Oil, some powerful Sacred Prai Powder Khun Phaen Bal Sabprer, Tewada Hlong Hong with Gemstones and Takrut, and some Nine Tails Fox Enchantress amulets, also with Gemstones and Takrut Spells inserted.
Khun Phaen Taep Jamlaeng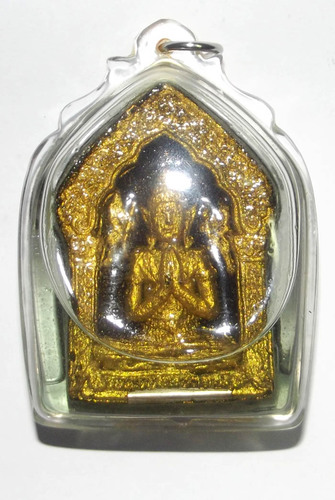 Rear face includes Prai Oil, In Koo, 2 Look Namo, Rak Sorn Flower, 2 Takrut Sariga, 1 Takrut Khun Phaen, 4 Takrut Maha Sanaeh, 2 Pearls and 5 Python Takrut Spells inserted.
Taep Jing Jork Gao Hang (Nine Tail Fox)
Two different Versions were made, Red and Green, in Ongk Kroo, with 9 Gemstones, 5 Takrut, Four Pearls, and One Taep Jamlaeng.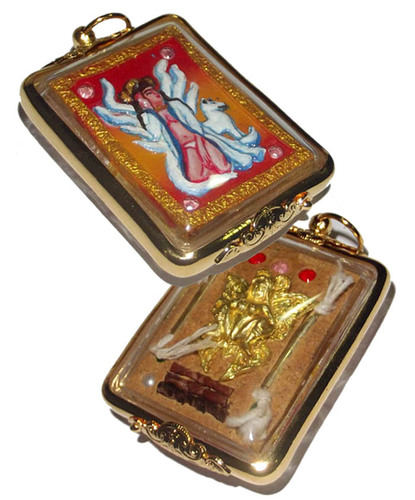 Above; Red Version, Below; Green Version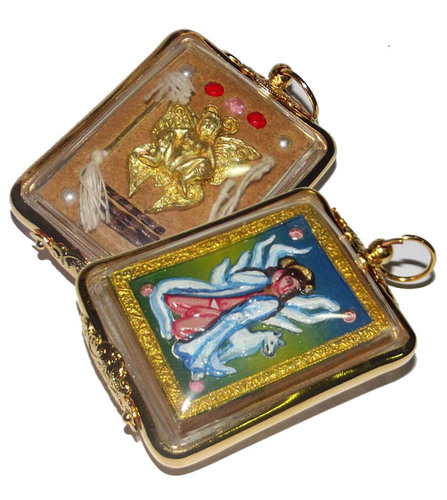 Taewada Hlong Hong (Deva in the wrong Bedroom)
This series was made in various Sacred Powders and 'Pim' (Versions), starting with Light Colored Maha Sanaeh Powders, with Two Gemstones, Two Pearls and Two Takrut. A Taep Jamlaeng Butterfly Deva is embossed on the Sacred Powder Rear Face of all amulets. The Front Face features Khun Phaen Taewada with a Kinnaree Apsara Deva Companion.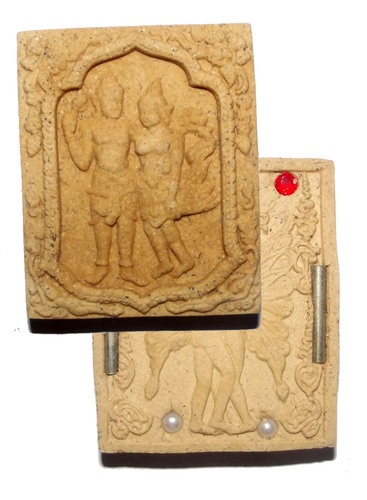 Followed by Dark Brown Powders with Four Gemstones, Two Pearls, Four Silver Takrut and Two Python Takrut.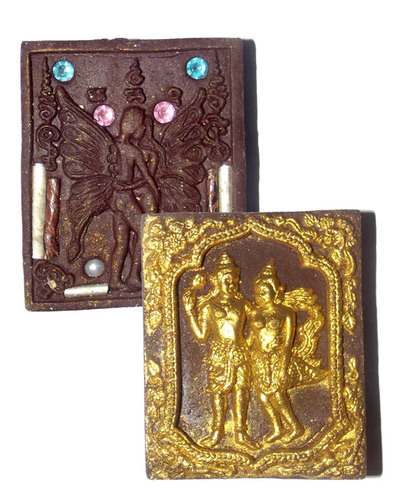 Followed by extra rich Black Maha Saneh Powders with Thirteen Gemstones, Two Look Namo, Two Pearls, Eight Takrut, and One Rak Sorn Flower inserted.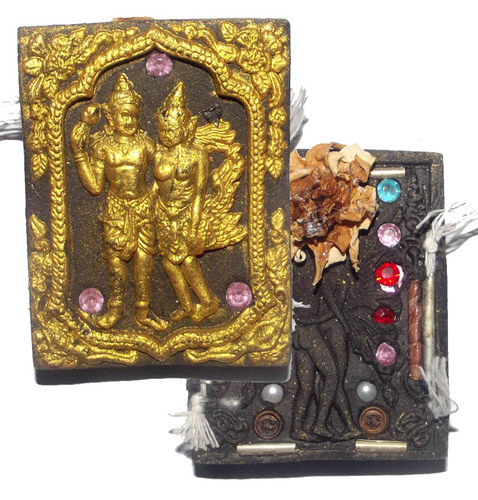 Followed by the Top of Series Hand Painted 'Ongk Kroo' Versions, featuring color painted front face, with Three Gemstones and a rear face with a further Seventeen Gemstones 2 Pearls, One Look Namo, 2 silver Takrut Hua Jai (Hying, Chay), Two Python Takrut, and One metallic 'Taep Jamlaeng' (Butterfly Deva) amulet.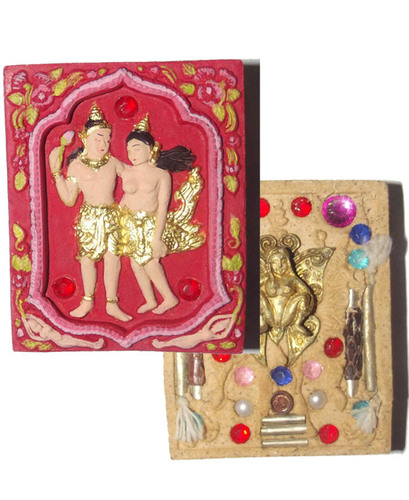 Above; Red Version. Below; Purple Version.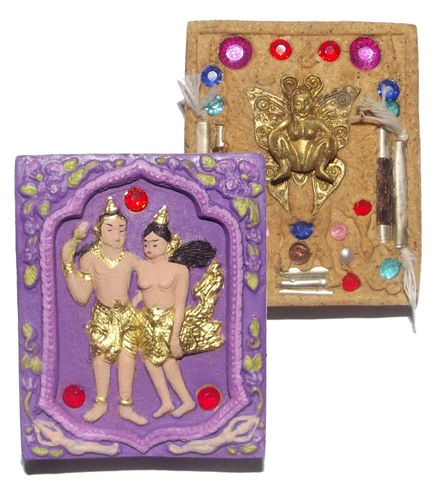 Khun Phaen Bal Sabprer
These were made from some of the Finest Prai Kumarn Powders available and have become Legendary Classics in the Time since their release. Renowned for their Power and Quality Sacred Powders.They were realease din three different Models; Ongk Kroo, Pised (Special) and in 'Tammada' (Standard) Pim C White Puttakun Powders.
Pra Khun Phaen Nuang Bal Sabprer (Ongk Kroo)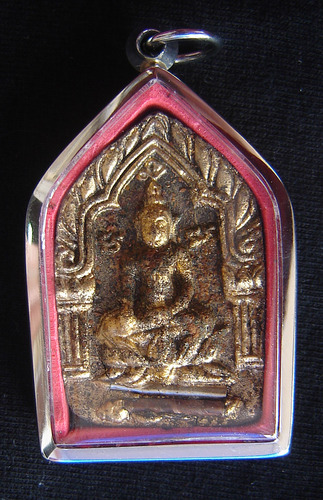 5 Takrut on the Rear Face, Two on the Front, and Five in the Base of the Amulet were inserted.
Pra Khun Phaen Nuang Bal Sabprer (Pised)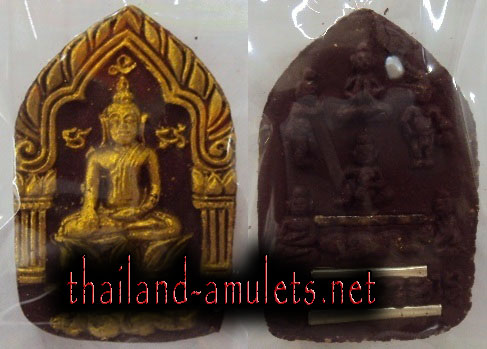 2 Takrut Ngern (siilver) and One Takrut Ngu Hlueam (Python), plus One Pearl were inserted in the rear face of the Pim B Pised Model.
Pra Khun Phaen Nuang Bal Sabprer (Tammada)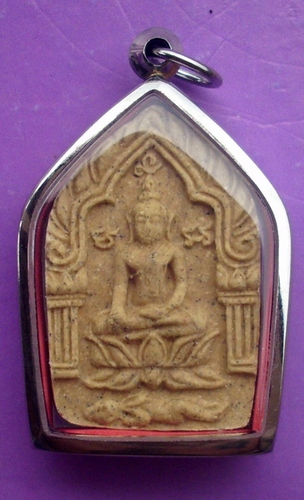 Biography of Luang Phu In Khemataewo – Wat Nong Meg (Surin)
2 Takrut Ngern (siilver) and One Takrut Ngu Hlueam (Python) were inserted in the rear face of the Pim C Tammada Model.
Takrut Ngu Hlueam (Python Takrut)
The Python Takrut and its Power was already made Famous since 2552 BE when LP In released his First Official Edition. Since then he has been begged to keep Producing each new edtion because they are never enough for the Demand. Extremely favored by Gamblers, and those who wish to Charm.
Khun Phaen Taewada Hlong Hong (Version 2)
This was released in two versions, Special and Masterpiece (Pised/Ongk Kroo) Ongk Kroo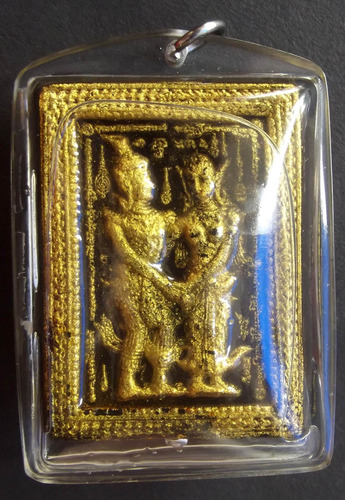 The rear face of the Ongk Kroo is filled with a Multitude of Sacred and Powerful Magical Ingredients.
The rear face displays two real white pearls and two black pearls in each corner, 5 silver Takrut Maha Saneh, 5 Python Takrut, two silver Takrut Khun Phaen Tewada and two Takrut Hua Jai Chay Hying (heart of Man and Woman). Two Look Namo Slugs and a Locket of Luang Phu In are also inserted, with One Extremely Rare Dork Rak Sorn flower.
Pim B Pised
The Pim B was also Very Special with 5 silver Takrut on the back face, 3 Python Takrut, two Silver Takrut Khun Phaen Tewada.
The bottom side of the amulet has a further Five Takrut in the Base.