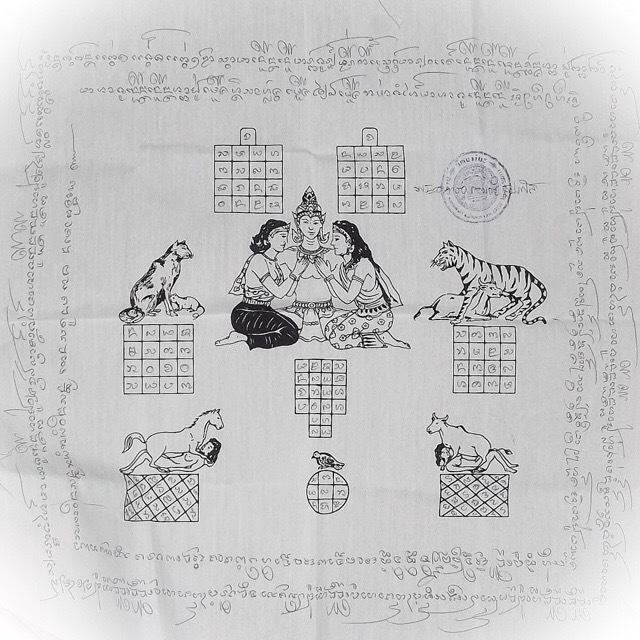 Pha Yant Paya Khao Kam - Sacred Lanna Wicha Yantra Cloth Spell for Seductive Influence and Popularity 14 x 14 Inches - Pra Ajarn Gorp Chai - Wat Mae Ya
SKU 03624
Product Details
Paya Khao Kam (Golden Horned Seduction Demon) with multiple additional Wicha, including the Wicha Noo Kin Nom Maew (Mouse suckling milk from a Cat's teat), Wua Kin Nom Suea (Calf suckling milk from a Tiger's teat), Wicha Mae Saep Nang (Horse making Love with a Beautiful Maiden), Wicha Wua Grating Saep Nang (Bull making Love with a Beautiful Maiden), and Wicha Nok Kum (Partridge Yantra Spell).
An advanced compendium of Animist Wicha Lanna are inscribed around the Paya Khao Kam as a compendium of supplementary Metta Maha Sanaeh Spells and are of course most powerful for Mercy Charm and Seductive Influence. The Paya Khao Kam is also Imbued with Powerful Choke Lap Magic, for Lucky Fortunes.
This edition of Inscribed Sacred Yantra Cloth Spells were created and blessed by Pra Ajarn Gorp Chai of Wat Mae Ya, with additional Blessings from his Kroo Ba Ajarn.
The Paya Khao Kam is the Pra Khun Phaen Paetch Payatorn of the Lanna tradition). Paya Khao Kam, is pictured surrounded by a Harem of Maidens on the front face of the amulet. Paya Khao Kam is traditionally pictured in Lanna Mythology as a Man dressed in full rich regalia with a crown bearing two golden horns of plenty. He is embracing a harem of maidens.
The Paya Khao Kam, is a powerful Seduction and Mercy Charm, known for its power to possess many lovers and keep them all happy and fulfilled, to attract admirers, customers and friends. It is highly reputed for its Maha Lap and Maha Pokasap powers. This is of course a reminiscently similar imagery and indeed, similar magical effect as the Khun Phaen Jet/See Nang Lorm Wicha, which also features a Virile Successful Wealthy man (Khun Phaen) of Great Status and Power, encircled by Lovely Maidens.
The Paya Khao Kam has received additional special empowerment and blessings from the great Luang Phu Kroo Ba Krong Khadtiyo of Samnak Songk Ban Tam Magwaen in Lampang. Luang Phu is a Maha Thaera Gaeji Ajarm of the Northern Lanna Master Lineage. added his empowerments to increase the power of the Paya Khao Kam with the Magical Power of Seductive Influence
Above; The Wicha Yant Nok Kum
Nok Kum
The Nok Kum is a kind of bird which the Lord Buddha was once born as in one of his last 500 lives before enlightenment. The Nok Kum was born and one day, the parents flew out of the nest in the forest to fly over the fields and find food. As they were away, a forest fire started, and began to consume the tree which the Nok Kum was nesting in.
The Nok Kum thought to himself; "Apart from Morality and Truth, there is nowhere else for me to refuge!" So he chanted this Kata which translates as; i have both wings, but they are still too small to fly and i cannot fly away – i have both legs, but i am not yet able to walk, for i am still a baby – my parents are flown from the nest and cannot save me, You oh Fire must go back where you came from"
Because the Nok Kum was the Future Buddha, his Baramee was already so powerful that the Kata worked, and the fire died out. The tiny Nok Kum may seem like a peaceful turtle dove, but in fact its Kata did not only save himself, but also the whole forest. When made as a Pha Yant (Yantra Cloth), it is very good for preventing fires in the home.
It is also useful as a Sak Yant Tattoo not just for Metta but also for Muay Thai boxers who use a move called 'Nok Kum Khao Rang' (Partridge entering the nest), which the Yantra will surely assist in making this move perfectly.
Kata to chant to the Nok Kum Deity
Sandti Bpagkhaa Abpadt Dtanaa Sandti Bpaataa Awanjana Maadtaa Bpidtaa Ja Nigkhandtaa Chaadtawaeta Bpadtigamaa Kata Nok Kum (for Metta Mahaniyom) Putta Maedtang Jidtang Ma Ma Puttaputtaanupaawaena Tamma Maedtang Jidtang Ma Ma TammaTammaanupaawaena Sangka Maedtang Jidtang Ma Ma SangkaSangkaanupaawaena Waetaa Saagu Gusaa Taa wae Taayasaadta Dtadtaayasaa Saa Saa Ti Guy Gu Ti Saa Saa Gu Dta Gu Pu Pu Gu Dta Gu
The Paya Khao Kam has been made and empowered by Pra Ajarn Gorp Chai, of Wat Mae Ya, Ampher Ban Tak, in Tak Province, in a small limited edition of traditional Lanna Amulets, which adhere to the Ancient Wicha Lanna Methods of Creation and Empowerment.

Various different models of the powder Paya Khao Kam Amulets were made, with varying numbers in limited editions for each different model. Full of the Wicha Paya Khao Kam, and Wicha Noo Kin Nom Maew. The Pha Yant Paya Khao Kam yantra Cloths were also made in different colors (White or Pink)
Above; Pra Ajarn Gorp Chai Ubpaso of Wat Mae Ya - Creator of this Special Limited Edition of Sacred Lanna Amulets.
The power of this ancient northern Lanna hill tribe sorcery, Is believed by Buddhist people of the north, To be second to none in inducing mercy and compassion and preferred bias in the hearts of those who approach and is used for both Financial and romantic Purposes, As a love charm seduction agent and business improvement tool.
Above; Hand signature of Pra Ajarn Gorp Chai on the Pha Yant
The Pha Yant can be framed in a picture frame on the wall or affixed to the wall, and can also be carried in the pocket, handbag, wallet or even placed in the cash till, or wherever you wish to attract admirers, lovers, customers and the like. The spell also possessed Maha Amnaj Commanding Dominion (through seduction and inducing love and admiration).
The Yantra Cloth features an image of the Paya Khao Kam surrounded by a Harem of Maidens, all vying for his attention and amorous interest. As Lord and Master, Paya Khao Kam is full of Maha Amnaj (commanding power and influence) over his entourage. around the Paya Khao Kam are a compendium of different Yantra Spells, increasing Maha Sanaeh, Metta Maha Niyom, Maha Lap, Serm Duang.
Included in this small edition, were a series various models of Paya Khao Kham Wicha Paya Tae Krua (Lanna style of Pra Khun Phaen Paetch Payatorn), some powerful Maha Sanaeh Orientated Takrut Spells of two kinds: Takrut Ling Lom, amd Takrut Ma Saep Nang, both filled with Prai Powders. This release is to assist the temple with severely needed funds for maintenance.
The spell works without much need of Bucha except for weekly offerings, but of course if you Chant to Increase the Power, it is always a benefit. However, the Prai Magic nature of this spellbound Sacred Geometry Cloth, is intended to work without the user needing to pay too much attention to Ritual Ceremony.
Kata to call Ladies
Om Jidtang Idthīyang Aehi Jid-Dta Gāma Rākang Raaka Ma-Ma Mā Ma
Kata To call Men;
Om Jidtang Burisō Ēhi Jid-Dta Gāma Rākang Rāka Ma-Ma Mā Mā
To use properly you should take time before bringing the Yantra into the House, using the below methods used for bringing Prai Spirit amulets into the House.
Light 12 Incense sticks, and inform the Local Devas and Spirits that you are bringing another Prai Spirit into the House.
For initial Bucha, perform 'Rap Khwan' for the Spirits Invoked within the Yantra, by offering nine red or white (or mixed) flowers, incense sticks (light them) one glass of water.
About the 'In' Ma Saep Nang Deva There is a Fable that there was once a family who had a very beautiful daughter. This family reared horses for a living, and their horses were famous for their incredible beauty. The daughter took care of the horses every day until one day she felt intense desire for the horse she had become attached to, and consummated her desires with the horse (had sex with it). When the family found out about the event, they were incredibly offended and angry, and they killed the horse which the daughter had been caring for and had sex with.
The daughter heard of this, and became so sad, that she died of a broken heart, from sorrow for loss of her horse and lover. The ancient Kroo Ba Ajarns of Old believed that this particular horse had an incredible power of Maha Sanaeh (charm and attraction). So strong indeed, that even a Human Woman could fall in love with it and allow it to have sexual contact.
Save this product for later