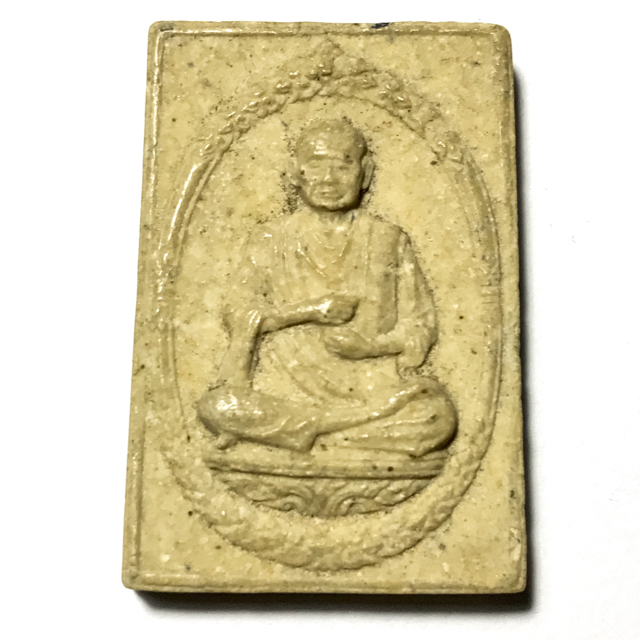 Pong Somdej Pra Puttajarn (Dto) Prohmrangsri 2533 BE - 118th Anniversary Edition Spell Inscriptions on Rear Face - Wat Rakang Kositaram
SKU 03943
Product Details
Sacred Powder Votive Tablet of the Great Somdej Pra Puttajarn (Dto) Prohmrangsri of Wat Rakang Kositaram Anusorn, released in the 'Anusorn 118 Pi' Memorial Edition, at Wat Rakang Kositaram in 2533 BE.
This incredibly detailed sacred powder image of the Great Guru Master Somdej Pra Puttajarn (Dto) Prohmrangsri is in pristine condition and an extremely rare item in the present day, made from Sacred Powders of Wat rakang, which always contain a certain amount of the original Pra Somdej Wat rakang amulets of Somdej Dto, as well as ground up amulets of previous editions, Gesorn Pollens, and the 5 Yantra Powders of Bpathamang, Ittijae, Puttakun, Trinisinghae, and Maharaj powders.
This exhibit is well laden with 'Nam Man Tang Iw' oil, rendering a yellowish and shiny surface texture to the hardened Muan Sarn. Its medium size makes it not only a nice amulet for men, but is also a highly recommended amulet for ladies or even children.
The 3.2 x 2.4 Cm Votive Tablet is an eminent member of the classic Anusorn 118 Pi Edition of Wat rakang Kositaram, which is one of the most important historical editions of the Post 2500 BE Era. The amulet is extremely finely detailed in the resemblance of the Great Master, for Bucha to Somdej Pra Puttajarn (Dto) Prohmrangsri Wat Rakang Kositaram. The statuette measures 3.2 x 2.4 Cm.
This exhibit is unusual that it was one of the lucky few to receive hand inscriptions of Khom Agkhara as additional blessing. This occurs when a devotee receives an amulet and beseeches one of the monks to inscribe and bless it, which many devotees like to do, either when attending a blessing ceremony, or even when they visit the temple to make merits. It is a very common practice for a devotee to place his amulets on a tray to give to the monk to bless and hand back.
The Ceremony of the 118th Anniversary Edition was initiated by Somdej Prayan Sangworn Pra Sangarach Head Monk of Wat Bovorn and the Thai Sangha, with his Holiness performing the Lighting of the Victory Candle of the Buddha Abhiseka Chanting Ceremony (Dhamma Chakra), which is the Ritual of the Opening of the Eyes of the Buddha Image.
The Ceremony was performed on the 22nd of May, with his Holiness Prayan Sangworn Sangarach sitting in 'Nang Prok' Meditation to Emanate Metta within the Uposatha Shrine Room of Wat Rakang Kositaram , and a total of 89 Great master Monks from around the country present to assist in the empowerment, including Luang Phu Tim of Wat Pra Khaw, Luang Por Chaem, of Wat Don Yai Horm, Luang Por Kloi of Wat Tham Khao Ngern in Chumporn, Luang Por Pae of Wat Pikul Tong, Luang Por Bprueang, of Wat Hiranyaram, Luang Por Phern, of Wat Bang Pra in Nakorn Pathom, and many others.
The Purpose of this edition was to assist the Somdej Pra Puttajarn (Dto) Prohmrangsri Foundation to restore the Sala Bprian edifice which was built in the Ayuttaya Kingdom Era, bringing it back to its original condition, and to improve the Public Facilities within the enclave of the temple.
This edition also served to raise the funds available within the Somdej Pra Puttajarn (Dto) Prohmrangsri Foundation to enable it to keep up with its projects as was originally planned when the Foundation was formed. In addition, funds were needed to build a public utilities hall (Sala Anek Prasongk - Multi-Purpose Building), to use for the various needs of Buddhism, be it for visitors to rest in, hold Dhamma Sermons, or other purposes.
For these purposes, the permission to create this 118th Anniversary Edition was given by the Gammagarn Comittee of Wat Rakang Kositaram and 89 great Kanajarn Guru Master Monks were invited to perform Nang Prok Empowerment over the amulets, with some very great Monks present for this now Historic and Classic Edition;

1. Pra Pawana Kosala Thaera (Wat Pak Nam Pasi Jaroen) 2. Pra Yan Bodhi (Luang Por Khem) of Wat Sutat, 3. Pra Kroo Palad Dhamma Jaria Wattana (Luang Por Wichiar) of Wat Duan Khae 4. Pra Kroo Janta Kunaporn (Luang Por Jampa) of Wat Intarawas 5. Pra Kroo Wimon Dhamma Tada (Luang Por Thawin) of Wat Talad Bua Khaw 6. Pra Kroo Wiboon Silawatr (Luang Por Chuan) of Wat Hnang 7. Pra Kroo Sutti Dhamma Aajarn (Luang Por Kon) of Wat Chayapreuks Mala 8. Pra Kroo Udom Chodti Wattana (Luang Por At) of Wat Ongkaraks, in Supanburi 9. Pra Kroo Suntara Suwannagij (Luang Por Dee) of Wat Pra Roop, in Supanburi 10. Pra Kroo Sri Chalangka Sangworn (Luang Por Rerm) of Wat Juk Gracher in Chonburi 11. Pra Kroo Sartara Pattanagij (Luang Por Lamoon), of Wat Sadej in Patum Thani.
12. Pra Kroo Kasem Dhamma Nanta (Luang Por Chaem), of Wat Don Yai Horm in Nakorn Pathom 13. Pra Kroo Suntara Wuttikun (Luang Por Put) of Wat Klang Bang Pra in Nakorn Pathom 14. Pra Kroo Thapanagij Suntorn (Sak Yant Master, Luang Por Pern) of Wat Bang Pra in Nakorn Pathom 15. Pra Kroo Kasem Navagij (Luang Por Tao) of Wat Go Wang Sai in Nakorn Pathom.
16. Pra Kroo Pipattana Wiriyaporn (Luang Por Phook) of Wat Pathom Chedi 17. Pra Kroo Wichai Prasittikun (Luang Por Chern) of Wat Koke Tong in Ayuttaya 18. Pra Kroo Putta Siriwatana (Luang Por Mian) of Wat Wat Po Geb Jao in Ayuttaya 19. Pra Kroo Sangwara samanagij (Luang Por Tim) of Wat Pra Khaw in Ayuttaya 20. Pra Kroo Kasem Kanaban (Luang Por Mee) of Wat Mara Wichai in Ayuttaya 21. Pra Kroo Wuboon Radtanagorn (Luang Por Wongs) of Wat sam Gor in Ayuttaya 22. Pra Kroo Suntorayagij (Luang Por La-iad) of Wat Pai Lom in Ayuttaya 23. Pra Kroo Opasa Dhamma Watra (Luang Por Luan) of Wat Pikul Sopana in Ayuttaya.
4. Pra Kroo Suwattanaporn (Luang Por Bee) of Wat Dtamnak Nuea in Nontaburi 25. Pra Kroo Utai Dhamma Taree (Luang Por Seng) of Wat Pha Ma Fai in Prajinburi 26. Pra Kroo Bai Dtika Kloi (Luang Por Kloi) of Wat Tham Khao Ngern in Chumporn 27. Pra Kroo Samutra Pattana Sopana (Luang Por Tong Lor), of Wat Kan Lat in Samut Prakarn 28. Pra Kroo Garam (Luang Por Plab) of Wat Chai Klong in Pattalung 29. Pra Kroo Ga Chadti (Luang Por Bun Tong), of Wat Don sala in Pattalung 30. Pra Kroo Ga Derm (Luang Por Perm) of Wat Khien Gaew in Pattalung
31. Pra Ajarn Sri Ngern, of Wat Don sala in Pattalung 32. Luang Por Rit of Wat Ban Suan in Pattalung 33. Pra Ajarn Gaew of Wat Koke Done in Pattalung 34. Pra Ajarn Plord of Wat Hua Pha in Pattalung 35. Pra Racha Singha Kanajarn (Luang Por Pae) of Wat Pikul Tong in Singhburi 36. Pra Kroo Jidtanuraks (Luang Por Juan), of Wat Nong Sum in Singhburi 37. Pra Kroo Mettanu Sasana (Luang Por Bun Chuay) of Wat Kuti Tong in Singhburi 38. Pra Kroo Intakananusik (Luang Por Jek) of Wat Ranam, in Singhburi, and Pra Kroo Piboon Dhamma Waet (the Great Luang Por Prueang) of Wat Hiranyaram (Wat Bang Klan) in Pijit).
Kata Bucha Pra Somdej Pra Puttajarn Dto Prohmrangsri
Om Sri Sri Prohmrangsri Namadtae Mahaa Thaeraanusadto Maedt Dta Dtang Sukhang Andtaraayang Winaasandti Pawandtu Dte/Mae
(use 'Dte' for wishing blessing on 'Them' and 'Mae' for wishing blessings on 'Me')
Save this product for later