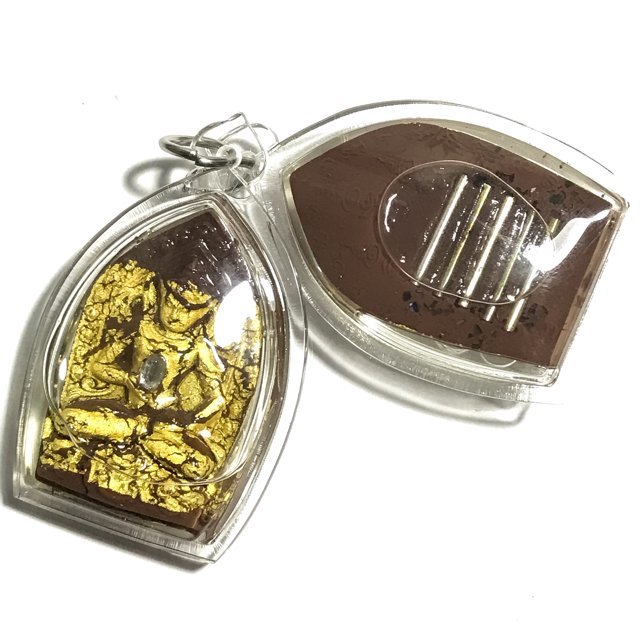 Pra Khun Phaen Kan Chong Song Nang Ongk Kroo - Wan Ha Roi Nang + Gemstone + 5 Takrut in Dork Rak Oil Blessed by LP Chamnan + LP Surasak Only 999 Made
SKU 03998
Product Details
Pra Khun Phaen Kan Chong Song Nang Ongk Kroo - Maha Choke Pokasap Edition - Nuea Wan Ha Roi Nang Ploi Sek Maha Pokasap Fang Takrut Ha Dork Chae Nam Man Dork Rak - Masterpiece version in luxuriously powerful 500 Nymph Maidens Powders with five silver Takrut, soaked in potent Dork Rak Prai Oil. Blessed by Luang Por Chamnan + Luang Por Pra Maha Surasak and 7 other Master Monks.
A total of only 999 Amulets were made in this special Ongk Kroo Masterpiece Charm Oil soaked version. The Pra Khun Phaen Kan Chong is Intended for both Men and Ladies to wear, for Maha Sanaeh, Metta Mahaniyom, Maha Lap Maha Pokasap to bring wealth and happiness to the devotee.
The traditional way to wear this amulet is to hang it around your neck on the outside of your clothing, for maximum Maha Sanaeh Metta Mahaniyom effect. The Kan Chong Magic (Mirror Magic) is also empowered to reflect Evil Energies, Curses, Black Magick, and to cause Evil Intentions to be reflected back to the person who sent them.
---
The Khun Phaen Kan Chong Maha Choke Pokasap edition amulets are designed in Khmer style Buddhist Art style of the Lopburi Era. The amulets were blessed with various other types of amulets and occult charms, at Wat Banpot Sutaram, by 9 Great Master Monks, including two of the Greatest Masters of the Present Day Era; Luang Por Chamnan (Wat Bang Kuti Tong), and Luang Por Pra Maha Surasak (Wat Pradoo).
Made with extremely rich Muan Sarn Sacred Powders, composed of Herbs and Pollens, and Yantra Powders (Pong Lob). This special edition was made to raise funds for the building of the Uposatha shrine room at Wat Banpot Sutaram, with four different versions of Pra Khun Phaen in the series.
The Pra Khun Phaen Kan Chong Song Nang is endowed with a very similar style of Magic as the Sangkh Tong Ngao Pha Plaeng Roop Wicha, which melts hearts and induces mercy and generosity in the hearts of those who approach.
Above Pic:- Top Left; Pra Khun Phaen Song Nang (Ongk Kroo Pim A), in Nuea Wan Ha Roi Nang soaked in Dork Rak Oil with 5 Takrut. Top Right; Pra Khun Phaen Song Nang Nuea Wan Maha Long (Ongk Kroo Pim B) with 3 Takrut. Bottom Left; Pra Khun Phaen Song Nang Nuea Wan Maha Sanaeh Roey Ploi. 4.Pra Khun Phaen Song Nang Nuea Pong Sanaeh Jantr Khaw (Jaek Gammagarn Nai Piti).
Muan Sarn Sacred Powders
The Muan Sarn Sacred Ingredients used for this edition was mixed into four main admixtures;
1. Light beige (Nuea Wan Sanaeh Jantr Khaw - White Mooncharm Herb Powders) - 1,999 Amulets were made in this version
2. Nuea Wan Maha Sanaeh Roey Ploi (Dark coloured Seductive Attraction Herbs Powders with Gemstone Fragments and pieces of the Uposatha Shrineroom Stucco Tiles). - 4,999 Amulets were made in this version
3. Nuea Wan Maha Hlong Fang Takrut (Golden Coloured Enchantment Herb Powders and 3 Takrut) - 3,999 Amulets were made in this version
4. Nuea Wan Ha Roi Nang Liam Nam Man Dork Rak (500 Maidens Herb Powders in Dork Rak Charm Oil) - Only 999 Amulets were made in this version
All of these formulas were made by mixing a main base Muan Sarn made from a large number of magical ingredients, and then adding a large does of each specific substance for each of the four different types of clay.
---
Admixtures;
Some of the individual herbal and other sacred ingredients involved in the making of these various formulas, include the following;
Pong Nang Ram Rai, Pong Yant Dtreung Nang, Pong Dork Pikul, Pong Khun Phaen Chom Talad, Pong Pralaks Hnaa Tong, Pong Paya Tae Krua, Pong Rak Sorn, Pong Prai Burut, Pong Taep Taro, Pong Sanaeh Jantr Khaw, Pong Bailan Phao, Pong Nang Lorm, Wan Joong Nang, Rae Dam Ngao, and Grajok Bote Gao (wall stucco of the old Uposadha Shrineroom).
This Pra Khun Phaen amulet does not stand in the shadow of others, and is eminent in both the Muan Sarn Sacred Powders content, as well as the sacred Blessing, with the additional reassurance that the funds of this edition have served a truly useful purpose for Buddhism. If we consider the fact that the power of faith can 'move mountains' (Miracles), then we can also see that one important ingredient of Miraculous Events, is that the Devotee him or herself feels filled with faith and inspiration from the amulet they wear.
---
If the amulet inspires faith and rapture, then of course, this increases the chances of a Miraculous Connection Occurring in the right time and place, when it is needed, and may save your life, or change it for the better in unforeseen ways.
Luang Por Chamnan is a great monk with great future same as many other masters of the past such as Luang Phu Tim Issarigo, Luang Por Kasem, and Luang Phu To, because he makes 90% of his editions at other temples, to help them raise funds.
So many editions dont get heard of, except the most fanatical devotees who follow every movement of this very busy and selflessly diligent monk. Indeed, this master blesses and releases many editions per year in his name with his blessings, to help smaller temples develop, by letting them keep the money from the amulets he blesses.
His many editions make for a vast compendium, which have alll become highly favoured and rare editions over the many years of his Patipata. He adheres to the principle of high quality craftsmanship and artisanry, and only the most sacred and authentic muan sarn ingredients, to preserve the Traditional Methods and Practices of Thai Buddhist Amulet making. His amulets are almost always sellout editions, and mostly sell ot and disappear from the public marketplace within a very short time after release.
---
The same can be said of Luang Por Pra Maha Surasak, of Wat Prado Pra Aram Luang, who is always invited to be present in all Great Ceremonies of National Importance, including those at Wat Sutat, and Wat Rakang Kositaram.
He also has helped many smaller temples over the years by appearing to empower and bless his amazing amulets, as an act of Generosity to raise funds for temples iin need in the many poor provinces of Thailand. Luang Por Pra Maha Surasak is a highly revered monk, whose amulets are only released far and few between from his own temple.
But he is seen to be present on the most important Empowerments and Buddha Abhiseka Ceremonies around Thailand's Greatest temples. He is popular with Devotees all around South-East Asia, in Hong Kong, Malaysia, Singapore, Taiwan, and Indonesia.
---
It can be seen then, that both Luang Por Chamnan of Wat Bang Kuti Tong, and Luang Por Pra Maha Surasak, are two monks who are known to release most of their Amulets in different temples to help the smaller Temples to raise funds to develop their facilities. They are highly respected for this, not only by devotees around the country and south east Asia, but also within the High Sangha, for their selfless dedication to the work of preserving and nurturing the Buddhist Faith.
Both monks are high status monks of National Importance, with hundreds of thousands of Devotees World-Wide. The power of their amulets is tried and tested by Devotees around the world over many years now, and their amulets remain amongst the most popular of all monks in the present Era.
This edition is yet another one of their meritorious deeds, to allow their famous name to be used and bestow their powerful blessings, to create popular Amulets of high sacred value, to help the smaller Temples, which are in much more need of funds. It's also much more inspiring to rent an amulet knowing that it is helping a temple with real need.
Kata Bucha Pra Khun Phaen
Full Length Kata for Chanting Bucha to Pra Khun Phaen
Om Sitti Sri Sri Play Gaew Jidtang Bpiyang Ma Ma Sasee Doo Ngaa Bpraduj Dang Gab Phaen Fa Hnaa Goo Ngam Dang Gab Khun Phaen Khaen Goo Ngaam Dang Pra Narai Gay Goo Dang Gab Pra Aatidt Rit Goo Ngam Dang Prajantr.
Saw Nai Mueang Sawan Hen Hnaa Goo Yoo Mi Dai Saw Gae Mae Hmay Nai Loke Manus Yaeng Yutgan Hlong Rak Lae Fai Fan Chwong Ching Gan Mi Waern Way
Goo Ja Ramleug Terng Dton Mai Gor Hai Ma Nguay Ngong Jong Dtam Ma Glai Mai Hang Hae Samakanae Neug Goo Ja Ramleug Terng Payaa Hongs Gor Hai Ma Hlwong Lerm Tham Koo Haa Goo Ja Ramleug Terng Paya Pla Gor Hai Reeb Ma Hlong Lae Lerm Nam Goo Ja Ramleug Terng Kon Tammada Gor Hai Ma Hlong Lerm Tee Norn Goo Ja Ramleug Terng Look Gai Awn Gor Lerm Mae Wing Rae Dtam Goo Ja Ramleug Terng Chang Ngam Gor Jong Dtam Ma Goo Ja Ramleug Terng Sae Mae Ka Jong Ma Ha Goo Goo Ja Goo Rorng Riak Saw Hyai Hai Hlai Hlong Goo Ja Ramleug Terng Dong Pong Prai Hai Chorp Jai Goo Goo Ja Ramleug Terng Foong Chon Tang Hlay Tee Mee Yoo Jong Yaa Hang Hern
Jong Soo Hnaa Ha Mee Sanae Metta Dtalord Bpai Krai Hen Krai Rak Krai Tak Krai Chom Hai Mee Kon Niyom Dtam Goo Ma
Om Na Ma Pa TaNa Ma Pa Ta Na Ma Pa Ta Arahang Putto Na Mo Put Taa Ya Puttang Sitti Tammang Sitti Sangkang Sitti Metta Sitti Sitti Sawaha
Kata Hua Jai Khun Phaen
Su Na Mo Ro Mo Ro Su Na Na Ma Pa Ta Ja Pa Ga Sa Na Maa Mi Hang

Save this product for later