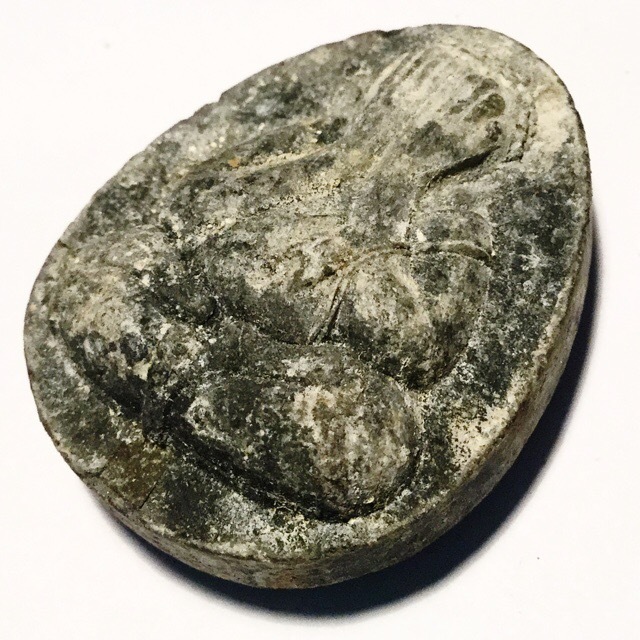 Pra Pid Ta Nuea Pong Bailan Chae Nam Montr Prayer Water Soaked Edition - 3 Years Blessing 2539 - 2541 BE Luang Por Mee Wat Mara Wichai
SKU 03554
Product Details
This Pra Pid Ta Maha Lap Run Chae Nam Montr (soaked in prayer water edition) was released in 2541 Be. This means it was made at least 3 years before, because Chae Nam Montr requires a three year empowerment. This one is medium size at 3 x 2.5 Cm, and thus apt for both ladies and men.
The surface aging and texture has increased in beauty through the soaking of the amulet in prayer water for 3 years. The Rear Face has 'Yant Putsoorn' on it for Metta and Maha Lap. Kong Grapan, Serm Duang Magic.
One Takrut spell is inserted flatly into the base. The amulets are charged with three years of prayer water soaking and the chanting of Buddhist Monks throughout all the Buddhist ceremoies of three years. A most Excellent Buddhanussati Amulet for Karma Improvement, Wealthy Lucky Fortunes, mercy Charm and Protection, from one of the Great Masters of the Ayuttaya Lineage Tradition.
Pra Pid Ta amulets, as well as Pra Pid Ta in form of Pha Yant, and Bucha statues, have been produced as objects of reverence and protection since very ancient times in Thailand. The artisans of that time created various styles and interpretations using the various periodic influences of Buddhist art and sculpture available at the time. Various Deity forms were used to make the Pid ta posture ('Pid Ta' means 'covering the eyes') – various Buddhas or Bodhisattvas or Deities are fashioned into the posture of Pra Pid ta, or Pid Tawarn (meaning 'closing the orifices). Pid Tawarn can close 7, or 9 orifices (seven being called 'Pra Pid Sadtatawarn' and nine being called 'Pra Pid Navatawarn').
The Pra Pid Ta is considered to be an amulet with 'Maha Ud' and 'Kong Grapan' power (invincibility and gunstopping power), but is also made as a wealth bringer, in which case, the amulet will be called 'Pra Pid ta Maha Lap'. In order to inflect a greater resonance for wealth attraction and auspicious blessings, in addition to the Maha Ud and Kong Grapan magic, ancient artisans sometimes would use the image of the Sangkajjaiyana Buddha of riches and happiness, and carve it in the Pid Ta posture. The Pid Ta amulet is one of the most popular of Thai amulets, and has been made by so very many temples and masters from all Provinces, that it is now classed as an important member of the Benjapakee family of classic top five types of Thai amulets.
The Muan Sarn (sacred powder mixture) is very fine quality and rich in sacred ingredients, including Nuea Pong Bai Lan powder and Pong Wised. This edition was empowered during a whole three years from the year 2539 BE, with nightly empowerments and chanting every day of the 3 month Rainy Season, each year until the year 2541 BE. This ritual three year empowerment method of Traimas is reminiscent of the Great and now extremely rare and famous 2421 - 2424 BE Edition of Prayer Water Soaked Pra Pid Ta Amulets from Luang Phu To, of Wat Pradoo Chimplee.
This kind of Sacred Empowerment is one of the most powerful methods for truly charging up Buddhist Amulets with Wite Magic Buddhakun Power, from the prayers of the hundreds of Monks who pass through the Uposadha Shrineroom during the 3 years of ceremonies. The Pra Pid Ta can be used for Bucha to Pra Sangkajjai Buddha, for indeed, it represents his Image, with plump stomach and rounded curled hair locks. The Pra Pid Ta also is used to represent the Sangkajjai Buddha, and the Pakawambodee/Kawambodii Buddha.
Pra Sangkajjai represents one of the Pra Sidtisawok Aedtakka (One of the Buddha's the most admired and praised practitioners). The Buddha praised him for his ability to put long complex teachings into short understandable formulas. He has a golden tinted skin complexion, and was originally so similar in appearance and stature to the Lord Buddha, that sometimes people would mistake him for the Buddha if seen from a distance. For this reason, he used his mind powers to force his body to grow fatter and not so handsome as before, in order to not confuse others if he was the Buddha or not. The ancient masters would often use the visual symbolism of Pra Sangkajjai's features to create statues in this image, which has served as an important preserver of the Faith over the Centuries, and a very old form of Buddha image dating back to the early times of Buddhism.
Pra Maha Sangkajjai was originally called 'Ganjana', which means 'Gold' in Pali. He was the son of a Brahman called Bpurohidtgajjayana Kodtra in the City of Usenni He studied and completed the Traiwaet (Tri Veda). After his father passed away, he inherited the title of Bpurohidt (advisor to the King). This happened in the time of the King Jantabajjodti Pra Sangkajjai had 7 close companions who cam,e with himn to attend the Buddhas teachings at Wat Weluwanaram, and after listening to the Dhamma, becamse Arahants instantly and asked to ordain. In the Turasutra it is mentioned that Pra Sangkajjai lived to the age of 120 years old.
Kata Hua Jai Bucha Pra Sangkajjai
Arahandti Gajjaayana Thaero Mahaa Poko Pawandtumae.
This Kata calls luck and fortune and brings wealth, and other great treasures.
The surface of the Sacred Powder Muan Sarn, is covered in Kraap Nam Montr Prayer Water stains from the soaking ceremony, which gives an inimitable and distinguished appearance to each individual amulet, and invokes great Buddhakun Power from the Sacred Buddhist Monk Prayers vibrating within the Water.
The Pra Pid Ta Amulet is in fact a representation of a Monk entering into the state of Nirōdha (Extinguishing Suffering through withdrawing from Sensory Pleasures) - This is symbolized by the Buddha covering his eyes with his hands, blocking out any external distracitons. Some versions of Pra Pid ta have multiple arms and cover all orifices, and are called 'Pra Pid Tawarn', and has the same meaning.
Kata Pra Kawambodii
Pra Pakawambodii is also known as Sangajjayana (the famous sitting laughing Buddha with round curly hair knots, and a large belly – the Buddha of Happiness and wealth), called 'Pra Sangkajai in Thai). Kata Pra Kawambodii, and the Kata Pra Pid Ta, are amongst the most powerful Kata to Chant, for increasing Riches as well as protection, reducing sufferings and illnesses and incrementing Happiness and Luck.
Kata Pra Pakawambodee Tamma Jaggang Bpatang Sudt Dtawaa Puch Chidt Dtawaa Adt Dtang Bpatang Sandtigae Arahaa Laapo Logaanang Hidtagaranaa Pandtae Pawam Bpadtinaama Dtisulokae Subpaagadto Prahma Budt Dto Mahaa Thaero Araho Chaedtago Muni Bpidt Dti Thaero Samo Inta Kantappaa Asuraa Taewaa Saggo Prahmaa Pi Bpuchidto Na Mo Put Tas Sa Kawam Bpadtissa Na Mo Tammassa Kawam Bpadtissa Na Mo Sangkassa Kawam Bpadtissa Sukhaa Sukha Warang Tammang Tammajagga Bpawarang Warang
The Kata for Pra Pid Ta are varied, both short and long. One of the best known ones is the Kata Pra Jao Ha Praongk (five Dhyani Buddhas) as well as the fivefold encoding of Namoputtaya of Na Metta
"Na Metta Mo Karunaa Put Pranee Taa Yin Dee Ya En Doo – Krai Hen Hnaa Goo Rak Goo Khad Goo Midai"
The above Kata is Maha Saneh Choke Laap – luck and fortune, and charming power.

Kata Pra Kawambadee (This kata is for increasing ones wealth and belongings and good fortune);
Namo Puttassa Kawambadtissa Namo Tammassa Kawambadtissa Namo Sangkassa Kawambadtissa Sukha Sukha Warang Na Mo Puttaaya Ma A U Tugkhang Anijjang Anatta Jewa
The amulet comes with original box from temple


Born in 2454 BE, LP Mee is one of the remaining Living Ayuttaya Olden Days Master Guru Monks, and Abbot of Wat Marawichai in Bang Nom Kho, Ayuttaya. Wat Marawichai is one of the various related temples of importance of the Bang Nom Kho and Sena districts of Ayuttaya.
Luang Por Mee is one of the Great Gaeji Ajarn Masters of the Ayuttaya Lineage and posseses a large number of the Wicha of the Great Adept Guru Masters of the Ayuttaya Tradition.
He has constantly worked to upgrade the temple facilities since the year 2480 right up to the present day, with many buildings and restorations completed through his great meritorious efforts.


Ayuttaya is considered to be the home of many vary sacred temples where great monks practice, such as Wat Na Tang Nok (of Luang Por Jong Fame), and Wat Bang Nom Kho (of Luang Por Parn and Luang Por Ruesi Ling Dam Fame) amongst many others. Luang Por Mee has served a long trajectory of Meritorious Deeds and Diligent Renunciant life of Simplicity, working constantly for the Buddha Sasana and the furtherance of the Local Vicinity around the Temple of Wat Mara Wichai.
Did You Know?????
Origins of the name Sangkajjai - Pra Sangkajjai was not called this from the beginning, but came from Thailand, when in the Radtanakosin Era, whilst digging to place the central pillar of a temple shrineroom, that was being built for a temple in Tonburi, and they found a Gajjaiyana Buddha and a Conch shell (Conches are called 'Sangkh' in Thai).
This temple was then called afterwards 'Wat Sangkh Grajay' (temple of scattered conch). It is assumed then, that the namke of this amulet came from the name of the temple, and that a double word play or 'Chinese Whispers' style distortion of the name occured and Gave the Ganjana Buddha the name of the temple it was found in.
Save this product for later