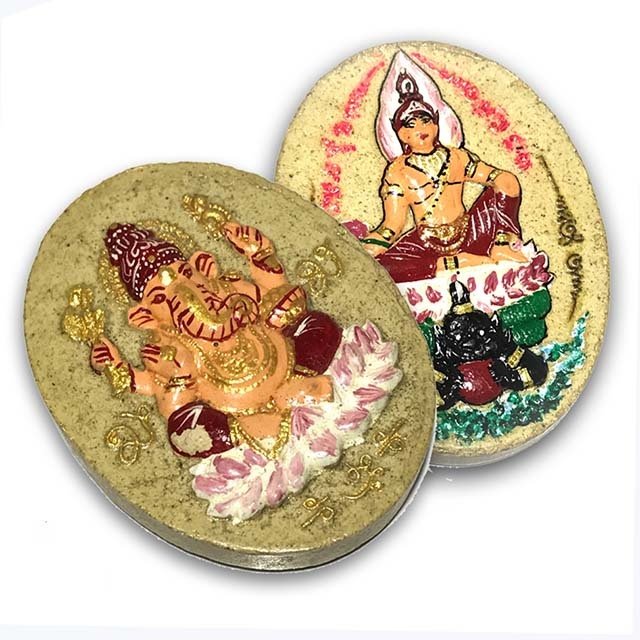 Pra Pikanes Hlang Pra Narai Pratap Rahu Wai Kroo 2551 BE Red Robed Ganesha Red Robed Vishnu - Ivory Powders - Kroo Ba Krissana
SKU 04077
Product Details
Pra Pikanesworn - Pra Narai Maha Taep Nuea Pong Nga Chang Paint See 2 sided extreme limited edition amulet with Ganesha on one side, and Pra Narai (Vishnu) on the other side. This Pim is painted with Red Robed Ganesha on a Pink Lotus. and a Red Robed Vishnu on the other side.
The amulet is Pim Yai large size, measuring 5.5 x 4 Cm. Only 1000 amulets were made in this edition. This is a very rare amulet to see anywhere these days, as most have found their owners many years ago already.
This edition was released in 2551 BE at the Asrom Weluwan, Blessed in Taewa Pisek (Deva Abhiseka) ceremony by Kroo Ba Krissana Intawano. The Muan Sarn Sacred Powders of these amulets contains Pong Nga Chang powdered Ivory in the admixture, empowered with invocations to Summon Ganesha and the powers of the Deity.
Only 1000 amulets were made in this Pim, each amulet with its own individually painted colour combinations. Kroo Ba Krissana Intawano distributed the amulets after empowerment on the 23rd and 24th February 2551 BE Wai Kroo Ceremony The front face of the amulet features the image of four armed Ganesha seated upon a lotus, holding four cosmic weapons.
The rear face of the amulet features the image of Pra Narai Vishnu Deva, wearing red robes, seated upon a Naga Throne, above the image of Pra Rahu Asura Deva, the Eclipse God of Moon and Sun Eclipses. Pra Narai is seated with one leg raised in readiness to rise up and assist humans in their endeavours, and save them from Calamities.
Kroo Ba Krissana Intawano is one of Thailand's most sought after Masters for his beautiful miniature fine art in the form of his amulets, which are both aesthetically pleasing, as well as full of Metta Mahaniyom Maha Pokasap and Maha Lap Magic.
Kroo Ba Krissana Intawano is also an accomplished Sak Yant Master, who is less known for his Sacred tattoos, than for his amulets, which is in truth only so, because of the ultra high profile and international attention that his world famous amulets have receive.
This has served to hide many of his other great accomplishments, such as the many expansions and construction of edifices for the temple he has brought into being, His Sak Yant Thai Temple Tattoos, His Teachings, and his many forms of blessings, such a Holy Water Spraying.
The amulets of Kroo Ba Krissana Intawano are not only seen to be powerful amulets for Metta Maha Lap Kaa Khaay Siang Choke, and Maha Sanaeh - bringing lucky fortunes to gambling exploits, seducing lovers and customers, and improving one's Karma in gerneral.
Kroo Ba Krissana's amulets have already been tried and tested, and thus need little explanation, for this ajarn and his amulets have their own following who know about the benefits and beauty of his wadthumongkol (auspicious amulets) and krueang rang (occult magical items).
To make and empower amulets, Kroo Ba Krissana uses a very secret and mysterious Wicha named 'Montr Teerayaan'. He studied this Wicha under his kroo Ba Ajarn Phu Ruesi Bangbod in Laos. Besides the unique Wicha Montr Teerayan, Kroo Ba Krissana studied a number of many other Wicha in Cambodia. It took him about twenty years of intensive study and practice to fully master the teachings of the various great masters he stayed with during his time in Cambodia.
Nowadays, the amulets of Kroo Ba Krissana Intawano are known around the world both for their immense power and their exquisitely detailed artistic design, and their individuality, each amulet being different in its fine details.
Lord Ganesha
Ganesha or, as we say in Thai 'Pra Pikanes' is the Deity for removal of obstacles and attainment of success. Pra Pikanes has many different forms, with different meanings. he may have four, six, eight, twelve or even fourteen arms, but almost never two arms, this being a Tabu. Pra Pikanes may carry any of a number of 57 different Cosmic weapons or regalia in his hands.
Ganesha has many different Emanations and Postures, but the most Common Traditional Posture of Ganesha, is four armed with Whip Goad, Ritual Axe, an Om in the palm of raised hand, and Fruits as consumable offerings.
This Posture and combination induces not only the removal of obstacles and success, but also wealth and plentiful treasures and possessions and well being. The hand wielding an axe, is a symbol of the retrenchment of all desires, bearers of pain and suffering. With this axe Ganesha can both strike and repel obstacles. The goad restrains all inner and outer enemies.
Ganesha, has four arms, which symbolize his status as the universal ruler and establish his power over the four categories of beings – those who can live only in water, those who can live in water and on earth, those who can live only on earth and those who can fly in air.
Significance of four :
It was God Ganesha who instituted the four castes and the four Vedas. One hymn in Sri Bhagavat Tattva , says: 'In heaven, this child will establish the predominance over gods, on earth over men, in the nether world over anti-gods and serpents.
He causes the four ruling forces of the elements to move, for which he has four arms. You can use the Chants to Ganesha (Pikanes) to epower the potion before use, and to beseech blessings, to attract, and improve your profession, charm, wealth, status, and remove any obstacle that may be preventing you from succeeding in your goals, be they amorous, financial, professional or social goals. Ganesha helps you in all these areas of life.
Thai Kata for Chanting Daily to Pra Pikanes
Om Pikanesuan Sitti Bprasittimae Mahaa Laapo
Tudtiyambpi Om Pikanesuan Sitti Bprasittimae Mahaa Laapo
Dtadtiyambi Om Pikanesuan Sitti Bprasittimae Mahaa Laapo
Kata Pra Pikanes
Om Sri Kanesaya Namaha
Use when putting the amulet on and off each day, and as a short Kata when passing Holy Places with Images of Ganesha, or when during daily activities.
Kata Bucha Pra Pikanes (Thai Brahman Pali Adaptation)
Ongaarapintunaathang Ubp-Bpannang Prahm-Mano Ja Into Pikanesadto Mahaa Taewo Ahang Wantaa Mi Sappadtaa Sittigijjang Sittigammang Sittigaariyang Bprasitti Mae
Chant this 3, 5, 9 or 108 Times
Thai Kata for Chanting Daily to Pra Pikanes
Om Pikanesuan Sitti Bprasittimae Mahaa Laapo
Tudtiyambpi Om Pikanesuan Sitti Bprasittimae Mahaa Laapo
Dtadtiyambi Om Pikanesuan Sitti Bprasittimae Mahaa Laapo
Kata Pra Narai Song Krut – Vishnu Kata
(For all forms of Vishnu Deva including Vishnu on Garuda)
Om Pra Naaraayana Raacha Haradti Tisathidtaaya Ubpaatawadtaaya Jadt-Dtu Krudhaa Pahananaaya Haradti Tisatidtaaya Aakajchandtu Punchadtu Khibp-bpaya Dtu Wibp-bpaya Dtu Sawaaha Sawaahaaya Sappa Ubpaatawa Winaasaaya Sappa Ubpaatawa Winaasaaya Sappa Andtaraaya Sukh-khawattago Ho-odtu Aayu Wanna Sukha Palang Amhaagang Ragkhandtu Sawaaha Sawaahaa Sawaahaaya
Save this product for later