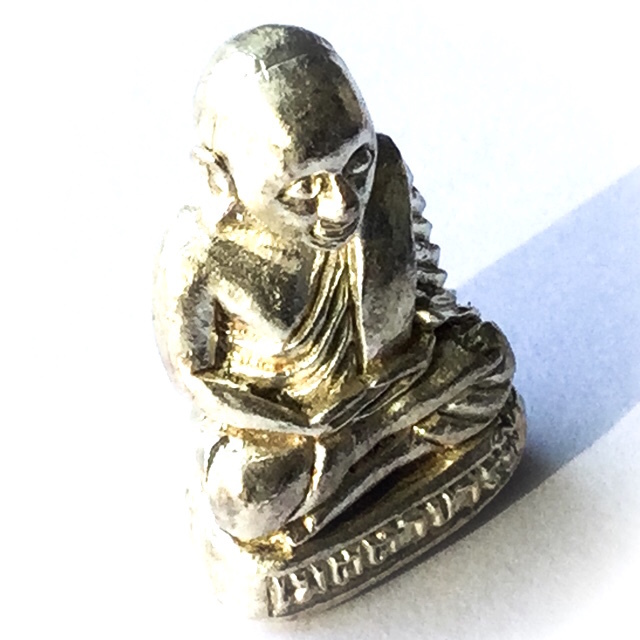 Pra Roop Lor Luang Por Ngern Metta Baramee Edition 2545 BE 3 Day Blessing Ceremony Wat Bang Klan
SKU 03811
Product Details
Pra Luang Por Ngern Loi Ongk Guru Monk Statuette made from Nuea Albaca (Sacred Silver-Pewter Alchemical Alloy), from the 2545 BE 'Metta Baramee' Edition.
Released at Wat Hiranyaram (Commonly known as Wat Bang Klan) in Pijit after an extensive Major Buddha Abhiseka Blessing performed over a three days and nights period on the 3,4 and 5th October 2545 BE, in the Ceremonial Dais of the Uposatha Shrine Room at Wat Bang Klan.
The metallic Loi Ongk statuettes are cast in classic style of the Pim Hnaa Yim Siarn Dto Luang Por Ngern amulet, and uses the casting method which adheres the most to the traditional and original method used in olden days.
These classic cast Albaca amulets are from a famous year edition, which are part of the continuing tradition of making images of the original Pra Luang Por Ngern statuettes, which has been practiced at Wat Bang Klan since the first edition amulet.
Luang Por Ngern first editions are now so famously rare, and demand the highest prices on the amulet market for an original first edition amulet. But this also happens to all other editions of Luang Por Ngern Wat Bang Klan amulets, as time passes.
Every edition which is released at Wat Bang Klan becomes a famous edition, and every edition sells out, and the prices rise fast in short periods of time. This is a phenomenon in Thailand that will not disappear, because the fact that all Luang Por Ngern amulets become rarities and increase in value, regardless of which year or edition.
But it can be said, that all editions which are released with the last number of the edition name being the number 5, are the most highly preferred (e.g. 2535, 2525, 2515, 2545). So it is then, that one edition every decade, namely the one that falls on the fifth year of that decade, is the preferred edition during that ten year period. For this reason, we see the number 45 written on the box in parenthesis (๔๕)
This indicated the fourth series which was made in a year ending with number 5 (2515, 2525, 2535, 2545 etc). That makes this 2545 BE edition a 'Niyom' (Preferred) collectors-class amulet.
This means that you are making a very sound investment in an amulet that is not only sacred, but also has a value that is confident to increase, and never decrease. The base of the statuette has the number 45 (๔๕), and the word 'Ngern' (เงิน) stamped on it
Luang Por Ngern amulets are first and foremost a powerful and Sacred image for devotees to worship and beseech blessings, but indeed, they are also the pride and joy of the avid and serious collectors. Some collectors are speculative investors, and others collect for the love of it. We see both sides of the Genre, where the Sacred, the Magical, and the Artistic Collectible are fused into one single object.
Some collectors try to collect every edition of Luang Por Ngern from every temple, to try to complete the full compendium of the pantheon. In short, this means, some people are worshipers, and for this reason only need one amulet to worship. Others are collector-worshipers, and want all of them, for their collection (and to worship).
The reason why the original Pra Luang Por Ngern became so highly sought after and worshipped, was nothing to do with art collection, rather, was directly due to the experiences of those who wore them, and saw miraculous results.
Many different editions of Luang Por Ngern amulets were made after the Passing away of this great monk, and all of them became almost instantly rare collector items, and had stories of miraculous events occur with many different editions.
But the edition which rose to the highest status of fame and glory, was of course the Pra Luang Por Ngern 2515 BE from Luang Por Prueang.
Below; one of the 4 famous Pim (models - in this case the Pim Thaan Kwang), of the 2515 BE Pra Luang Por Ngern Wat Bang Klan Millionaire Amulet
Note; Considering the immensely highly priced status of the 2515 BE Wat Bang Klan Amulet from Luang Por Prueang is so impossible to afford, it is worthy of noting that the 2528 BE Luang Por Ngern series also blessed by Luang Por Prueang at Wat Bang Klan, is still such an affordable amulet!
Pra Luang Por Ngern Wat Bang Klan Plord Pai Edition 2528 BE - Nuea Chanuan Gao - Luang Por Prueang Wat Hiranyaram (Bang Klan)
The 2515 BE edition was seen to bring immense sucess and protective miracles to the devotees who wore it, and stories of miraculous events were published on multiple occasions in the natuonal newspapers related to this amulet. If there is one reason above others why all editions of Luang Por Ngern amulets enjoy instant fame and success, it is because the miracle of Luang Por Ngern amulets, is the fact that it does not matter if the edition is an older one or a new one, for all images in his name are said to possess equal power, through the miraculous blessing of Luang Por Ngern Putta Chodti.
Luang Por Ngern is one of Thailand's Top ten Most Revered Buddha-Monk Images, for whom the Blessings of Riches and Protection are the most Highly Reputed for their Miraculous Power.
Performing Bucha to Luang Por Ngern
Perform Bucha to Luang Por Ngern on Tuesdays, Thursdays and Fridays. Offer Lotus or Jasmine flowers (9 flowers), three rolls of Areca Nut with Betel leaf – place on a tray along with 9 Incense sticks, one pair of candles.
Place them in front of Luang Por Ngern, and Pray for the Protection and Help of Luang Por Ngern, to Prevent enemies from Harming, Avoid Accidents, and to Increase Good Business and Wealthy Fortunes.
The Magical Effect of Wealth Increase is one of the Famous Aspects of the Many Blessings that come from Revering Luang Por Ngern of Wat Bang Klan, the Miraculous Image that has been the source of many stories of Miraculous Events, that have happened with a great many different editions of Luang Por Ngern amulets from a number of Masters.
The special Magic of Luang Por Ngern makes the effects work regardless of the Temple or Master who creates the amulet, for it is believed, that the Image of Luang Por Ngern has Special Magic in itself.
For Proper Ceremonial reverence to Luang Por Ngern, one should use the Traditional Buddhist Method of Bucha as a Preliminary;
Three Prostrations and Chanting of Maha Namasakara (Namo Tassa) 3 Times
Maha Namasakara
Namō Dtassa Pakawadtō Arahadtō Sammā Samputtassa
Namō Dtassa Pakawadtō Arahadtō Sammā Samputtassa

Namō Dtassa Pakawadtō Arahadtō Sammā Samputtassa

Kata Aaraatanaa Luang Por Ngern (Call His Presence)
Sitti Puttang Gijjang Ma Ma Phuu Kon Hlai Maa Na Chaa Lii Dti
Sitti Tammang Gijjang Ma Ma Khaw Khong Hlai Maa Na Chaa Lii Dti
Sitti Sangkang Gijjang Ma Ma Ngern Tong Hlai Maa Na Chaa Lii Dti
Kata Bucha Luang Por Ngern
A Ga A Ti A Ga Ti A Ga A
Wantaami Aajaariyanja Hiranja Naamagan Thitang Sitti Tandtang Mahaa Dtaechang Itti Mandtang Wasaatarang Sitti Puttang Gijjang Ma Ma Phuu Kon Hlai Maa Na Chaa Li Dti Sitti Tammang Jidt-Dtang Ma Ma Khaw Khong Hlai Maa Na Chaa Li Dti Sitti Sangkang Jidt-Dtang Ma Ma Ngern Tong Hlai Maa Na Chaa Li Dti Chimplii Ja Mahaa Laapang Pawandtumae
Kata Kong Grapan Luang Por Ngern
Pra Puttang Pra Jao Kong Hnang
Pra Tammang Pra Jao Kong Nuea
Pra Sangkang Pra Jao Kong Graduuk
Om Paetch Kong Kaa Dtrii Paetch Swaaha
Kata Metta / Kata Soop Buhrii Luang Por Ngern
To ask for Metta – Can use when smoking a cigarette to Enchant the Smoke with the Kata
Makkayaa Taewang
Save this product for later