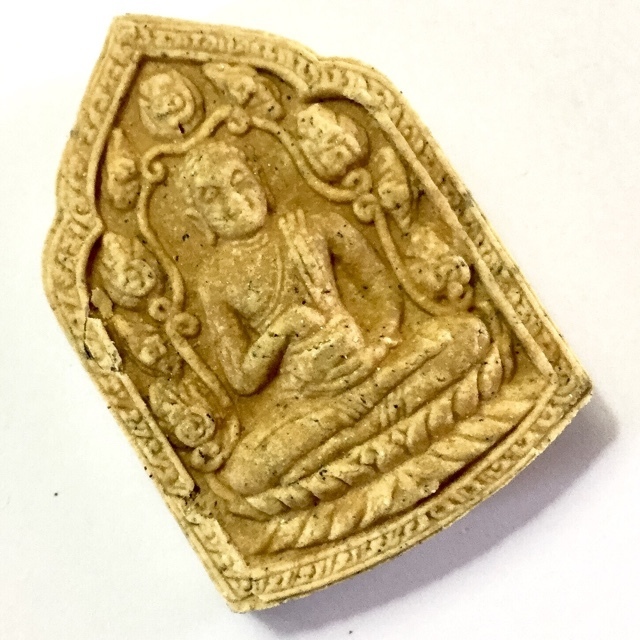 Pra Sivali Jok Badtr Hlang Por Gae Lersi Dta Fai Rachasri Koo + Takrut Maha Lap - Luang Phu Nong - Free With Casing For Orders Over 130$
SKU 03852
Product Details
Pra Sivali Jok Badtr Chimplee Arahant eating rice from the almsbowl amulet with Por Gae Lersi Dta Fai and Paya Rachasri Lions on Rear Face, with Takrut Maha Lap insert, from the great Luang Phu Nong Tammachodto, of Wat Wang Sri Tong (also called Wat Koh Bote), in Sra Kaew. Released in the Mang Mee Maha Baramee Edition in 2555 BE in full Buddha Abhiseka Ceremony.
The amulet is made from rich admixture of Pong Wan Maha Sanaeh mixed with Pong Wan 108 Muan Sarn Sacred Powders, and features the Pra Sivali Arahant eating with his hand from the almsbowl on the front face, which is a sign of plentiful comforts and sustenance, and Maha Pokasap prosperous living, with constant supply of resources flowing in.

The rear face features the mask of Por Gae Lersi Dta Fai with two Rachasri Himapant Lions with raised paws guarding the flanks, standing above a Takrut Yantra Spell scroll inserted forr Maha Lap Maha Pokasap and Metta Maha Niyom Magic.
This amulet can be obtained free with casing, for customers who add 130$ worth of goods to basket. If you are using the free offer for orders over 130$ then please choose "Free Waterproof Casing (Only Available with SIVALIFREE Coupon Code Offer when buying over 130$ of goods)" in the encasement options.

This amulet is one of our special offers available free for customers who purchase over 130$ of goods.
To get this amulet free, you use must add 130$ of goods to shopping bag first, then add this amulet, and at checkout, use the following Coupon Code, to add to the coupon code area in the checkout, and get a full reduction of the price of this amulet. This will then give the amulet free of charge (with Casing included Too!).
USE THIS COUPON CODE AT CHECKOUT: SIVALIFREE
Pra Sivali Arahant amulet is used for increasing wealth and attracting a constant flow of wealth and belongings. The Sivali Charm effect causes people to treat the wearer with compassion, mercy and preferential Bias, The Buddha himself even stated that, as the monks were travelling through the remotest parts of the forest, where few villages and folk were around to offer alms and food, if Pra Sivali had not been with them, they might have starved.
The Buddha said that Pra Sivali had greta charm and attraction power of Metta Mahaniyom, and that his presence in the Sangha was responsible on many occasions for the survival of the Bhikkhus, as his charm power was so incredible, that people would appear from all directions to make offerings and pay respects, listening to his Dhamma. It is said that those who were near him or heard his sermons, would experience great luck and friendly treatment from everyone, and become ever richer.
The Pra Sivali amulet is one of Thailand's most powerful Purely Buddhist amulets for increasing riches - perhaps the most powerful. This amulet is a wonderful choice for those who wish a purely Buddhist amulet with no occult spells, and are seeking luck and economical improvement, or to solve debts.
This amulet is a very auspicious magical charm, but is also 'Puttanussadti' (remembrance of the Buddha and the Dhamma, Sangha), and therefore a great item of reverence for Buddhists. Apart from this, the amulet is finely honed craftsmanship and has undergone a very sacred Puttapisek Empowerment ceremony.
Various Kata Bucha Pra Chimplee (Pra Sivali)
Ahang Wantaami Siiwaliitaadtuyo Ahang Wantaami Sappaso
Kata to Bucha Pra Sivali
Iminaa Saggaaraena Siiwalii Thaerang Apibpuchayaami
(When you chant this whilst making Bucha to Pra Sivali, then say in your inner heart
silently the following words;
Bpuchidtang Sappalaapang Bprasitti Mae Thaerassa Aanupaawaena Sappa So Thee Pawandtu Mae
Kata Pra Sivali (Luang Por Guay – Wat Kositaram)
Siiwalii Ja Mahaa Thaero Bpajjaya Laapa Buchidto Manusso Taewadtaa Into
Pramaayamo Yagkha Waa Bpidtassa Nirandtarang Bpana Laapa Saggaarae
Aanaendti Nijjang Siiwalii Thaerassa Laapo Saggaaro Hodti Siiwalii Mahaa Thaeran
Ja Buchagassa
Sataawaabi Kaatanja Sangwadt Dtanassa Laapo Ja Saggaaro Hodti Thaerassa
Aanupaawaena Laapo Mae Hodtu Sappataa Aedtaena Sajja Wachaena Laapo Mae
Hoedtu Sappataa
Kata for chanting when going on Business trips
Na Chaa Liidti Bpasitti Laapaa
Kata Hua Jai Pra Chimplii (heart Mantra of Pra Chimplii)
Saatu Siwalii Ja Mahaa Thaero Na Chaa Li Dti Bpasitti Laapaa Bpasanna Jidt DtaaSataa Hondti Bpiyang Ma Ma Sappae Chanaa Pahu Chanaa Sappae Tisaa Samaa Kadtaa Gaala Pochanaa Wigaala Pochanaa Aakaj Chaaya Aakaj Chaahi Bpiyang Ma Ma
Short Kata Pra Sivali
Siiwalii Ja Mahaa Thaero Chay Ya Sitto Mahit Tigo Thaerassa Nupaawaena
Katas for Pra Sivali for each day of the week
Sundays (Chant 6 times) – Chimpalii Ja mahaa Naamang Sappa Laapang Pawissadti
Thaeras Saanupaawaena Sataa Hondtu Bpiyang Ma Ma
On Mondays (Chant 15 times) – Yang Yang Bpuriso Waa Idthii Waa Turaehi Waa
Sami Bpaehi Waa Thaeras Saanpaawaena Sataa Hondti Bpiyang Ma Ma
On Tuesdays (Chant 8 times) – Chimpalii Ja Mahaa Thaero Soho Bpajjayaa Timhi
Chaeya Laapo Mahaa Laapo Sappa Laapaa Pawandtu Sappataa
On Wednesdays (chant 17 times) Tidt Dtidt Tha pa Wae Rachaa Biyaa Ja kara Dtu
Mae Yae Saaradt Dti Niran Dtarang Sappa Sukhaa Wahaa
On Thursdays (Chant 19 times) – Chimpalii Ja Mahaa Thaero Yagkhaa Taewaa Pi Bpuchidto Soraho Bpajjayaa Timhi Ahang Wantaami Sappataa
On Fridays (Chant 21 times) – Chimpalii Ja Mahaa Thaero Taewadtaa nara
Bpuchidto Soraho Bpajjayaa Nimhi Mahaa Laapang Garondtu Mae Laapaena Udt
Dtamo Hodti Sappa Laapang Pawandtu Sappataa
On Saturdays (Chant 10 times) Chimpalii Ja Mahaa Naamang Intaa Prahmaa Ja
Bpuchidtang Sappa Laapang Prasitti Mae Thaeras Sanupawaena Sataa Sukhii
Bpiyang Ma Ma
Ancient Kata for Pra Sivali
"Saatu Siwalii Ja Mahaa Thaero Ugaasa"
(Say in your heart) "May the magical powers of luck and fortune of Pra Sivali Thaera be installed within my perception, mind and body. As Pra Sivali was often a safe refuge for the Buddha, the Arahants and the 4 thousand Dhamma Khandas, thus so shall Pra Sivali Thaera be my refuge.
May his immense power of Metta Mahaniyom and Choke Laap Saggaara generate riches andgood fortunes in life, For absence of material things leads to physical suffering and plight".
The Lersi
Por Gae The Lersi Hermit God, emanates all powers, with Serm Duang, Serm Yos, Klaew Klaad, Kong Grapan Chadtri, Maha Lap and Maha Pokasap Blessings added, outwards around your vicinity to fill your aura with positive energy, protection, charm, luck, and likeablility, bring promotion, elevated status, and draw wealth and prosperity into your life.
Por Gae Lersi, is a highly revered Thai Lersi Deity of Ancient Renown. There are many Legends about many different Lersi. One of the Lersi to be found so often mentioned in Thai Mythology, is Por Gae Lersi Thai Fai. (Sometimes spelled "Pho Kae Ta Fai"). The legend of Highly Developed Beings has been told in different Mythologies and Cultures around the world. In Thailand there are also various legends of "Pu Wised", or Lersi , Arahants or Yogis.
These Lersi are said to have possessed various powers, such as Knowledge of herbal medicines, minerals, magical invocations, and supernatural abilities, such as Levitation, Teleportation, Alchemy, and Mind Reading. These beings with special powers are reputed to have lived recluse lives in the forest, on mountains, or in caves; practicing meditative skills and mental development using secret methods passed on from mouth to ear by their fore-goers/masters. If you Bucha the Ruesi properly, you will find success in all your projects and attain wealth, Health and Happiness.
The Lersi, or also known as 'Ruesi', are the holders of the Great Kampira Grimoires, and Magical Wicha of the Dtamra Saiywaet, and are the Root Guru Masters of the Magical Tradition in Buddhist Thailand. Lersi Deva Hermit Gods are Revered in Thailand under the Name 'Por Gae'. Por Gae defends these 'Wicha' etheral knowledges from both the ignorant who wish to destroy them, as well as the ignorant not ready to learn them.
The Lersi commands respect and gives knowledge to those ready to accept the power that comes with the Lersi Path. Worshipping the Ruesi brings a full range of blessings and protective magic of the Boroma Kroo and the Immense Power and Protection of the 108 Ruesi Hermit Sages. Kong Grapan, Klaew Kaad, Gae Aathan, Gan Kun Sai, Choke Lap, Kaa Khaay, Metta Mahaniyom, Serm Duang, Maha Sanaeh.
Kata to the 108 Ruesi;
Om Surawepoya Ruesi Poya Na Ma Ha
Kata Bucha Ruesi;
Om Imasaming Pra Bprakone Tap Pra Muneetewaa Hidtaa Dtumhe Bparipunchandtu
Tudtiyambpi – Imasaming Pra Bprakone Tap Pra Muneetewaa Hidtaa Dtumhe Bparipunchandtu
Dtadtiyambpi – Imasaming Pra Bprakone Tap Pra Muneetewaa Hidtaa Dtumhe Bparipunchandtu
Kata Bucha Por Gae Ruesi Dta Fai
Ugaasa Imang Akkee Paahū Buppang Ahang Wantaa Aajaariyang Sappasayang Winaassandti Sittigaariya Abparabpachaa Imasaming Pawandtume
Tudtiyambi – Imang Akkee Paahoo Buppang Ahang Wantaa Aajaariyang Sappasayang Winaassandti Sittigaariya Abparabpachaa Imasaming Pawandtume
Dtadtiyambpi – Imang Akkee Paahoo Buppang Ahang Wantaa Aajaariyang Sappasayang Winaassandti Sittigaariya Abparabpachaa Imasaming Pawandtume
Kata Chants and Prayers for the Lersi Hermit Gods
Rachasri Lion Kata
Luang Phu Nong Tammachodto is the true Nephew of Luang Por Derm (Wat Nong Po) and recieved direct Wicha magical training from his Uncle. Luang Phu Nong Tammachodto is a Master of Fire Kasina Magic, and a nephew of Luang Por Derm of Wat Nong Po. He holds the Wicha of Luang Por Derm, for which he has now taken the forefront in making Loi Ongk statuettes of the Great Guru Master (L.P. Derm), according to the correct Dtamra (formulas and shool of thought) for making lp Derm statuettes.
His dominion of the fire element in his empowerment methods is the access point to all elemental magickal evocations in Thai Buddha Magic, for which Luang Phu Nong has become one of the all time present masters for his immense confidence in invoking and indeed evoking the Fire Kasina elemental power within his amulets.
Luang Por Nong's amulets are both powerfully made according to the Wicha of Luang Por Derm, as well as having been designed and created by some of Thailands finest Buddhist and Brahman artistic craftsmen. A perfect combination of powerful sacred Buddha Magic and Beautiful aesthetic Religious Art.
Save this product for later