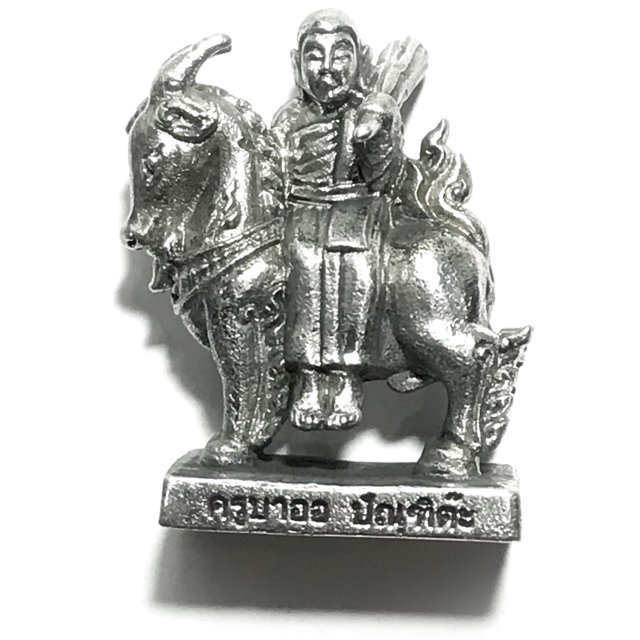 Pra Sivali Khee Pae 100 Pi 2558 BE Chimplee Arahant Riding Lucky Goat - Nuea Ngern Yuan - Kroo Ba Or Bandita
SKU 04035
Product Details
Special Wicha Loi Ongk Statuette from the 100th Birthday edition of the Great Lanna Master Monk, Kroo Ba Or Bandita. Empowered using the Wicha Sivali Khee Pae, in Nuea Ngern Yuan Sacred Alchemical Silver-Leaden Alloy, with limited edition series number code on the base. This was the first ever edition of Sivali Khee Pae, and also the last before the passing of Kroo Ba Or.
The Pra Sivali Khee Pae is a combination of Pra Sivali Chimplee Arahant Magic (Maha Sanaeh Maha Lap Metta Maha Niyom), with the Pae Maha Lap (Maha Pokasap Maha Lap Kaa Khaay Siang Choke). A perfect compendium of magical influences, for an amulet that is well endowed for wealth accumulation and easy living, safe travels and survive all situations, be they financial or physical. The combination of Pra Sivali and the Pae Maha Lap Goat is an Old Lanna Wicha of the Northern Tai Yai (Shan) people, which was used to improve business.
The Sivali Khee Pae Loi Ongk Statuettes were made in various sacred metals, all in limited series edition. A most inimitable amulet of the Deceased Thai Lanna Master, Kroo Ba Or Bandita, of the Samnak Songk Doi Pratat Jom Wae. The Lucky Goat upon which Pra Sivali is riding, is an Animist Charm for Wealth Increase and Gambling Luck, Protection and Evasion of Dangers. The Male Goat is known to rule over up to 20 females in his group. The Goat Charm is this imbibed with the power to attract and keep hold of a large group of Lovers or Admirers. The Goat is considered a very Lucky animal who gets away with what he wants, and who has lucky fortunes. The Pae (Goat) is considere powerful Maha Lap Magiuc, and is a Ideal Tool for Traders, Marketeers and those in Sales Professions, and for those who like to frequently play Lottery and Casino games. One of the lesser known powers of Pra Sivali and of the Lucky Goat, is safe travels. This makes the amulet a very sensible choice for Travelling Sales persons or Executives in the Sales or Contracting Professions.
The Pra Sivali amulet, has been worshiped for many centuries, for increasing wealth and attracting a constant flow of wealth and belongings. The Sivali Charm effect causes people to treat the wearer with compassion, mercy and preferential Bias.
The Buddha himself even stated that, as the monks were travelling through the remotest parts of the forest, where few villages and folk were around to offer alms and food, if Pra Sivali had not been with them, they might have starved.
Kroo Ba Or was a Highly Adept Sorceror Monk of the Thai Yai Mountain Hilltribe People, who avoids the limelight, and spent most of the time on the high mountainsides in the forest, in serenity and solitude.
Kroo Ba Or developed his Magical Wicha from 9 different Kroo Ba Ajarn in is lifetime, who came from the Thai Yai people of Burmese side of the border. He possessed a large number of Tai Yai and Lanna Wicha which he received over the decades from his Kroo Ba Ajarn, during his long and admirable trajectory. HIs presence is dearly missed by his devotees, and his amulets are fast disappearing from the public view as devotees snap up the last ones remaining.
Kroo Ba Or passed away as one of the last of his Generation of Elder Master Monks in 2559 BE, at the age of 101 years old (counting the Thai Yai Calendar). Kroo Ba was one of the most highly revered and beloved monks of the Lanna Region in the present Era. His amulets have become some of the most highly preferred of all in the present day, with devotees from all around the world who worship them.
The Buddha said that Pra Sivali had great charm and attraction power of Metta Mahaniyom, and that his presence in the Sangha was responsible on many occasions for the survival of the Bhikkhus, as his charm power was so incredible, that people would appear from all directions to make offerings and pay respects, listening to his Dhamma.
It is said that those who were near him or heard his sermons, would experience great luck and friendly treatment from everyone, and become ever richer. The Pra Sivali amulet is one of Thailand's most powerful Purely Buddhist amulets for increasing riches - perhaps the most powerful.
Various Kata Bucha Pra Chimplee (Pra Sivali)
Ahang Wantaami Siiwaliitaadtuyo Ahang Wantaami Sappaso
Kata to Bucha Pra Sivali
Iminaa Saggaaraena Siiwalii Thaerang Apibpuchayaami
(When you chant this whilst making Bucha to Pra Sivali, then say in your inner heart silently the following words;
Bpuchidtang Sappalaapang Bprasitti Mae Thaerassa Aanupaawaena Sappa So Thee Pawandtu Mae
Kata Pra Sivali
Sivali Ja Mahaa Thaero Bpajjaya Laapa Buchidto Manusso Taewadtaa Into Pramaayamo Yagkha Waa Bpidtassa Nirandtarang Bpana Laapa Saggaarae Aanaendti Nijjang Siiwalii Thaerassa Laapo Saggaaro Hodti Siiwalii Mahaa Thaeranja Buchagassa Sataawaabi Kaatanja Sangwadt Dtanassa Laapo Ja Saggaaro Hodti Thaerassa Aanupaawaena Laapo Mae Hodtu Sappataa Aedtaena Sajja Wachaena Laapo Mae Hoedtu Sappataa
Kata for chanting when going on Business trips
Na Chaa Liidti Bpasitti Laapaa
Kata Hua Jai Pra Chimplii (heart Mantra of Pra Chimplii)
Saatu Siwalii Ja Mahaa Thaero Na Chaa Li Dti Bpasitti Laapaa Bpasanna Jidt DtaaSataa Hondti Bpiyang Ma Ma Sappae Chanaa Pahu Chanaa Sappae Tisaa Samaa Kadtaa Gaala Pochanaa Wigaala Pochanaa Aakaj Chaaya Aakaj Chaahi Bpiyang Ma Ma
Short Kata Pra Sivali
Siiwalii Ja Mahaa Thaero Chay Ya Sitto Mahit Tigo Thaerassa Nupaawaena
Katas for Pra Sivali for each day of the week
Sundays (Chant 6 times) – Chimpalii Ja mahaa Naamang Sappa Laapang Pawissadti Thaeras Saanupaawaena Sataa Hondtu Bpiyang Ma Ma
On Mondays (Chant 15 times) – Yang Yang Bpuriso Waa Idthii Waa Turaehi Waa Sami Bpaehi Waa Thaeras Saanpaawaena Sataa Hondti Bpiyang Ma Ma
On Tuesdays (Chant 8 times) – Chimpalii Ja Mahaa Thaero Soho Bpajjayaa Timhi Chaeya Laapo Mahaa Laapo Sappa Laapaa Pawandtu Sappataa
On Wednesdays (chant 17 times) Tidt Dtidt Tha pa Wae Rachaa Biyaa Ja kara Dtu Mae Yae Saaradt Dti Niran Dtarang Sappa Sukhaa Wahaa
On Thursdays (Chant 19 times) – Chimpalii Ja Mahaa Thaero Yagkhaa Taewaa Pi Bpuchidto Soraho Bpajjayaa Timhi Ahang Wantaami Sappataa
On Fridays (Chant 21 times) – Chimpalii Ja Mahaa Thaero Taewadtaa nara Bpuchidto Soraho Bpajjayaa Nimhi Mahaa Laapang Garondtu Mae Laapaena Udt Dtamo Hodti Sappa Laapang Pawandtu Sappataa
On Saturdays (Chant 10 times) Chimpalii Ja Mahaa Naamang Intaa Prahmaa Ja Bpuchidtang Sappa Laapang Prasitti Mae Thaeras Sanupawaena Sataa Sukhii Bpiyang Ma Ma
Ancient Kata for Pra Sivali
"Saatu Siwalii Ja Mahaa Thaero Ugaasa"
(Say in your heart) "May the magical powers of luck and fortune of Pra Sivali Thaera be installed within my perception, mind and body. As Pra Sivali was often a safe refuge for the Buddha, the Arahants and the 4 thousand Dhamma Khandas, thus so shall Pra Sivali Thaera be my refuge.
May his immense power of Metta Mahaniyom and Choke Laap Saggaara generate riches andgood fortunes in life, For absence of material things leads to physical suffering and plight".
Save this product for later