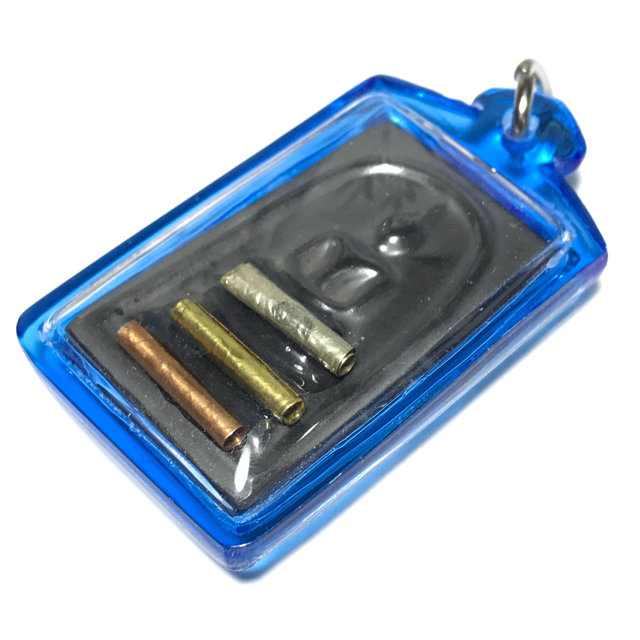 Pra Somdej Nuea Lek Lai Khao Um Krum 3 Takrut Sam Kasat - Ta Poon Forest Lay Sorceror
SKU 04204
Product Details
This Lek Lai Pim Pra Somdej Buddha image in the form of Pra Somdej Pim Pra Pratan, was blessed and empowered by the Great Reclusive Laymaster Ta Poon (A.K.A.). The Lek Lai Buddha comes with 3 Takrut Sam Kasat spells attached within a a complimentary bright blue Waterproof Casing.
The Pra Somdej Lek Lai Buddha comes encased in this casing to seal it with for excellent aesthetics to wear as a pendant, and of course to keep the 3 Takrut spells attached to the dais of the Somdej. The Pra Lek Lai should be placed on a suitable Bucha receptacle after use every day, next to a receptacle of honey, for it to partake of.
These Lek Lai Kaya Siddhi Adamantine Substance amulets were ritually bathed and consecrated in the Nam Pheung Duean Ha Sacred Honey during their empowerment, to charge them up with the full power of fifth full moon honeycomb sacred honey offerings, and imbue the Lek Lai with immense power of Maha Lap Maha Pokasap Serm Baramee.
This amulet is pure Lek Lai Nam Neung (Grade A Cave Lek Lai) from the Holy Mountain of Khao Um Krum. Extreme Protection and Wealth Increase is awarded with this amulet. If there is any form of Lek Lai, or place where it is said that real Lek Lai should be found, it is the Um Krum Cave.
Before the Public Interest in Lek Lai began some years ago, Lek Lai was almost always assumed to come from caves in mountain forests, but in modern times there are also other forms of extraction which combine science and technology with Kata Akom Magical Incantations.. It is said that Lek Lai of the type found in caves can be stretched when heated, and coaxed into different forms.
This is done by anointing (bathing) the piece of Lek Lai in honey as it is still in its raw Mineral form, and then heating it under a powerful flame, until the Lek Lai hidden within it liquifies and runs out of the stone, to come and eat the honey. The Lek Lai is coaxed into dripping down in a thin long line, and then it is cut using a special consecrated cutting instrument, such as a Meed Hmor spirit knife. It is believed that it is not possible for any person to cut Lek Lai, for the Lek Lai is guarded over by the spirits and Devas of the Cave and the Forest, as well as the local Yaksa giants who protect it.
In addition, the spirit within the Lek Lai is extremely powerful and can harm the person who tries to cut it. It is said that the person who cuts the Lek Lai must not only learn the Wicha, but also have gathered enough Merit to be able to approach and cut the Kaya Siddhi. Whoever is lucky enough to receive the protection of Lek Lai, will be impossible to harm or kill with bullets, knives or other sharp instruments, and even explosions. Gunpowder or other such explosive materials can not come close to a piece of Lek Lai and are repelled by its Adamantine Nature. In addition, Lek Lai protects from poisonous animals such as Mambas, Cobras and the like.
Three types of Extract Lek Lai Tham is extracted and produced in three different forms, or states
1. Lek Lai (Pure Lek Lai) – this can be stretched and liquified under flame, and possesses extreme power.
2.Lek Lai Rang (Lek Lai nest) – This part of the extract is not as shiny and reflective as pure Lek Lai. It can not be melted or stretched under flame. It is the part which covers the Lek Lai on the wall of the cave like a shell, and is tightly stuck on the wall of the cave.
3. Khee Lek Lai (Lek Lai residues) – this part of the Lek Lai looks like dripping candle wax, and is very brittle and can be broken if it recieves a hard blow. This kind of lek Lai, if occurring in large amounts, is said to not be very powerful compared to pure Lek Lai and Rang Lek Lai.
Lek Lai is then given three different classification levels too
1. Lek Lai Nam Neung - top quality types, such as Lek Lai Bpeek Malaeng Tap, Lek Lai Jao Pha, Lek Lay Gotapee, Lek Lai Ngern Yuang, Lek Lai Chee Ba Khaw, Lek Lai Paetch Dam, and Lek Lai Tong Pla Hlai.
2. Lek Lai Nam Rong – medium level power and purity Lek Lai types such as Kote Lek Lai, Rae Go Larn, Rae Met Makham and Lek Lai Torahod.
3. Khee Lek Lai – the by product, or residue. Often used for making sacred powders as part of the mixture which is then pressed into powder amulets, also used in prayer water, and also placed on its own dais and worshiped on the altar, or carried as a Luck bringer and Protective elemental substance.
Ta Poon is a reclusive Lay Master who has retreated to the forest and uses this name as an assumed name to avoid attention. He was blessed with being the apprentice of Luang Phu Suang, learning Wicha from him and a number of associated Adept Sorcerors, of both Ordained and Laymaster lineages.
He recieved Wicha from a total of 295 different Adept Mages, Sorcerors, and Necromancers. The majority of his training however, came through the lower Northern Region of Thailand through the Luang Por Derm (Wat Nong Po) Lineage, and the Magical Master Lineage of Luang Por Tob of Wat Chon Daen.
When asked about the origins of his Manyfold, and Powerful Wicha, Ta Poon recounts of the time he was ordained as a Samanera, ordained by the Great and Mysterious Luang Phu Suang Tewada Len Din himself, and that he remained practicing under the tutelage of Luang Phu Suang for a period of 15 years.
As Ta Poon was serving 9 years in the Army, as a Commander of a regiment in the three troubles Southern Islamic Provinces of Thailands border area, he was famous for his daring acts of running straight in through the hail of bullets coming at his regiment from the terrorist rebels, and would reach the terrorists without being harmed and take his pistol and shoot the terrorists in the head at point blank range. This was because of his use of Kong Grapan Chadtri and Klaew Klaad Spells which he had mastered.
As far as Wicha Metta Mahaniyom and Maha Sanaeh are concerned, Ta Poon had wives in every province through which he had traveled, or ever settled, and it is said that despite his old age, that, his last wife which he took was only 27 years old. This was as he was already at the ripe old age of 84 years old. These days are however, over. He now lives secretly under an assumed nickname (Ta Poon) in the deep forest in the north eastern region near the border land areas of Thailand between Cambodia and Laos.
Very few people know of his whereabouts, but those people still travel into the deep forest to find him and beseech him for his famously powerful magical Sorcery Spells and blessings. He still performs Holy Water Blessiings, Exorcisms, and creates special Takrut Spells and empowers an array of amulets for those who are able to find him, and are able to find his favor.
His Takrut empowered with Maha Ud Kong Grapan Chadtri Klaew Klaad, are normally requested by soldiers, and high-ranking police officers, who have been his devotees from the time when he was still a high-ranking officer in the army, fighting against the rebels in southern Thailand, and amazed them with his daring feats, under the protection of his special Adept Wicha.
Ta Poon does not allow his picture to be taken, and forbids it to any of the devotees who find the way to his whereabouts, to reveal his location to anybody in the outside world. He says, he is already bored of all of the confusion and greed in the world outside the forest.
Bucha Method
Light 12 Incense sticks, and inform the Local Deities and Ghosts about your intentions, and ask their blessing and to protect the household. Bai Sri cones, or, if not available, flower offerings. Honey offerings (one small glass can be placed to the side of the Lek Lai, you don't have to immerse the Lek Lai in the honey). Perform Bucha Ceremonial Offerings every Full Moon, and lay the Lek Lai out to bathe in the Moonlight, to increase the power of the Lek Lai, and then feed it honey.
The amulet can be placed on a small Pan Kroo or other suitable receptacle for Bucha when not wearing the amulet
FULL EXTENSIVE INFO PAGE ABOUT LEK LAI KAYA SIDDHI ADAMANTINE SUBSTANCE AAND HOW TO BUCHA LEK LAI
The subject of Lek Lai is covered in Ajarn Spencer Littlewood's Ebook 'Buddha Magic 5'
Save this product for later