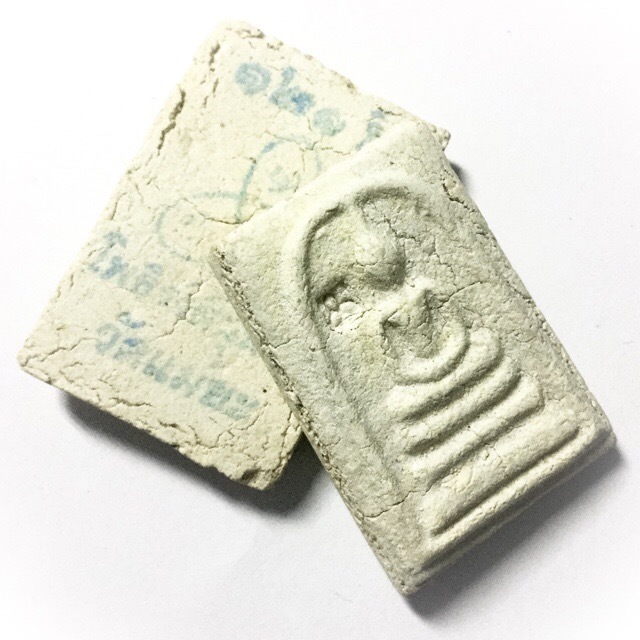 Pra Somdej Po Rangsri Nuea Pised - Anusorn 121 Years Memorial Edition - Pra Ajarn Gorp Chai 2555 BE
SKU 03640
Product Details
Pra Somdej Po Rangsri Anusorn 121 Pi Edition - Pra Ajarn Gorp Chai Subpaso. The purpose of the creation of this 2555 BE Edition amulet, was to remember the Merits of Luang Phu on the 121st anniversary of the birth of Luang Phu Ban Porangsri, of Wat Mae Ya.
Luang Phu Ban, was an Arya Sangha Monk, considered an Arahant by his devotees. Luang Phu Ban was a close friend and companion of the great Kroo Ba Srivichai, who travelled with the great master on Tudong Forest Wandering until the passing of Kroo Ba Srivichai.
Luang Phu Ban went on to become the Abbot and Master of Wat Mae Ya Temple, and a highly revered Arya sangha Monk in his own right up until his own passing, at the age of 102 Years old.
The rear face of the amulets have the colored ink stamp of the temple with the name of the edition and Yant Maha Ud embossed.
Muan Sarn Sacred Powders are composed of the following ingredients, which were assembled and also some of which were donated to Pra Ajarn Gorp Chai for the making of these amulets;
Some original Luang Phu Ban amulets, which were taken from the Kru Chamber in the Shrine below the Buddha Image, and given to Pra Ajarn Gorp Chai to grind down into the Muan Sarn Sacred Powders.
The amulets were given by Luang Por Thin, the Abbot of Wat Mae Ya, including;
Pra Somdej Song Pol Luang Phu Ban - 30 Amulets
Pra Sum Gor Luang Phu Ban - 5 Amulets
Pra Sivali Luang Phu Ban - 99 Amulets
Pra Rod Gēsā Luang Phu Ban - 99 Amulets
Look Om Pong Prai Kumarn Luang Phu Tim Luang Phu Ban 2519 BE - 5 Amulets
Flowers and Flower Garlands, used for Bucha to the Chedi and Relics and Shrines of the Lanna Region and at Wat Mae Ya, ground into powders
Nam Man Prai Sanaeh from Gampong Thom in Kampuchea (Cambodia)
Gēsā Luang Phu Ban (Hair of the great Monk)
A special symbolic stamp is imprinted into the top left side of the front face of the amulet, marking authenticity for future reference, and to make future forgeries difficult to reproduce. Only 499 Pra Somdej amulets were made by hand pressing method for this edition. This makes these amulets of course an extreme limited edition that can be considered an Ultra Rarity from the day of its creation. The Muan Sarn Sacred Powders are enviably rich in Sacred Substance, which is highly evident when viewed, even without an eye loupe. A fine layer of 'Kraap' Mildew covers the surface of the Amulet
Viewing the edges, the Sacred Powders can be seen to have porosity factors which are an important aspect of high quality sacred Powder amulets, which will influence the appearance of the amulet over the passage of time and increase its beauty.
Such amulets gain character with ageing, as humidity changes over time allow the amulet to 'settle' and develop the classic features and aspects of a true Pim Niyom amulet of Classic Proportions.
Highly sacred amulets are hard to find these days, and the Pra Somdej Po Rangsri 121 Years Edition Amulet, can be definitely classed as both Extremely Sacred, and Immensely Rare to find in this Day and age.
The amulets were Created and Empowered by Pra Ajarn Gorp Chai of Wat Mae Ya, and empowered in Traimas three month Rainy Season. Pra Ajarn Gorp Chai is a high practitioner of Wicha, and a Lineage Looksit of Luang Phu Ban.
Each amulet is individually pressed, and differs slightly from the other in its fine details, but are all equally beautiful in their appearance, and equally powerful and sacred. For this reason, the item received may or may not differ very slightly from the images. We guarantee however that every single amulet is equal in beauty, and both original, and highly individual in its Eminence.
Pra Ajarn Gorp Chai is continuing the Wicha and Traditional Amulet making of Luang Phu at Wat Mae Ya temple. He is proficient in the Wicha of Lanna Amulet making and in addition, a Master of Kata Akom and Agkhara Lanna Magical Script, and Sak Yant Thai Temple Tattoos.
Above; Pra Ajarn Gorp Chai, Wat Mae Ya.
Kata Bucha Pra Somdej Po Rangsri
Gor Ya Or Na Ma Pa Ta Ma A U Bpa A Su Na Phid A Phid Chant 3 Times
The amulet will keep you safe on your journeys with Klaew Klaad power, and bring Auspicious Blessings of All Kinds, Improve Status and Induce Merciful Treatment. We can highly Recommend the amulets of Pra Ajarn Gorp Chai of Wat Mae Ya, who is continuing the Tradition of Luang Phu Ban's Wicha of amulet making at Wat Mae Ya.
Extremely recommended for their highly Sacred Blessings, and Muan Sarn Sacred Powders and their extreme limited quantities. In addition the amulets of Wat Mae Ya are neither mass made, nor distributed to the public market for trading, being completely non-commercial in nature.
Kata Bucha Pra Somdej Po Rangsri
Gor Ya Or Na Ma Pa Ta Ma A U Bpa A Su Na Phid A Phid
Chant 3 Times
Biography of Luang Phu Kroo Ba Ban Po Rangsri - Wat Mae Ya
Luang Phu Ban was ordained as a Samanera Novice Monk, at the age of 15 years old in the year 2450 BE at Wat Sandonrom. Luang Phu Kroo Ba Ma was his Upachaya Ordaining Officer. After a while, Luang Phu Ban moved to Wat Pradtuli which is now known as Wat Sangkaram in the present times.
As time passed, Luang Phu Ban's relatives began to nag him to disrobe and come to help them with the farming work, which was overtaxing his relatives, who were in great need of assistance. But Luang Phu Ban refused to disrobe, and moved away to evade the temptations to disrobe, to go and stay at Wat Chai Monkgol. At that very same time, the Great Kroo Ba Srivichaihad arrived at Wat Chai Mongkol to preside over the building of a Vihara Shrine and a Chedi Relic Stupa.
Luang Phu Ban was thus lucky to assist Kroo ba Srivichai in these tasks, which lasted until Luang Phu Ban reached the age of 22 years old, when Luang Phu Ban then became ordained as a fully fledged Bhikkhu promoted from Samanera Novice Monk. Luang Phu Ban came from a very impoverished household, and so was not able to afford to be fully ordained, and this is why he remained a Samanera Novice for so long, up to the age of 22.
The Monk Jao Rachapatigawongs felt sorry for him, and so offered to be his Guarantor and pay for his robes and the costs of the Ordination Ceremony as a fully fledged Bhikkhu. Kroo Ba Gandta of Wat Pratat Haripunchai in Lampun, was his Upachaya this time, with Kroo Ba Gandawongs and Kroo Ba Dtan as his 'Koo Suad'. 'Koo Suad' means two monks, who are appointed to prompt a Bhikkhu who is being Ordained, in the long Ceremony of Chanting which is not allowed to be read from a book, rather, must be chanted from memory.
Luang Phu Ban remained at Wat Chai Mongkol after his full Ordination for many years, until at some point he travelled outwards to Tak Province, and continued to travel on Tudon through the Province of Lampun, and into Lampang Province, seeking experience in solitude. During this Tudong wandering, Luang Phu Ban met Luang Por Fa Yuean, who was on his way to pay reverence to the Relic Stupa in Tagong in Burma. Luang Phu Ban asked Luang Por Fa if he could accompany him, travelling back through Tak and Mae Sod Provinces and entering Burma through the forests. Once they had reached the Relic Stupa at Tagong, and payed reverence.
Luang Phu Ban then returned back to Tak Province before the beginning of the rainy season, to find a temple to stay in during the Khao Pansa rainy retreat (Monks are not allowed to wander during the rainy retreats). Luang Phu decided to stay at Wat Praw during the retreat, and gathered more experience and developed his practices there, until after the retreat he moved on to Wat Dong Yang, in Ban Tak, where he remained for one year.
After this, Luang Phu Ban moved to gather more experience and develop Wicha and his practices of Austerities at Wat Pha Yang Ging, in sam Ngao, Tak Province. As he was staying there, the Abbot passed away, and the devotees and local Sangha begged Luang Phu to take the place of the deceased Abbot for a while until they could find his successor. Luang Phu Ban agreed to do the duties until a new Abbot was found, and after the new Abbot was elected, Luang Phu Ban was asked to go to Wat Hua Ban (a temple that is now deserted in the present day).
Luang Phu Ban remained at Wat Hua Ban for 2 years, and then he was hit with Malaria, and became very ill. Kroo ba Inta of Wat Pha Yang came to look for him and took Luang Phu ban to be taken care of at Wat Mae Ya, to recover. Once Luang Phu Ban had recovered from the heavy illness of Malaria, he remained at Wat Mae Ya for many years as one of the temple monks, until, one day, the Abbot of Wat Mae Ya passed away.
Luang Phu Ban was elected to become the new Abbot of Wat Mae Ya, and there he remained, throughout the rest of his days, until his own passing at the very old age of 102 years old, after 80 years of Ordained life as a Buddhist monk. 64 of those Ordained years were spent at Wat Mae Ya.
Above; The corpses of Luang Phu Ban and the previous Abbot, at Wat Mae Ya Temple in Ban Tak
Save this product for later