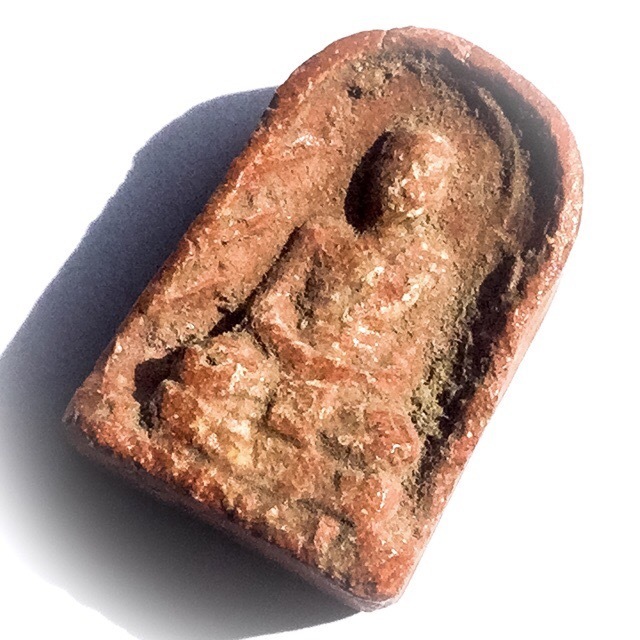 Pra Sum Gor Pim Roop Muean 2515 BE - Nuea Wan Pasom Adti Luang Por Kong Ajarn Chum Chai Kiree
SKU 03597
Product Details
Pra Sum Gor Miracle Amulet from Ajarn Chum Chai Kiree featuring the image of Luang Por Kong (Wat Kae), and containing more than 500 powerful Sacred Muan sarn substances including the powdered bones of Luang Por Kong himself, Olden Days Guru Master of Ayuttaya Era, and the Reputed Kroo Ba Ajarn of Pra Khun Phaen.
The amulet is one of the rarer Sacred Amulets of the great Ajarn Chum Chai Kiree, and is extremely famed for its Kong Grapan Chadtri Invincibility and Gunstopper (Maha Ud) effects, and its power to hear your please for Blessings of Promotion and Professional Status.
According to Historical Legend, Luang Por Kong (Ta Khrua Kong), was the Kroo Ba Ajarn of Khun Phaen, who was rsident at Wat Dtan (Wat Kae), in Supanburi, during the time that Ayuttaya was the Capital of the Kingdom of Siam. He was the first Kroo Ba Ajarn of Khun Phaen, who was responsible for the creation of the Chinarat Sum Ruean Gaew (Pra Khun Phaen Sum Ruean Gaew) which he gave to Khun Phaen to wear.
One day, hundreds of years later, it is said that Pra Ajarn Luang Por Kong's spirit entered into the body of a Civil Servant in Pattalung, in front of Ajarn Chum Chai Kiree of the Dtamnak Dtak Sila Khao Or Southern Academy of Sorcery - the Spirit of Luang Por Kong told Ajarn Chum Chai Kiree the method of making a magical sacred powder for powerful amulets, which came to be known as the Pra Pong Taep Nimit.
During the final Blessing and Empowerment Ceremony, the Spirit of Luang Por Kong reappeared and entered into the Body and Mind of Ajarn Chum Chai Kiree, and remained in the background with Ajarn Chum for a further 3 Months, assisting to empower the amulets. Ajarn Chum Chai Kiree received telepathic communications from Luang Por Kong, to travel to Wat Kae in Supanburi and discover where Luang Por Kong.s bones were buried within the Chedi Stupa, along with a host of Pra Yord Khun Pol and Pra Khun Phaen amulets which were communicated to also be hidden there along with the bones.
Ajarn Chum Chai Kiree travelled first to the Ministry of Buddhist Arts and Culture to beseech permission to dig up the remains of Luang Por Kong, which he duly received. He then performed a ceremony to beseech permission from Luang Por Kong himself to allow the bones to be placed within amulets to emwer with the bones of the Great Olden Days Guru, for devotees to pray to and receive Blessings. These amulets became the 2496-2497 BE pra Pong Taep Nimit. A quantity of the Sacred Powders were kept for future use.
Some years later, the Devotees pleaded for a second edition to be made, which Ajarn Chum Chai Kiree saw fitting, and in additin would be useful to raise funds to build and complete the Uposadha Shrine Room for the temple of Wat Ban Suan in Pattalung, and to distribute amulets to Officers of the Army and Police Force, to protect them in their duty protecting the Nation.
History of the 2515 BE Luang Por Kong Series Amulets by Ajarn Chum Chai Kiree.
This second edition of amulets were made, in various type images of Luang Por Kong, including a Metallic Kring Amulet in Nava Loha with Gold and Lek Lai mixture, amd som Pra Pim Sum Gor Amulets with Luang Por Kong on front face, made from over 500 types of Herbal Pollens and Powders, which had been receiving empowerment for over 40 Years from Ajarn Chum Chai Kiree and various other Great Masters. These powders were mixed with earths and broken amulet powders from the base of the Kru Burial Hiding Chamber where the bones of Luang Por Kong and ancient amulets had been excavated.
Ajarn Chum Chai Kiree took then the amulets to Bankok, and donated some of them to His Majesty the King to distribute to Soldiers, Police and The People in general, and performed a Grand Buddha Abhiseka Ceremony with 9 of the Greatest Master Monks of that Era oresent, chosen for their Auspicious Names. The Ceremony was initiated with the lighting of the Victory Candle presided over by Pra Kroo Pipatana Siritorn (also called Luang Por Kong), of Wat Ban Suan in Pattalung.
The ceremony was held at Wat Chamni Hathagarn (Wat Sam Ngam). The ceremony continued with empowerments and Chanting from 25th February, until the 28th February. In addition to the Pra Kring Luang Por Kong and Pra Sum Gor Luang Por Kong, the ceremony also Blessed a series of Pra Sivali, and Taw Maha Prohm (Brahma) amulets. The amulets are famed for their power of Kong Grapan Chadtri, Klaew Klaad, amd Maha Ud to evade, and survive deadly dangers, and even silence guns. The are said to increase Maha Amnaj.
Kata Bucha Pra Krueang Ajarn Chum Chai Kiree
Na Rong Hai - Na Maa Khao Haa - Na Jidtang Maa Ni Maa Maa - Jidtang Maa Ni Maa Maa (3 Times)
Chant
Na Mo Tassa Pakawadto Arahadto Sammaa Samputtassa
Na Mo Tassa Pakawadto Arahadto Sammaa Samputtassa
Na Mo Tassa Pakawadto Arahadto Sammaa Samputtassa
Then Chant
I Sawaasu Susawaa I - A Sang Wi Su Lo Bu Sa Pu Pa (3 Times)
Second to none for truly potent Magical Power, Ajarn Chum commands a top position in the History of Thai Buddhist Amulets and the Status of Occult legend. Ajarn Chum was arguably the most powerful and famous Laymaster of all Thai Occult History, and his amazing miraculous feats of Magickal Prowess are still the talk of every Samnak Saiyasart around the country, many years after his passing.
His public shows of Miraculous Magick, has amazed a whole generation of faithful devotees. They are filled with faith in his inexplicable shows of power, and the miraculous events which many people who rever his amulets have encountered, has served to raise Ajarn Chum Chai Kiree to the Status of Grand Master of the Khao or Academy of Occult Sorcery. When Ajarn Chum was just 7 years old, he once grabbed the rifle barrel point of his father's friends gun who had come to visit, and chanted a mere 11 syllable Kata.
The gun exploded and broke in half the next time it was used to shoot with. These events caused the villagers to believe in his powers, and have faith in his Magick. When he reached the age of Ordination, he ordained under Pra Ajarn Kong and stayed at Wat Chai Mongkol, until his disrobing.
After this, he studied hard further as a Lay Practitioner and studied the Buddha-Dhamma. Later, he moved to Pattalung, and became a practitioner at the Dtamnak Dtak Sila Khao or, under Ajarn Iad (Wat Don Sala), as his Mentor in Magickal Sorcery. He already had fifteen years of ordained study and practice behind him befriended with the Great Luang Por Kong, and now became the Legendary Master of Khao or Sorcery.
He is famous for many Miraculous feats from his amulets, including his famous Noo Kin Nom Maew Metta Oil, which he made, and tested with a show of putting baby mice and a cat who was giving milk into the same cage, after smearing some oil on them all. The mice ran to the teats of the cat, and the cat gave milk to the mice. Ajarn Chum had a very strange ability to decipher difficult methods of Sorcery and had a special mind that was attuned to mysterious forces. Ajarn Chum always used his famous magical 'Nam Man Solos Mongkol'' oil, to smear on the heads of the Devotees before performing Kong Grapan Magic.
Use the Traditional Thai Buddhist Method for Bucha;
1. Chant Maha Namasakara (3 Times)
2. Chant the Trai Soranakom (3 Times)
3. Chant Kata Aaraatanaa Pra Krueang (3 Times)
Kata Maha Namasakara
Namo Dtat-Sa Pakawa-Dto Araha-Dto Sam-Maa Sam-Put-Dtat-Sa
Namo Dtat-Sa Pakawa-Dto Araha-Dto Sam-Maa Sam-Put-Dtat-Sa
Namo Dtat-Sa Pakawa-Dto Araha-Dto Sam-Maa Sam-Put-Dtat-Sa
Trai Soranakom
Puttang Cheewidtang Yaawa Nipaanang Saranang Kajchaami

Tammang Cheewidtang Yaawa Nipaanang Saranang Kajchaami
Sangkang Cheewidtang Yaawa Nipaanang Saranang Kajchaami
Tudtiyambpi Puttang Cheewidtang Yaawa Nipaanang Saranang Kajchaami
Tudtiyambpi Tammang Cheewidtang Yaawa Nipaanang Saranang Kajchaami
Tudtiyambpi Sangkang Cheewidtang Yaawa Nipaanang Saranang Kajchaami
Dtadtiyambpi Puttang Cheewidtang Yaawa Nipaanang Saranang Kajchaami
Dtadtiyambpi Tammang Cheewidtang Yaawa Nipaanang Saranang Kajchaami
Dtadtiyambpi Sangkang Cheewidtang Yaawa Nipaanang Saranang Kajchaami
Kata Aaraatana Pra Krueang
Puttang Aaraatanaanang
Tammang Aaraatanaanang
Sangkang Aaraatanaanang
Puttang Prasittimae
Tammang Prasittimae
Sangkang Prasittimae
Save this product for later