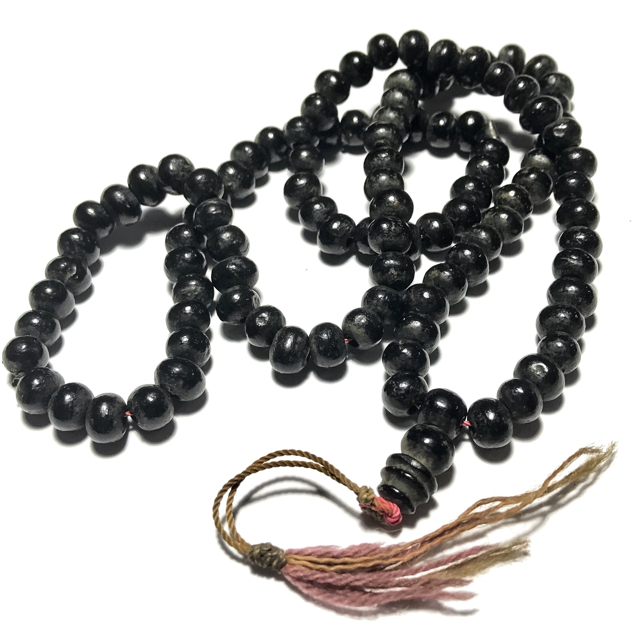 Prakam Saksit Nuea Pong Wan Phasom Bailan Jum Rak 2524 BE Early Era Sacred Rosary Herbal Powders + Lacquer- Luang Por Uttama
SKU 03958
Product Details
The Prakam Saksit Sacred Rosary Bead Necklace, by Luang Por Uttama, of Wat Wang Wiwekaram in Kanjanaburi Province, is made from Nuea Pong Wan Phasom Bailan Herbal Powders mixed with powdered Ancient Parchment Grimoire pages.
Each bead is 'Jum Rak' (dipped in herbal lacquer) for durability when used to count Mantras and Prayers with the hand. This Sacred Herbal + Bailan Powders Lacquer Coated Rosary Bead Necklace, is an early-era exhibit, and an extreme rarity for true devotees of this Great Guru Monk of the Mon People, Luang Por Uttama. The rosary's visibly aged features reveal it to be a very early era exhibit, and is a highly recommendable item for serious practitioners who like to use the rosary to pray with and count Mantras, but who also seek an empowered sacred talisman for protection and auspicious blessings. A meditation tool and a magical amulet in one, and a powerful defence against black magick and demonic entities, who like to disturb meditators in their practice.
A tiny Takrut Hua Jai is visible attached between two of the 108 Prayer Beads, which is of course a heart Mantra to Invoke a spell within the Rosary. The beads are very hardened now as time has passed, and the black herbal lacquer coating has added to the density and hardness of the Muan Sarn Sacred Powders, as the rosary has aged.
This well aged and immensely classic-looking old rosary was empowered with incantations as each bead of the necklace was molded from Muan Sarn Sacred Powders, and then nightly empowerments as the beads were dried, before stringing them together into the rosary, once more with Incantations of Empowerment.
The Prakam Rosaries of Luang Por Uttama are one of the highly revered and preferred amulets of his devotees, and they are seen to be both useful for personal prayer and practice, as well as for wearing as a Talismanic Amulet, for good Karmic Influences to Induce Lucky Fortunes, mercy Charm, Protection and Prosperity
Luang Por Uttama (Pra Maha Uttama Rampo Bhikkhu) was one of the Mon hilltribe people's top Master Monks and is highly revered by both Mon, Burmese and Thai people on both sides of the Thai Burmese border. Wat Wangwiwekaram is popularly known by local people of the Kanjanaburi district as 'Wat Luang Por Uttama'.
The temple of Wat Wangwiwekaram was built by Luang Por Uttama himself in 2504, with the help of some devotees who were Gahriang (Karen), and Mon tribe people. The temple was completed in 6 months, and was at first only a 'samnak songk' (sangha office) because it was not yet officially recognized by the Buddhist Organism. Once it had been officially categorized by the Buddhist Organism as a 'Wat' (temple) in 2505 BE, Luang Por gave the name of the temple by using the name of the old municipality (wiwangka) calling the temple 'Wat Wangwiwekaram'.
---
Honors Recieved by Luang Por Uttama
In 2513 BE, Luang Por began building the Uposadha (shrine room/chapel), baking and laying the bricks himself.
After this, in 2518, he built a chedi that was a replica of the Bodhgaya stupa in India, wich he finished in 2519 BE.
In 2504 he began as the head abbot of Wat Wangwiwekaram
In 2505, he was also appointed Abbot of Wat Sri Suwannaram
in 2509 he was appointed the status of Pra Gamma Wajajarn (vice Upachaya)
in 2511 he was promoted to Upachaya status (only an Upachaya can ordain others as monks).
In 2512, he was given the name of 'Pra Kroo Udom Sit Ajarn – Jao Kana Tambon Chan To (vice head monk of the Municipality), by Royal Decree
In 2516, he was appointed 'Jao Kana Tambon Chan Eak' (Head monk of the Municipality), by Royal Decree
In 2524, he was appointed Pra Racha Kana by Royal Decree and recieved the honors from Pra Udom Sangworn Thaera (Pra Sangkharacha, the head monk of all Thailand and head monk of the Royal Palace).
In 2534 he was promoted to the even higher status of Pra Racha Udom Mongkol.
Luang Por Uttama was the Kroo Ba Ajarn of Luang Por Naen of Wat Salud, who is in his own right famous for the empowerment and blessing of sacred Buddhist Rosaries, who can be seen receiving Wicha and co-empowering a batch of Rosaries with Luang Por Uttama in the below picture.
---
Above; Luang Por Naen at Wat Salud with Luang Por Uttama, Praying and Meditating to empower Rosares as he received the Wicha Tam Prakam from Luang Por Uttama.
Luang Por Uttama was a highly revered monk of both the Mon Hilltribe and the Thai People, and was known for his extreme diligence in the practices of a renunciant mendicant monk, and for his great purity, and simplicity of living.
Below; Luang Por Uttama performing Wicha using a Rosary, which was one of his major tools of focus when performing empowerment. The Prakam Saksit sacred rosaries of Luang Por Uttama are hence his most popular 'Krueang Rang' type amulets, along with his extremely preferred pantheon of Guru Monk Coins, which are extremely sought after, and highly valued Pra Niyom category amulets of Master Class status in the collector circles of the Amulet Appreciation Societies.
His devotees revere his amulets with the highest degree of faith. His amulets are varied ranging from sacred powder,, to monk coins, from Takrut and animist talismans, to his most famous blessed rosaries, and all are very rare to come across in any situation.

His mastery of the Wicha Tam Prakam Saksit Sacred Rosary Blessing and Empowerment is legendary, and it is perhaps his rosaries that are amongst the most well known of his amulets, and which serve not only to protect and increase good fortune, but are a practical tool for the devotee to use for Prayer, Chanting Sutras, and for Meditation Practice with Kata Chanting.
Above pic; The replica of the Bodghaya Chedi Stupa made by LP Uttama at Wat Wangwiwekaram.
Above; Amulets and Sacred Bucha Items of Luang Por Uttama, featured in National Amulet Appreciation Publication, which covered the life and practice, miraculous achievements, and amulets of this great Buddhist Master.
Use the Traditional Thai Buddhist Method for Bucha;
1. Chant Maha Namasakara (3 Times)
2. Chant the Trai Soranakom (3 Times)
3. Chant Kata Aaraatanaa Pra Krueang (3 Times)
Kata Maha Namasakara
Namo Dtat-Sa Pakawa-Dto Araha-Dto Sam-Maa Sam-Put-Dtat-Sa
Namo Dtat-Sa Pakawa-Dto Araha-Dto Sam-Maa Sam-Put-Dtat-Sa
Namo Dtat-Sa Pakawa-Dto Araha-Dto Sam-Maa Sam-Put-Dtat-Sa
Trai Soranakom
Puttang Cheewidtang Yaawa Nipaanang Saranang Kajchaami

Tammang Cheewidtang Yaawa Nipaanang Saranang Kajchaami
Sangkang Cheewidtang Yaawa Nipaanang Saranang Kajchaami
Tudtiyambpi Puttang Cheewidtang Yaawa Nipaanang Saranang Kajchaami
Tudtiyambpi Tammang Cheewidtang Yaawa Nipaanang Saranang Kajchaami
Tudtiyambpi Sangkang Cheewidtang Yaawa Nipaanang Saranang Kajchaami
Dtadtiyambpi Puttang Cheewidtang Yaawa Nipaanang Saranang Kajchaami
Dtadtiyambpi Tammang Cheewidtang Yaawa Nipaanang Saranang Kajchaami
Dtadtiyambpi Sangkang Cheewidtang Yaawa Nipaanang Saranang Kajchaami
Kata Aaraatana Pra Krueang
Puttang Aaraatanaanang
Tammang Aaraatanaanang
Sangkang Aaraatanaanang
Puttang Prasittimae
Tammang Prasittimae
Sangkang Prasittimae
Save this product for later