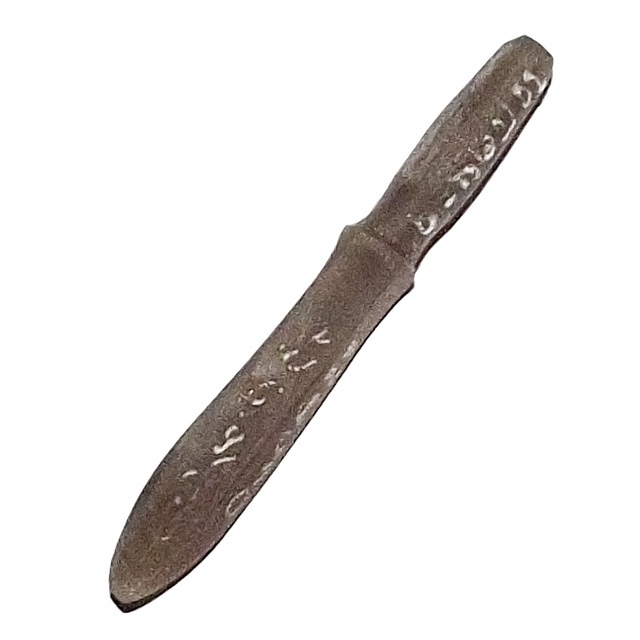 Prakhan Prajao Pan Dton Yaks Pan Dton Khao Kwai Fa Pa 1000 Buddha 1000 Yaksa Ritual Knife - Lanna Spell Inscriptions - Only 58 Made - Pra Ajarn Gorp Chai
SKU 03642
Product Details
Prakhan Prajao Pan Dton Yaks Pan Dton Nuea Khao Kwai Phueak Fa Pa from Pra Ajarn Gorp Chai of Wat Mae Ya - Miniature Albino Buffalo Horn carved ritual knife in portable size (5 Cm), with Sacred Lanna Agkhara Spell Inscriptions carved into the surface. The Horn used for carving the Knives was from a Buffalo that was struck by lightning, which is a powerful condition of Ancient Necromancy, which contains Immense Anti Black Magic Powers.
These Mitmor were carved into the shape of miniature ritual knives, to be carried in the top pocket, purse, or worn (can be encased), and can also be placed for Ritual Worship on an Altar, or placed in strategic positions of the house or place of business. Only 58 of these Prakhan Ritual Daggers were made in this Limited Edition.
Empowered with the Ancient Wicha of the Lanna Occult Tradition. The power of ancient northern Lanna hill tribe sorcery, Is believed by Buddhist people of the north, To be second to none in inducing mercy and compassion and preferred bias in the hearts of those who approach and is used for both Financial and romantic Purposes. This 2558 BE release is created for donation to the current Abbot Luang Phu Tin, for assisting with raising much needed Maintenance Funds.
Wat Mae Ya is the temple of the Late and Great Arya Sangha (said by his devotees to have attained Arahantship) 'Luang Phu Ban'. Luang Phu Ban was a close friend of Kroo ba Srivichai, and spent many years wanderiing on deep forest Tudong wandering with him, until the passing away of Kroo Ba Srivichai. Pra Ajarn Gorp Chai is continuing the Wicha and Traditional Amulet making methods of Luang Phu Ban at Wat Mae Ya, and is gathering Great Merits by his dedication to the preservation of the sacred Memory of Luang Phu Kroo ba Ban, and his immense dedication to the continuance of the Lineage Wicha.
The Prakhan is primarily empowered with Anti Black Magic and Protective Spells, and will banish Demons and Ghosts, the Phantoms and Evil Energies within the World. But the Prakhan is also imbued with Metta Maha Sanaeh for Mercy Charm when approaching your Boss, Superiors, and for Increasing Seductive Charm to increase Selling Power and Good Commerce, and even for Seduction of your Chosen Lover. However the Prakhan Mitmor is of course as always an adaptable Ritual Weapon for use in many areas. 'Pra Jao Pan Dton' means '1000 Lords' and refers to the Buddha's Bodhisattvas and Devas who will Bestow Blessing, and 'Yaks Pan Dton', means '1000 Yaksa' refers to Asura devas of the Jadtu Maha Rachiga who protect Buddhism and its Devotees, and will protect the wearer of the Prakhan Mitmor.
The Mitmor can be used for a multitude of purposes, and has many different magical effects. It can be used to emanate magic, or to absorb energies, such as to draw out negative flux, illnesses and viruses for healing, use to stir holy water with the use of incantations, or to use in the same way as a ritual wand or knife to banish demons and evil spirits, or to bestow blessings through using to emanate, evoke, or even to inscribe spells and sacred Yantra on the devotee.
These mitmor were created by Pra Ajarn Gorp Chai of Wat Mae Ya, in Tak Province, with a special Blessing from the Great Kroo Ba Krong Khadtiyo, of Wat Ta Magwaeng in Mae Bpa, who is an Aging Lanna Guru Monk of Kroo Ba Srivichai Lineage. Kroo Ba Krong performed special extra blessings in Solo Empowerment, on the 7th February 2558 BEspraying the amulets with Sacred Nam Montr Holy Water collected from three Great Guru Monks;
1. Luang Phu Kroo Ba Rit of Wat Chonlapratan (Luang Phu Rit) in Buriram.
2. Luang Por Jamnian of Wat Tham Suea (Tiger Temple) in Krabi.
3. Pra Kroo Prasat Prohmakun (Luang Phu Hongs Prohmabanyo) of Sussaan Tung Mon in Surin.
The edition included various Lanna Occult Charms, including Pong Ma Saep Nang, Pha Yant Ma Saep Nang, various models of Paya Khao Kham Wicha Paya Tae Krua (Lanna style of Pra Khun Phaen Paetch Payatorn), some powerful Maha Sanaeh Orientated Takrut Spells of two kinds: Takrut Ling Lom, and the Takrut Ma Saep Nang (Ma Koo Nang), both filled with Prai Powders of the Wicha Paya Tae Krua and Ma Saep Nang, Paya Ling Lom, and these Pra Khan Pra Jao Pan Dton Pan yaks Ritual Knives.
There were also some Excellent Sacred Pra Khun Phaen amulets released in this edition, which consisted of the following models;
Ongk Pathom Reuks with Gold Face and Takrut on rear face with red ink stamp - 1 Only Made and blessed separately on 3rd February 2558 BE
Pim Si Nam Tan Brown Model no Takrut Concentrated Powders - 2 Only made also blessed in the separate Blessing Cermeony on 3rd february 2558 BE
Pim Ta Si Tong Gold Leaf covered no Takrut Concentrated Powders - only 2 Made
Pim Nuea Chompoo Pink Sacred Powders no Takrut - Only 8 Made
Pim Nuea Chompoo Pink sacred Powders Sord Takrut Dtai Thaan Pid Tng - Gold Leaf pasted on Base with See Pheung Dabbed with 1 Takrut in Base - Only 11 Made
Pim Nuea Khaw Sord Takrut Dtai Thaan + Takrut Hnaa Ongk - Two variations some with Takrut in Base, others with Takrut Inserted into the front Face - Only 25 Made of both Models combined (12 of one sort and 13 of the other)
Pim Pised Nuea Chompoo Ta Si Tong Pink sacred Powders with Gold face - Only 20 made
Pim Pised Nuea Khaw Lae Chonpoo Fang Takrut Sariga Koo Roey Gesa Luang Phu Ban Daan Hlang Pink, and also in White Powders, with 2 Takrut Sariga , and Hair of Luang Phu Ban on rear face - Only 99 made both colors combined
Pim Bpam Hmeuk Daeng Nuea Khaw Lae Chompoo fang Takrut Lae fang Takrut Sariga Tone - 599 Made both models combined
Pim Pised Nuea Chompoo Fang Takrut Sariga Koo Roey Gesa Luang Phu Ban Daan Hlang Roey Pong Prai Kumarn Luang Phu Tim; Special Pink Powders with 2 Takrut Sariga, Hair of Luang Phu Ban, and Pong Prai Kumarn of the Great Luang Phu Tim sprinkled on the surface - Only 1 Ever Made
Pim Pised Nuea Chompoo Fang Takrut Sariga Koo Roey Gesa Luang Phu Ban + Pong Prai Kumarn Luang Phu Tim + Pra Nakrpok Luang Phu Ban Wat Mae Ya; Special Pink Powders with 2 Takrut Sariga, Hair of Luang Phu Ban, and Pong Prai Kumarn of the Great Luang Phu Tim sprinkled on the surface and 1 Pra Nakprok amulet of Luang Phu Ban Wat Mae Ya inserted in rear face - Only 1 Ever Made.
In addition, in order to raise funds for the needed restorations and further Maintainance of Wat Mae Ya, some very special Old Look Om Pong Prai Kumarn Luang Phu Tim empowered by the ex (deceased) Abbot of Wat Mae Ya Luang Phu Ban, were also removed from the Kru Hiding Place Chamber in the temple, to be released with this edition.
We highly recommend the amulets of Pra Ajarn Gorp Chai of Wat Mae Ya, which is continuing the Tradition of his Kroo Ba Ajarn Luang Phu Ban's Wicha of amulet making at Wat Mae Ya, for their highly sacred blessings and highly sacred materials used in their making, and of course their extreme limited quantities. In addition, the amulets of Wat Mae Ya are neither mass made, nor distributed to the public market for trading, being completely non-commercial, and made with pure intention.
Kata Bucha Prakhan Pra Jao Pan Dton Yaks Pan Dton
A Ma Ra Wa A Ma Ra Wā
Chant to banish and scared Evil Beings Away, and to Induce Respect in the Hearts of Your Peers, and Fear in the Minds of Your Enemies
Save this product for later