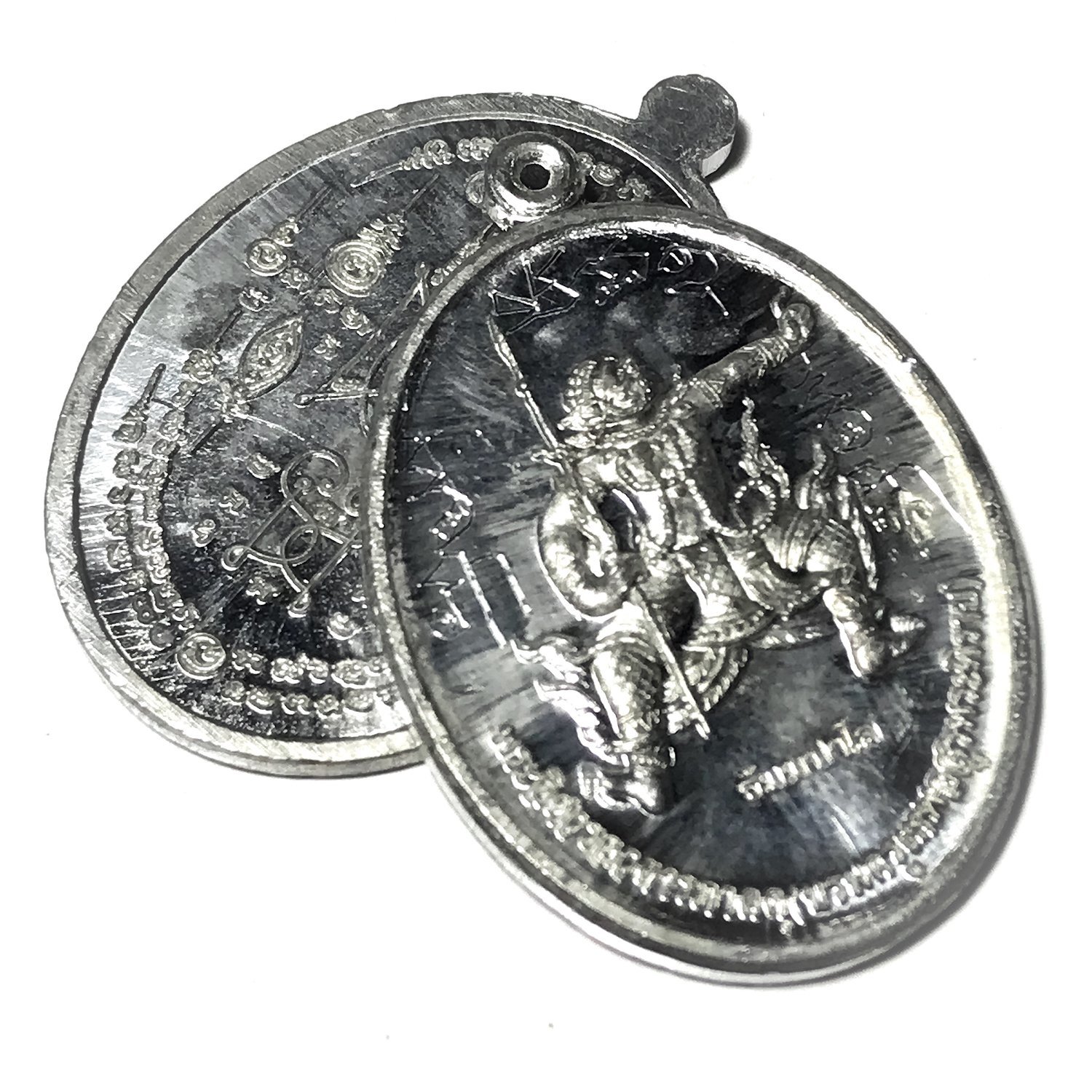 Rian Pra Pirab Awk Rob Bhairaba Going into Battle - Nuea Dtakua Hlang Yant - Luang Phu Bpun - Wat Ban Sangkh 2556 BE
SKU 03995
Product Details
Rian Pra Pirab Awk Rob Asura Deva going into Battle, with Yantra Spells on rear face in Nuea Dtakua Long Pim Sacred Alchemical Leaden Alloy, from the Great Luang Phu Bpun, of Wat Ban Sangkh (Roi Et). Hand made spell inscriptions have been performed on the surface of the front face of the Amulet by Luang Phu, using his Hlek Jarn sacred inscription instrument, Who is one of the direct still living Masters who received teachings from the great Luang Phu Mun.
Pra Pirab is a Powerful High ranking Royal Member of the Asura Realm Pantheon of Deities, and is known to be the Guru of all Performing Artists and Musicians. Pra Pirab is a very Powerful Magical Emanation, and possesses Maha Amnaj Power to produce 'Serm Yos' (Improve Status), and Impose Commanding Influence over others. Pra Pirab also Destroys Enemies and Backstabbers, much like the Eclipse God 'Pra Rahu Asura Deva'
Pra Pirab HImself is Inherently Imbued with Maha Amnaj (commanding power and influence), Gae Aathan and Serm Yos Power, and is especially powerful Deity to watch over, guide and protect those in the Performing Arts Proefessions, Musicians and Dancers, as well as all Magicians.
Pra Pirab is the Highest Kroo of the Dancing Arts and the Musical Arts. He has various different names, the Original coming from the Indian 'Bhairaba'. As the Hindu Brahman Faith entered into Siam, the people of Siam adopted their Dance, Theater and Literary Arts, and adapted them by changing the artistic interpretation, style of regalia and their Names.
Hence, 'Bhairaba', became first 'Pairab' and later slowly transformed into 'Pra Pirab'. Historically one can see Pra Pirab appear in Thai Performing Arts and Ritual Ceremonies documented, from about the time of the Ayuttaya Dynasty. The ritual worship of Pra Pirab was first seen to be commonly widespread during the time of the 2 King of the Chakri Dynasty.
He is seen present in many great Wai Kroo ceremonies, and is the official Mascot of the Wai Kroo of Performing Artists along with a number of other Major role playes in the Pantheon of 'Duriya Taep' performing Arts Heavenly Devas.
It is believed that Pra Pirab is actually an emanation of the Lord Shiva himself, but is often mixed up with another Yaksa who appears in the Thai Ramakien Myth (adapted from India's Ramayana Myth from the Hermit Valmiki), who is named 'Wirat' or 'Pirat' and his name has often been re-written as 'Pirab'. Wirat was a Major Protagonist in the Ramakien Tale, and was a practitioner of Astrology, and Wicha Yant
The rear face of the coin has a very rare and lesser known Yantra spell, which Luang Por Bpun used for all deities in this series of amulets, that covers the back of Pra Pirab, and completes the Wicha with extra Metta, and a Magical Seal to protect and Contain the Power within.
In the below youtube video, you can see a demonstration of the construction of the bones of a version of the Yant Pra Pirab, from Luang Por Wanna)and the Kata Below it. The video is made by Ajarn Spencer Littlewood for your interest and enjoyment.
The most important aspect of taking a Bucha statue, or an Amulet of a Pra Pirab Deity into the home or temple, is that for taking it in the home, you must erect an altar (or small place allocated for Bucha) and Bucha offerings to Pra Pirab on the first Thursday after taking it in;
Four eggs (uncooked), one cup of popcorn, one small cup of honey, flowers or 'puang malay' (flower garlands) – make sure that at least three different colors of flower are included in the offering.
Place them all on the 'Pan Kroo' or other kind of offerings tray, and light five incense sticks, and two candles. Chant the Pra Radtana Dtrai first (starting with Idtipiso till 'Sawagkhaadto') Then chant the Kata to call Pra Pirab to accept the offerings
Kata Bucha Pra Pirab
Imang Sajja Waajang Atithaami Tudtiyambpi Imang Sajja Waajang Atithaami Dtadtiyambpi Imang Sajja Waajang Atithaami
Puttang Ongk Pra Piraatang Khor Aehi Jong Maa Tammang Ongk Pra Piraatang Khor Aehi Jong Maa Sangkang Ongk Pra Piraatang Khor Aehi Jong Maa
Putto Sittirit Tammo Sittirit Sangko Sittirit
Sukha Sukha Chayya Chayya Laapa Laapa
Sappatammaanang Prasitti Mae Prasitti Dtae
Putto Sawasdee Mee Chai Tammo Sawasdee Mee Chai Sangko Sawasdee Mee Chai
Badtidtang Surankandtang Atithaami
Imasming Wantaami Aajaariyang Sappasayaang Winaassandti
Sittigaara Abp-bpa-ra-bpa-chaa Imasming Sitti Pawadtu Sappataa
Namassidtawaa Aajaariyang Isilokanaathang Putta Saraami
Namassidtawaa Aaajariyang Isilokanaathang Bpadti Badti Buchaa
Wantidtawaa Asurataepaanang Mahandtapalang Andtaraayang Winaasandti
Sittigaariya Piraataasuriyang Wichaa Jarana Sambpanang Namaa Mihang
Akkee Paahoo Bupphang Ajang Wantaa Aajaariyang Sappasaayang Winaassandti
Sitti Bparabpachaa Imasming Pawandtu Mae
Tudtiyambpi Akkee Paahoo Bupphang Ajang Wantaa Aajaariyang Sappasaayang Winaassandti
Sitti Bparabpachaa Imasming Pawandtu Mae
Dtadtiyambpi Akkee Paahoo Bupphang Ajang Wantaa Aajaariyang Sappasaayang Winaassandti
Sitti Bparabpachaa Imasming Pawandtu Mae
After this, say the following; "I (say your name) "ask to be a son and devotee of the Boroma Kroo Pra Pirab, and that Pra Pirab will have Metta towards me and bestow me with blessings of Luck, Fortune, Riches and Power, in addition protecting me from Magical attacks and evil beings".
The Kata above is only for chanting the first time when you offer the 'Krueang Sangweuy' (Bucha offerings) – It is of extreme importance to do this the first time when you have the Deity in your house or temple. If you do this the first time, the benefits will be very great, for it is common knowledge that Pra Pirab is a very powerful Deity indeed. Once you have done this, then the frequency with which you make Bucha depends on your own strength of Faith and diligence. Remember always that Thursdays are the best day for making Bucha to Kroo Deities.
In every day Bucha you only need to chant the following;
Imang Puttang Ongk Pra Piraatang Khor Aehi Jong Maa
Imang Tammang Ongk Pra Piraatang Khor Aehi Jong Maa
Imang Sangkang Ongk Pra Piraatang Khor Aehi Jong Maa
Putto Sawasdee Mee Chai - Tammo Sawasdee Mee Chai - Sangko Sawasdee Mee Chai (3 times)
Then Chant; Yaksa Sawarupa Chadaa Taraaya Bpinaag Hassadtaaya Sanaadtanaaya Tiwayaaya Taewaaya Tikampraaya Dtassamaiyakaaraaya Nama Sivaaya
Kata Bucha for all Yaksa Devas (Asura)
Yaksa Sawarupa Chadaa Taraaya Bpinaag Hassadtaaya Sanaadtanaaya Tiwayaaya Taewaaya Tikampraaya Dtassamaiyakaaraaya Nama Sivaaya
When you chant to Pra Pirab, think of the Buddha, Dhamma, Sangha, Mother and Father, Brahma, Shiva and Vishnu, and finally, Pra Pirab Kroo Deity – and think of all your Kroo Ba Ajarn and their preceding Kroo. As you do this you should 'Adtithaan Jidt' (focus your mind and make a request/wish) and wish for the Kroo Deity to protect and guide you. If you wish for luck, riches or love or whatever, you should then also use this opportunity to ask for whatever other blessings you may need.
When you make merits, you should offer fruits of those merits to the Boroma Kroo Pra Pirab too, which will result in the Deity bestowing immense blessings on you. You must offer the fruits of your merits truly and with full heartedness, not just say words, if you can do this, the results will be sure and auspicious.
Luang Phu Bpun Tammabalo
Luang Phu Bpun is an Isan Master who has practiced Tudong Forest wandering since his young days as a Samanera, and still practices the Tudong forest path to this day in his old age. A Master of Wicha Akom, he received many Wicha from his Dhammayut Masters. He is a living inheritor of various Wicha of Great masters, including Luang Phu Man Puratto, Ajarn Fan Ajaro, Luang Phu Tet, Luang Phu Phang, Luang Phu Hwaen of Wat Doi Mae Pang, Luang Phu Si, Luang Phu Dun, and Luang Phu Khaw of Wat Tham Glong Plae.
As Luang Phu was wandering on Tudong (solitary forest travelling) 30 to 40 years ago, the local folk came to ask him for 'Khong Dee' (magic amulets), and Luang Phu grabbed some straw from the field he was standing beside, and wrapped them into the form of a human body, chanting the Kata Akarn 32 to bring life into it, and invoke a Hun Payont that never sleeps, to guard over and help its owner. This became Luang Phus most famous specialty, and now 40 years later he is one of the older surviving Masters of the Wicha Hun Payont, coming from a Master Lineage that is second to none.
The Hun payont of LP Bpun has caused many stories of success and strange events, to support the belief in their effectivity, for example the fact that a motorcycle was stolen and then returned to the owner within a week by the thieves, who then ran away, and that this did not happen to just one person, but in fact, has happened on 8 separate occasions till now as far as reports flowing back to the temple can show.
Another Devotee caught a thief stealing his car. The thief told that he got the door open and sat in the car, but then he saw a person sat next to him in the car and fell into shock and was paralyzed, the owner of the car awoke to his cries and caught him. The same devotee claims to have used it to play lotteries and got repeated multiple wins.
A Malaysian Devotee took the Hun Payont of Luang Por Bpun to figh against some Islamic Black Magic, which he had been suffering terribly with its power, and the Hun Payont vanquished the curse after many other attempts had failed.
A Professional Gambler from Hong Kong went to frequent his favorite Casinos, and had so much consecutive success in all the houses, that he was given the nickname of 'He who wins as if he is cheating, but does not cheat'.
Thailand Amulets' owner, Ajarn Spencer Littlewood, is a Family relative of Luang Phu Bpun, and during Ajarn Spencer's time as a Buddhist Monk, he was able to be lucky enough to perform a central house pillar blessing in Duo with Luang Phu Bpun, learning the Wicha for Blessing and Empowering the Foundations of a Newly Built House.
Ajarn Spencer's experience and intimacy with this Great Master Guru Monk, was enough for Ajarn Spencer to notice easily the true power and Wicha of this Experienced and Humble old Master Guru Monk of Tudong Forest Tradition. For this reason, that we are sure of his abilities, Luang Phu Bpun is one of our preferred and recommended Masters for Powerful Amulets. A most highly respected old Master of the Luang Phu Mun Lineage.
Save this product for later