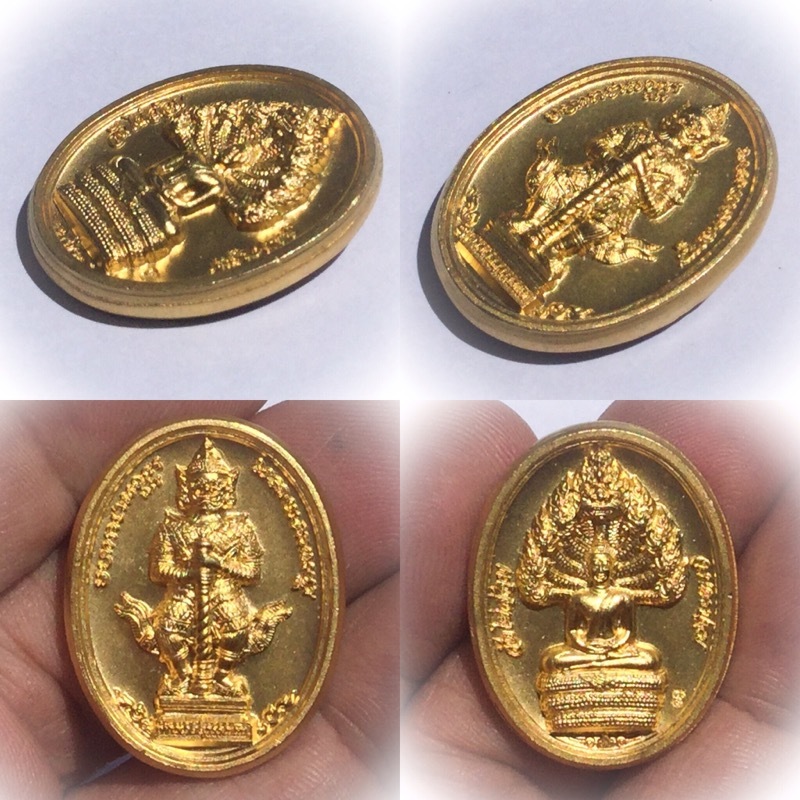 Rian Prok Gao - Pra Nakprok 9 Naga Headed Throne Buddha with Taw Waes Suwan - Nuea Loha Galai Tong Kam - Luang Por Poon - Wat Pai Lom
SKU 03272
Product Details
Pra Nakprok Buddha Coin Amulet on 9 Headed Naga Throne with Taw Waes Suwan Asura Deva Guarding the Rear Face - Sacred Bronze with Gold Plated Surface, from Luang Por Poon, of Wat Pai Lom. Released Circa 2545 BE, the amulet received direct blessings from Luang Por Poon. This Nakprok Buddha Amulet differs from most, in the fact that there are 9 Naga heads forming the rain canopy over the Buddha, whereas mostly there are only 7. For this reason the amulet received the name 'Prok Gao', which means 'Nine Headed Naga Throne'.


The amulet is made from 'Nuea Loha' (cast brazen metals smelted from Ancient Sacred Artifacts and Yantra Foils) with a Gold Plated exterior finish. It has two Images, one on each side, being the Pra Nakprok Buddha with 9 Naga Head Throne on one side, and Taw Waes Suwan Asura Deva on the other side.
Pra Nakprok
The Pra Nakprok is allocated to the Saturday, as a 'Birthday Budha' and is hence very Auspicious for those who were Born on a Saturday to Worship.
The Pra Nakprok consists of an Image of the Buddha sitting in Samamadhi (concentrative meditation), on top of a Naga, the Naga's 9 heads are raised over Buddha's to form a canopy. It is known as 'Pang Nakprok'.
The Buddha remained in blissful rapture under the Acabhalanikaroda for seven days, whereupon he moved to the Mucalinda tree to the Southeast side of the Bodhi tree. A terrible rainstorm began, pouring down on the forest for a whole seven days without stopping. Payanaga Mucalinda, who was King of the Nagas, came up from the naga Realm in the underworld and coiled himself underneath the Buddha, making a cushion seven stories high, to keep him dry.
He rose up and leaned his head over the Lord opening his neck canopy to shade the Buddha from the rain, as well as keeping watch to protect him from all sorts of parasitic, poisonous and predatory animals and creatures. As the rains ceased to fall, the Naga King uncoiled and changed into a Human form and raised his hands in reverence to Buddha.
In this Moment, the Buddha Uttered the following Kata (words);
Sukhoewiwego Dtudtassa Sudtadhammassa Bpassadtoe Abhayaabpach-chang Sukhang Loke Bpaanapuudtesuu Sanyamosukhaa Wiraakadtaa Loke Gaamaanang Smadtiggamo Asmimaanassa Winayo Edtang We Bparamang Sukhang
"Tranquility is the pleasure of he who has listened to and understood the Dharma intently, who sees conditioned things for what they really are, and does not seek to harm others. Of he who has abolished his passions and cravings, lust and desires, he who has stepped beyond all craving for sensual pleasures and endured in his efforts to do away with self conceited attitudes, has the greatest pleasure".
The statue of Buddha sitting on the coils of the Naga King snake was created to remember this occasion of the Naga paying reverence to Lord Buddha, and the representation of him sitting on top of the coils as if seated upon a royal throne is used for two reasons; 1. Aesthetics, 2. Brahmin influence
A more authentic and historical version of this Buddha image is sometimes seen in the form of the Nagas coils wrapped around and covering the Buddha's body with four or five coils around him. The only part of the body visible being Lord Buddha's shoulders, neck and head, which is also semi enclosed by the head and canopy of the Naga leaning over him.
Kata for Saturday Buddha
Yadtohang pakiniariyaaya Chaadtiyaa Chaadto Naapichaanami Sanjijja Bpaanang Chiiwidtaa Wo Ro Bpedtaa Dtena sajjena So Dti Dte Ho Dtu Kappassa
Bucha Method
Always chant the Maha Namasakara first (Namo Tassa) before any other Kata for amulets are chanted;
Na Mo Dtassa Pakawadto Arahadto Sammaa Samputtassa
Meaning of Namo Dtassa
Namo = homage
Tassa = To Him (Buddha)
Bhagavato = Worthy One (Who Is Worthy)
Arahato = And Without any Defilements
Sammaa Sambuddhassa = The fully Self Enlightened

How to Chant Namo Tassa and the triple refuge
Kata Aaraatanaa Pra Krueang (Special kata for all Thai Buddhist Amulets)
Kata Bucha Pra Nakprok
Yadtohang Pakini Ariyaaya Chaadtiyaa Chaadto Naapichaanaami Sanjijja Bpaanang Chiiwidtaa Wo Ro Bpaedtaa Sajjaena Sodthi Dtae Hodtu Kappassa
Taw Waes Suwan Asura Deva

Taw Waes Suwan is the Lord of Wealth and Treasures, and Guardian of Accumulated Wealth. He is the Commander and King of the Asura (Yaksa), and protects from all Demons Ghosts and Wicked Spirits. He is the God of Wealthy Business Men and of the Poor and Needy alike, because he not only assists in accumulating Wealth, he also prevents Wealth that is already gathered from being lost, and also will prevent lack of cashflow, which is one of the main downfalls of those with insufficient Income. In preventing loss of cashflow, Taw Waes Suwan assists the Poor in avoiding desperate situations and debts.
He is a Guardian against Black Magic, and was a devout believer in the Buddha's teachings, and was responsible for converting his Yaksa Minions into followers of the Buddha's teachings. He gave the Atanatiya Paritta Kata to the Buddhas Monks, to protect them from Demons and Yaksa who were taking pleasure in molesting the Monks in their meditations, to prevent them from becoming enlightened. Taw Waes Suwan is thus the best Protection gainst Demonic attacks.
The Image of Taw Waes Suwan Asura Deva, has been reanimated with the invocation of Taw Waes Suwan, the 4 Elements, and the Incantations of Taewa Pisek Blessings in the final Ceremony at Wat Pai Lom.

Luang Por Poons amulets are known not only for the effectiveness of their magic, but also for the fact that the amulets are always made with a very high grade of design quality, and finish. They are thus not only sacred items of reverence, they are also wonderful examples of Buddhist Miniature Fine Art.
Read All About Taw Waes Suwan Asura Deva
Wibpassisa Na Madt-thu Jagkhumandtassa Siree Madto
May i offer reverence and Bucha to Pra Wipassee Putta Jao who has divine eyes
Sikhissabpi Namadt-thu Sappaphudtaanugambpino
May i offer reverence and Bucha to Pra Sikhee Putta Jao who watches over and protects all beings of the three worlds
Waessa Phussa Namadt-thu Nahaadtagassa Dtabpassino
May i offer reverence and Bucha to Pra Waessa Putta jao who has removed all defilement from his heart through his great merits and efforts
Na Madt-thu Gagusandtassa Maarasenabp-bpamattino
May i offer reverence and Bucha to Pra Gagusanta Putta Jao who has beaten and devastaded the Maras and the armies of Mara
Gonaakamanassa Namadt-thu Praahmanassa Wuseemadto
May i offer reverence and Bucha to Pra Gonaakomana Putta Jao, who has risen above all defilement, and who resides in the Brahmacaryas
Gassabpassa Namadt-thu Wibp-bpamudt-dtassa Sappati
May i offer reverence and Bucha to Pra Gassapa Putta Jao who has ascended above suffering and is a skilled Adept in all Dhammas
Ankeerasassa Namadt-thu Sakya Bpudtassa Siree Madto
May i offer reverence and Bucha to Pra Angkeerasa Putta Jao, the Splendrous Son of the Sakya tribe, who relvealed the Dhamma to the world which is the ultimate tool for the removal of all suffering
Yo Imang Tamma Mataesaesi Sappa Tugkhaabanudhanang
The Self Enlightened one uncovered and taught the Dhamma, which is the greatest tool for the removal of suffering
Yae Jaabi Nippudtaa Logae Yathaa Pudtang Wibpassisung
Who are the ones who have anihillated all defilement and see the truth of the world which lies behind all veils of illusion
Dtae Chanaa Abpisunaa Mahandtaa Weedtasaarataa
These Buddhas are without any malice and are great ones who are free from falterings and instabilities
Hidtang Taewamanussanang Yang Namassandti Kodtamang
The Angels and Humans may revere and Bucha these Buddhas who asre endowed with great Metta which they send to release the Devas and Humans in heaven and on the Earth from suffering.
Wichaa Jaranasambpannang Mahandtang Weedtasaaratang
They are full of Wisdom and Knowledge of the World, those Great ones who are free from instabilities
Wichaa Jaranasambpannang Puttang Wantaama Kodtamandti
May i offer reverence and Bucha to Pra Putta Jao Kodtama Kodtara, who is Adept with Knowledge Wisdom and Grace.
Luang Por Poon is one of Thailand's most Revered Monks of this Century and one of the Most Famous Names in Thai Buddhism over the last 3 decades of amulet history. The echoes of his passing is still felt by his Devotees, and the pain of his absence is only softened by the comfort given by his amulets, and his Sacred memory.

Save this product for later