Run Jong Samrej 2555 BE Luang Phu Hongs Prohmabanyo
2555 BE (2012) Edition Series of Amulets by Luang Phu Hongs Prohmabanyo.
This edition saw some Excellent Pra Kring Paetch Surin Prong Fa Buddha statuettes, The Yaam Daeng Red Velvet Monks bag for Riches, some 'Grich' (spirit knife), Loi Ongk Roop Lor (small statuettes of LP Hongs), See Pheung Sariga (Metta Balm/Lip Gloss), Nam Man Sariga Metta (with hand carved Ivory Sairga Birds), Pra Upakut, Pra Khun Phaen Tung Mon, some metal coin amulets, Brahma Wands, Sacred bangles, and a beautiful Bucha statues in Sacred Bronze (samrit Rom dam) of Luang Phu Hongs in standing posture, and of Pra Pikanes also in standing posture (Lord Ganesha).
List of Amulets in this Edition;
Yaam Daeng Na Mae Dti Maha Sap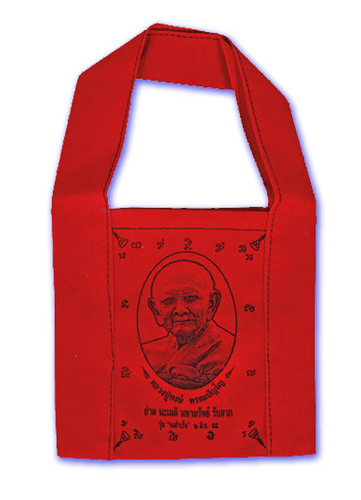 Yaam Daeng Na Mae Dti Maha Sap (Red Velvet Monk's Bag for Wealth and Treasures).
Grich Prohmakun (Ritual Brahma Dagger)
Grich Prohmakun (Brahma Dagger) - Made from Sacred Metals and Tamarind Tree Wood struck by Lightning.
Nam Man Sariga (Takrut sariga Ngern Kumarn Sariga + Nok Sariga Gae)
Nam Man Sariga has one Takrut Sariga, One Lumarn Tong in carved Ivory, and one Sariga in carved Ivory.
See Pheung Sariga Jantr Paen Putta Chayanti
Luang Phu Hongs Yern Boke Sap (Bucha statue)
The statue was made in 9 Inch and 14 Inch High versions.
Puttapisek Empowerment and Blessing Ceremony
The first Puttapisek was held on the 2nd May 2555 at 14:09 for the 'Piti Krob Kroo Jakrawal'.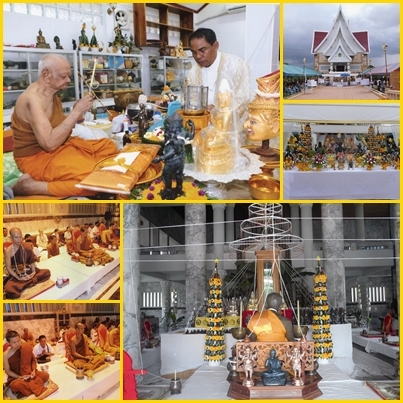 The second Puttapisek was then held on Sunday the 3rd May at 10:00 am for the 'Tord Pha Pah Maha Guson' Ceremony (donate cloth and monks robes). Both Ceremonies were performed at the Sussaan Tung Mon.
Muan Sarn (sacred Ingredients)
Muan Sarn used for amulets in this edition; Rang Sariga (Sariga Bird Nest), Thao Wan Hlong (rare magic vine from the deepest jungle), Pong Ruam (various saced powders), all editions of Pra Khun Phaen from LP Honogs previous editions powdered up, olf Pra Kring and Metal amulets from various editions of LP Hongs, Yantra Foils, 'Khaw Gon badtr' (dried rice from bottom of Monk's alms bowl), Wan Gesorn (108 type of pollens and herbal powders), and powder amulets from every single edition Luang Phu ever made.