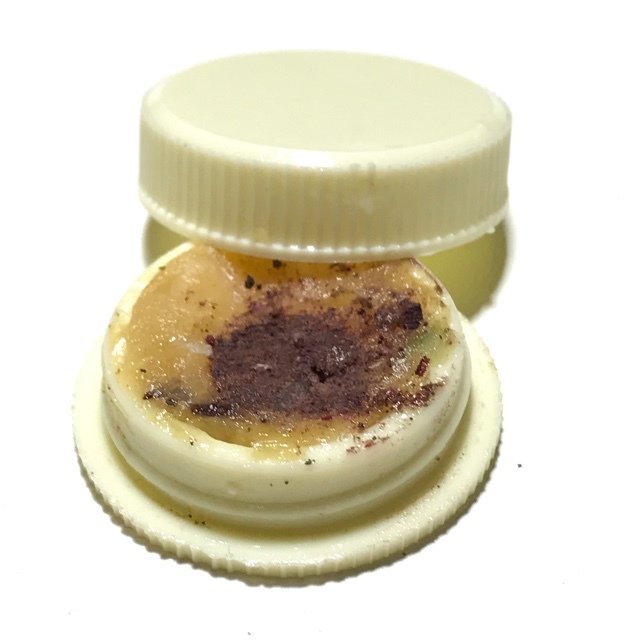 See Pheung Pasom Pong Asun Prai Oil Balm with Pure Asura Powders - Asrom Por Taw Guwen
SKU 04269
Product Details
The See Pheung Asun is a Prai Oils, Yantra Candle and Metta Oils based Magickal Balm, with Purple Asura Powders, made with a base from Ajarn Spencer's Nam Man Prai Jet Aathan and See Pheung, which was made in a boiling cauldron during the Wai Kroo 2555 BE Ceremony of Asrom Por Taw Guwen. After various editions were released in small quantities, some of the remainder of the concentrate has been used to make a new See Pheung Spell, empowered with 'Pong Asun' Asura Powders, which have powerful Pokasap wealth attracting energy, and protective force against Black Magic and Demons. The See Pheung and the Asura Powders were made and empowered by Ajarn Spencer. This is the first time he has released any amulets since 2558 BE
The See Pheung has a generous sprinkling of Asura Powders, a highly concentrated Muan Sarn made with an extremely high quantity of Ploi Sek Gemstones, ground into power, miced with broken amulets related to Wicha which invoke the Asura (Yaksa) deities of the Jadtu Maharachiga Kingdom of the Celestial Abodes.
The boiling ceremony for the making of the See Pheung was highly empowered with the use of an extreme overdose of Sacred Herbs, and Hundreds of Sacred Amulets immersed in the Cauldron during the boiling ceremony, along with all four large pots of Prai Oils which had been made by Ajarn Spencer to Date, which in themself incuded many dozens of Sacred Amulets, sacred Woods and Prai Oils from a large host of great Masters, such as the Great Ajarn Chum Chai Kiree, Ajarn Wara, and many many other Masters of both Ordained and Lay Master Traditions.
Suffice to say, that the See Pheung extracted from the cauldron was the most highly concentrated potion that Ajarn Spencer could conjure up, with only a small amount (a 1 KG Pot) extracted from a five gallon size cauldron. This was due to the large amount of herbs and amulets which were immersed into the cauldron, and the Sacred Yantra Candles for 'Sado Krao' (removal of Bad Karma and Improvement of Astrological Horoscope) from Pra Ajarn Supasit which were also placed upright stuck into the herb and amulet pile, to be lit and melted during the Incantations and Wai Kroo Chanting, over the flame. The Cauldron was of course inscribed previously with the 'Yant Long See Pheung' a Sacred Yantra Spell using Ancient Khom Sanskrit specifically for the empowerment of See Pheung Potions.
This See Pheung is now almost depleted, and this is hence one of the last editions which will be seen to be made into See Pheung Balm and empowered for use. Ajarn Spencer suspects he may manage to extract perhaps another two editions of See Pheung before the potion finally runs out, and he decided that this time, he would use it to fill these containers and empower with his most jealously guarded Asura Powders for Protection against Black Magick and Demonic Entities,, as well as Maha Pokasap for Prosperity, and Seductive Attraction, which is anyway already empowered as a property of this Extremely Concentrated See Pheung Ointment.
It is recommended to chant the Kata Aaratanaa Pra Krueang, before anointing the balm onto the skin (lips, forehead, etc.). With this particular kata one can beseech the Buddha, the Dhamma, and the Sangha for blessings. And, of course, the Kata Aaratanaa Pra Krueang can also be used to pray for specific wishes to be fulfilled through the miraculous power of the Three Jewels.
Kata Aaraatana Pra Krueang is a specialized Kata for chanting when putting on amulets, taking them off, or when leaving the house or travelling. The Kata asks for protection and blessings to go with you.
Kata for Chanting to Amulets (Kata Aaratanaa Pra Krueang)
Puttang Aaraatanaanang Tammang Aaraatanaanang Sangkang Aaraatanaanang
Puttang Prasittimae Tammang Prasittimae Sangkang Prasittimae
Before chanting to any amulets, you should always chant Maha Namasakara (Namo Dtassa(, and/or the Kata to ask for refuge (Kata Dtrai Saranakom) the Triple Gem first. the Maha Namasakara is a Kata Chant, which should be used before performing any other Kata Chants for Thai Buddhist Amulets, which is of course, the 'Maha Namasakara'. The Maha Namasakara is the Kata to pay reverence to the Buddha Sakyamuni, who is the Enlightened Being who founded Buddhism on Planet Earth, and revealed the 84,000 Sutras of the Buddha Dhamma, which are the teachings which lead to the Cessation of Suffering, the End of Reborth in Illusory Transitory realms of Existence, and shows the Path to Enlightenment and the final Attainment of Arahantship (Buddhahood) and Entry into the Blissful State of Nibbana.
Kata Maha Namasakara
Namo Dtat-Sa Pakawa-Dto Araha-Dto Sam-Maa Sam-Put-Dtat-Sa
Namo Dtat-Sa Pakawa-Dto Araha-Dto Sam-Maa Sam-Put-Dtat-Sa
Namo Dtat-Sa Pakawa-Dto Araha-Dto Sam-Maa Sam-Put-Dtat-Sa
Yet if one wishes to use the See Pheung Asun for more specific purposes, then there are additional kata which can be chanted to induce love, to enhance attraction, and promotion, and to improve success and preferential treatment.
Kata Chants for Metta and Maha Sanaeh – Magical Incantations for Love, Attraction, Promotion, Success, and Preferential treatment.
There are many different ancient Kata in existence for the invocation of Metta / Maha Sanaeh in the Practice of Thai Buddha Magic. Incantation is one of the base elements of Magical Empowerment, and serves many purposes from calling upon Devas and Spirits to assist, up to invoking the strengths or qualities of a particular animal or element to assist in achieving ones desired results.
Of the Metta Mahaniyom and Maha Sanaeh category of Magical incantation, the qualities available for application are those of Inducing Compassion, Popularity, Attractiveness, Charm, Attract generosity from others, Increase Popularity, Enchantment (Love Charms), Promotion (Popularity), and Good Business sales.
Kata Maha Sanaeh
Janto Apagandtaro Bpidti Bpiyo Taewa Manussaanang
Idthiyo Bpuriso Ma A U U Ma A Iswaasu Igawidti
Chant 3 times before going out to meet other people, and it will make those we are about to meet feel Metta and be attracted to us. You can also make the incantation and blow it into the palm of your hand for safe traveling.
Kata Rak Tae (True Love Enchantment Spell)
Om Namoputtaaya Puttang Saradti Tammang Saradti Sangkang Saradti Jidtang Samaaraema Ma Aehi Aehi Chayya Aehi Sappae Chanaa Pahuu Chanaa Aehi
You can make this Incantation and cast it by blowing into a bonbon or lozenge, and then suck on the lozenge when speaking with the person we wish to Enchant. They will become Enamored in You the more you speak.
โอมนะโมพุทธายะ พุทธัง สระติ ธัมมัง สะระติ สังฆัง
สะระติจิตตังสะมาเรมะมะเอหิ เอหิชัยยะ เอหิสัพเพชะนา
พะหูชะนา เอหิ
Kata Mad Jai (Fetters of the Heart Spell)
Na Phuug Mo Mat Put Rat Taa Reung Ya Greung Kare Om Swaaha
Puttang Radtanang Tammang Radtanang Sangkang Radtanang
Chant before going to sleep to make Your partner think about and Miss You (fall in Love with You)
ทธัง ธัมมัง รัตตะนัง สังฆัง รัตตะนัง นะผูก โมมัด พุทรัด ธารึง
ยะกรึงคะเร โอมสวาหะ
Kata Jai Awn (Heart Softener Kata for Mercy)
Bpanjamang Sirasang Khaadtang Na Ot Jai Na Gaaro Hodti Sampawo Dtiiwaana Na Gaarang Bpanja Sampawang
ปัญจะมังสิระสังชาตัง นะอตใจ นะกาโร โหติ สัมภะโวตรีวานะ นะ การัง ปัญจะสัมภะวัง
Use this when needing to Plead with your Debtors, or other similar situations where you need Mercy
Kata Jao Nai Metta (mercy from your Boss)
Bpanjamang Sirasankhaadtang Naahaaya Na Gaaro Hodti Sampawo Iswaasu
ปัญจะมังสิระสังขาตัง นาหาย นะกาโร โหติ สัมภะโว อิสวาสุ
You can chant this into face powder,, See Pheung or perfume and use it before meeting with your Employer or Superiors, to make then feel favorably towards You.
>Kata Metta Mahaniyom
Na Maedtaa Mo Garunaa Put Bpranii Taa Yin dee Ya Aen Duu Sappa Sittimang Biyang Ma Ma
Chant into your See Pheung, Metta Oils, perfume, face powders and apply to your skin. Chant and blow into Yantra cloths or amulets.
Kata Samak Ngaan (Applying for getting a Job Spell)
Puttassaahang Niyaataemi Sariran Chiwidtan Jidtang
Namo Midtaa Manussaa Ja Na Maedtaa Mo Garunaa
ทธัสสาหัง นิยยาเทมิ สะริรัญ ชีวิตัญวิทัง
นะโมมิตตามนุสสาจะ นะเมตตา โมกรุณา
Kata for all Maha Sanaeh amulets
Om Naa Ya Ya Su Na Moe Khoe Sa Ra Dti Jidt Dtang Maa Re Ma Ma Ehi Ehi Naa Kha Ya Na Bpa Mak Ka Cha Ka Ya Kha Na Jidt Dtang Sa Maa Ka Naa Samaa Ka Na Home Cha Ka Sa Waa Haa
Kata Jerajaa (Discussion and Conference Enchantment)
Na Mo Puttaaya Ma A U Yataa Put Mo Na U A A Iswaasu Sappatassa A Sang Wi Su Lo Bu Sa Pu Pa
Use before going into discussion, conference or interviews, court cases etc.
นะโมพุทธายะ มะอะอุ ยะธาพุทโมนะ อุอะอะ อิสวาสุ สัพพะทัสสะ อะสังวิสุ โลปุสะพุภะ
Kata Kaa Khaay Dee (Good Sales)
Om Idtiputtatsa Suwannang Waarach-Chakang Waamanii Waawadt-Dtang Waa Pappayanla Aehi Kaakachwandti
Use to chant and blow over your wares, or chant into prayer water and sprinkle on your wares in the store.
โอมอิติพุททัตสะ สุวันนัง วารัชชะคัง วามะนีวาวัตตัง วาพัพพะยัน ละเอหิคาคัชวันติ
Alternative Version for Merchants, Salesmen and Shop Owners
Puttang Pahuu Chanaanang Aehi Jidtang Aehi manussaanang Aehi Laapang Aehi Maedtaa Chompuu Tiibpae Manussaanang Idthiiyo Bpuriso Jidtang Pantang Aehi
พุทธัง พะหุชะนานัง เอหิจิตตัง เอหิมะนุสสานัง เอหิลาภัง เอหิเมตตา ชมภูทีเป มะนุสสานัง อิตถิโย ปุริโส จิตตัง พันธังเอหิ
Save this product for later