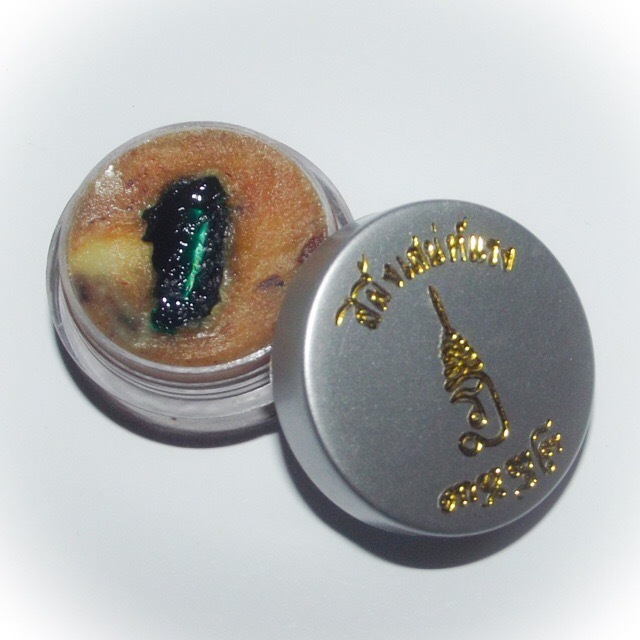 See Pheung Sanaeh Raeng Kama Sutra Necromantic‬ ‪Potion‬ for Seduction‬, Business and ‪Gambling - Gerd Sap Edition -‬ Kroo Ba Tamma Muni
SKU 03443
Product Details
See Pheung with Kama Sutra Love Spell with Nacromantic Muan Sarn charging power within a Powerful See Pheung ‪Potion,‬ made from empowered with the Wicha Prai Grasip Ghost‬ Whisperer Spell, for Seduction‬, Business and ‪Gambling‬
The See Pheung Raeng Kama Sutra Potion, was one of various now famously powerful amulets released in a small extreme limited edition released in the Year 2553 BE, from Kroo Ba Tamma Muni. Luang Phu is famous for his See Pheung and Nam Man Prai Potions, all of which have brought legendary fame to each edition, for the successful results received by devotees.
This is a double purpose, or at least, double usage method type Wicha, which can be used for Bucha placed on an altar, and/or for use as a See Pheung Balm for smearing as a Magick Potion.
Luang Phu made this edition more using a higher concentration of Muan Sarn, and a more complex formula of ritual empowerment, to produce the most powerful See Pheung that he has made to date. He began by only taking Bees Nests found on the Mayom, Marum and Khanun trees, which are the most powerful trees for Bees Nests to possess Magick.
He then inscribed all of the Bees Nests with Ancient Khom (Khmer) Agkhara Spells and Sacred Maha Yant Prawet Yant Maha Sanaeh, using a long formula of different rare Ancient Yantra inscriptions and invocations, such as the Yant Na Kon Tan Hwaek Himapan, Yant Nang Ga Long, Yant Nang Khao Ha, Yant Glern Jidt Manus, Yant Dor Lor Hee, Yant Chang Pasom Khloeng, Yant Paya Tae Krua, and the Yant Na Orn Jai.
A large number of the rarest and most powerful Magickal Herbs were used for the boiling ritual in the Sacred Cauldron, which was also inscribed with Sacred Yant and Khom Agkhara Spells, according to the Dtamra for the Wicha Kiaw See Pheung. Amongst the most remarkable of these Sacred Ingredients, are;
Wan Sau Hlong (Enchanted Lady Herb). Wan Saen Nang Lorm (100,000 Maidens in Entourage Herb), Wan Paya Gai Daeng (Red Cockerel herb), Wan Dork Tong (Golden Flower Herb) Wan Din Sor Ruesi (Lersi Chalk Herb), Wan Chang Pasom Khloeng (Mating Elephant in Heat Herb), Wan Joong Nang (Lady Seducer Herb), Ga Fak Rak Khaw (White Love-Bringing-Crow Flower), Ga Fak Rak Muang (Purple Love-Bringing-Crow Flower), and Makhuea Ba (Crazy Eggplant) - these and a host of other Sacred Herbs and Woods were boiled up with the Bees Nests and Waxes in the cauldron in 'Nam Man Sanaeh Raeng Kama Sutra' - Sacred Oils of strong Kama Sutra Charm. The potion was boiled and stirred to thicken into See Pheung. Whilst the concoction boiled, he recited incantations over the pot to arouse the elements. Further empowering the Sacred oils.
The herbs used to cook up this wax were various herbs of 'Wan Maha Sanaeh' cooked together with the 'Khanun' jackfruit and 'Mayom' Star Gooseberry. The fragrant oils boiled together in an open-air daytime ceremony on a Friday of a New Moon and the Friday of a Full Moon making for two auspicious occasions.
As Luang Phu mixed the waxy substances all together into one, he placed them in a large receptacle and used his bare hands to mix them and mash them, performing 108 recitations of the Kata Gaama Suudt (Kama Sutra Wicha) during an Auspicious Astrological Occasion in full Sunlight.
Once the potion was mixed into one substance, he then chose a night time Auspicious Astrological Date, to perform the next empowerment under the full moonlight. he performed the Piti See Pheung Rap Saeng Jantr Moonlight Charging Ceremony, and inscribed the Saccred Yantra of the Golden Apsara Maiden within the See Pheung Waxy Balm surface, and Chanted the Kata Riak Jidt Manus, and the Montr Nang Apsorn Yua Swaha Mad Jidt spell. Both of these spells are thousand year old Khmer Sorcery Spells which invoke Apsara Maidens from the Celestial Realms to Enchant and Seduce the minds of others.
The Kata spells invoking the Apsaras blessing of loveliness, which is considered to be a very high level charm of seduction and astonishment derived from the 'Nang Ram' dancing girls of ancient Thai folk music. Even the 'Dabos Nak Prot Khontan' ascetic Ghandavara devas are subject to the immense power of this spell. The Ghandavara being particularly drawn to and associated with music, dance, arts and the scents and saps of fragrant trees and flowers, these heavenly deities are drawn to and therefore lend their powers to the make-up of this ethereal Look Krok.
Special Kata from Kroo Ba Tamma Muni
Puttang Ragkha Jidtang Aehi Ragkha Jidtang
Tammang Ragkha Jidtang Aehi Ragkha Jidtang
Sangkang Ragkha Jidtang Aehi Ragkha Jidtang
Kata of Veneration (3x):
Na Tu Dta Sang Dta Dtoh Pun Chan Dti Poh Cha Naa Nang Mae San Jae Aakachaya Aakachahi Oh Mettan Dti Ro Tan Dtang Dtae Dtae Ja Ran Dtu Mae Sap Pay Mae Dtang Jidt Dtang Jidt Dtang Mae Dta Dtan Ja Sap Pa Lo Ga Saming
How to Use
Many people feel the attraction and see the ease of use that Metta Maha Sanaeh Prai Oils, Balms and Powders bring, but do not really know how they can put the oils and balms to applied use for the right purposes. The below section explains a little about the general techniques normally applied when using Metta Oils and Prai Oils.
If normal Herbal or Non-Necromantic Metta Oils, and Prai Oils that have been properly Invited and Invoked for use already and allow the below methods;
Smear a little between the eyebrows for Metta before starting work or going gambling, socializing etc. Men should circle their left finger clockwise, and Women should use the right hand and circle the finger anti-clockwise
Use the forefinger to smear with almost all Metta and Maha Sanaeh Oils and Balm Potions, for General Metta Blessing, use the ring finger for Selling and Gambling, use the middle finger to smear the oil if you wish to be attracting the opposite sex.
Na Maedtaa Mo Garunaa Put Bpraanii Taa Yin Dii Ya Aen Duu
For Gambling; If an Oil is given for For Gambling Purposes, simply tap the See Pheung, Metta Oil or Prai Oil with your finger and make a wish before leaving the house. You can rub the balm into your skin of your gambling hand then, if your finger has some balm on it after tapping. Use only a tiny amount of balm is enough.
For 'Jerajaa' (business discussions, job interview etc), smear the balm onto your forehead and make your wish.
For Maha Sanaeh attraction, smear the balm under your chin, and ear lobes, and make your wish.
For Kaa Khaay (Selling Wares) – smear a little on your wares or the table where you sell them before each day begins and chant the Kata given.
For Mad Jidt Mad Jai (Enchant the heart and mind of another); smear or dab a tiny bit on the person and then perform the chanting of the Incantations given for the Oil, and focus on the person coming to you as your wish.
Further Methods;
Use the thumb to smear around the outside of lips, if you wish to seduce someone of higher status or with high ranking, or profession.
Use the forefinger to smear around the outside of lips, when seducing your own age group or equals in social status, as well as your own employees.
use the middle finger to smear around the outside of lips, if you wish to seduce somebody older than you, or a widow or divorcee.
Use the ring finger to smear around the outside of lips, when seducing very attractive handsome people
Use the little finger, to smear around the outside of lips, to seduce younger people
Save this product for later