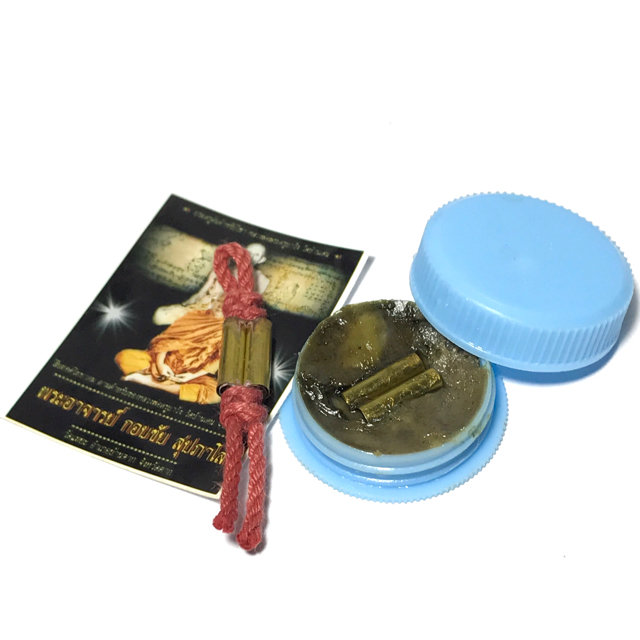 See Pheung Sariga Lin Tong With Takrut Sariga Bon Hyuea Celestial Magpie Potion And Spell for Mercy Charm - Pra Ajarn Gorp Chai
SKU 04249
Product Details
Special Combination Set composed of See Pheung Sariga Lin Tong Metta Balm with twin Takrut Inserts, and a portable Takrut Sariga amulet bound to Daay Daeng Akom red spellbound cords, from the 2560 BE traimas edition, by Pra Ajarn Gorp Chai of Wat Mae Ya. The Wicha Sariga is an ancient spell for Enchanting Speech and the Power of Attraction, Love and Mercy Charm. The Takrut can be worn and prayed to in combination with the See Pheun when performing Bucha. The See Pheung can be prayed to on a receptacle or can be carried to use for smearing.
The Nok Sariga (or, 'Salika') is a Golden Tongued Heavenly Bird which is attributed with immense Metta Mahaniyom and Maha Sanaeh qualities, and is along with the Hongsa, one of the Best Devas to seek assistance in 'Jerajaa' Magic (convincing speech). Jerajaa means 'Discussion'. The Golden Tongued Sariga bird enchants and charms the listeners of he who possesses the Wicha, bringing a hypnotic and charming effect, to influence and convince, making people see things your way. Good Business is to be expected with the Wicha Sariga.
Instructions for using See Pheung, Nam Man prai and other Metta Oils
The Sariga (sometimes also called 'Nok Garawaek') bird is a Wicha empowered with Maha Sanaeh, for Seductive Charm, Metta Maha Niyom Mercy Charm, and Maha Pokasap for Prosperity. Very popular with shopkeepers, and traveling salespersons. Amulets which use the Wicha Sariga is Unisex and can be worn by both men or ladies to use equally successfully for seductive influence, mercy charm, good business, and increased popularity.
Below; Images of the Muan sarn Ingredients of the See Pheung during its creation process
The Nok Garawaek, and the Nok Sariga, are heavenly birds which are more or less synonymous with each other, for which reason, you can use any of the Kata Incantations which are used for the Nok Sariga Celestial Magpie. Magpies are known for their tendency to pick up shiny glittering objects, such as jewellery, and whisk them away to their nests, ad hoard them. This is no difference in this matter when it comes to the tendencies of the Celestial Magpie, who is indeed just as attracted to treasures as any Earthly Magpie. But in its Highest Form of Understanding, the 'heavenly treasures' it brings (Wealth, Health, Love, Long Life, Happiness, Auspicious Blessings, and the Path to heaven), are the true Blessings of the Heavenly Magpie.
Pra Ajarn Gorp Chai is the continuing lineage practitioner of the Wicha of Luang Phu Kroo Ba Ban (Wat Mae Ya), and is a Lanna Monk who has continued the Wicha of Kroo Ba Ban and of the great Lanna Master Kroo Ba Wang, through the Lineage of his Kroo Ba Ajarn in the most diligent fashion, as well as increasing the spells within the repository of grimoires at Wat Mae Ya. Nor did the Ancient Masters have to accept to bless amulets which were mass made, and donated for blessing, rather, used their own precious time and efforts and Meditations to create and empower each amulet one after the other, passing through the hands and incantations of the Master one by one.
Pra Ajarn Gorp Chai refuses to allow himself to be tempted to invent any modernisations, and maintains the integrity of the Northern methods of Lanna Sorcery. These days, it is truly difficult to find a Master who still uses this old-school method of personal applied Wicha and without assistance from third parties. We can but recommend the amulets of Pra Ajarn Gorp Chai most highly for this reason. Pra Ajarn Gorp Chai is a lineage master of Wat Mae Ya, following in the tradition of his Kroo Ba Ajarn, Luang Phu Thin (Current Abbot) and the Great Luang Phu Kroo Ba Ban. Wat Mae Ya is the temple of the Late and Great Arya Sangha (said by his devotees to have attained. Pra Ajarn Gorp Chai is continuing the Wicha and Traditional Amulet making of the Great Kroo Ba Ajarn; Luang Phu Kroo Ba Ban, the ex Abbot of Wat Mae Ya temple.
He has expanded the magical repository of knowledge of his Lineage with his constant seeking, collecting of ancient Grimoires of Sorcery of the Thai Yai and other Lanna Folk. He is extremely proficient in the Wicha of Lanna Amulet making and in addition, a Master of Kata Akom and Agkhara Lanna Magical Script, and Sak Yant Thai Temple Tattoos. He adheres to the methods of amulet creation using his own hand and individual inscription of each item, with no mass production methods allowed, such as stamped Yantra foils.
He inscribes every Takrut and Yant design himself with the full series of Ritual Incantations performed. The See Pheung potion was made by his own hand, and the full formula of Invocations for the Kata Akarn Sam Sip Sorng were performed for reanimation of the Sariga. This is an essential part of Empowerment with all Humanoid and Animal form amulets which are imbued with a resident spirit. The Invocation Summoning, Awakening and Turning of the Four Elements was performed to Reanimate Living Sariga Magic within the potion, according to the Ancient Grimoires and Magical Formulas of the Wicha.
We pray that Pra Ajarn Gorp Chai continues to present us with these highly limited editions of sacred Northern Lanna Wicha Amulets, which he inscribes and empowers and constructs all by himself without any machinery or mass made methods of production, as in olden days, as the Lanna Masters would make the amulets with their own hand, and not with the assistance of factory made components or modern machinery.
the amulets of Pra Ajarn Gorp Chai are amongst the most highly recommendable and authentically empowered with the inimitable personal touch of the master, which is becoming ever harder to find in modern times
Kata Nok Garawaek
Gaara Wigo Gaara Gaa Nuu
Kata Sariga Lin Tong
Puttaa Anaenaa Maliyaa Susangkayaemi Puttaa Irimaliyaa Susangkayaemi Puttaa Aribpayo Kaema Kun Na Bpagkhae Samae Mami Unaalomaa Bpanna Wichaayadtae
Kata Sariga Bpon Yuea
Badsabinhlaa Haedtaro Mahaedtaro Himma Anlaenaegan Chayorgan Dto Bo Guu Yor Maa Cheu Wagan Gadtor Waa Guu Gadtor See Dee Nguu Huu Anlaerohuu
Kata Bucha Takrut Sariga Jab Bpaag Loeng (1)
Aehi Gaasimaadti Gaama Raaka Lopa Bpihagaa
Kata Bucha Sariga Jab Bpaag Loeng (2)
Wanna Wannaa Saligaayo Puttang Siro Waa Ha Ma Ma
Nightly Kata (chant each night)
Om Bplug Bplug Ruk Laew Yaa Norn Yaa Chaa Sarigaa Jao Euy Yaa Cheuy Leuy Raa Kroo Sang Jao Maa Ha Raksaa Kum Krong Bpok Bpong Kaehaa – Phuu Dai Mii Jidt Raay Khor Hai Glab Jai Maedt-Dtaa – Roke Pay Naanaa Khor Yaa Dai Pob Paan Laap Lae Yot Khor Hai Bpraakot Kheun Tang Bpaed Tidt, Midtr Khor Hai Gerd Kheun Tang Bpaed Daan Phuu Dai Haen Hnaa Guu Laew Khor Hai Man Rak – Phuu Dai Tak Guu Laew Khor Hai Man Hlong – Om Mahaa Sarigaa Greung Garanang Dtaawang Dtaawaa Ma ma Aehi Swaaha.
Kata Bucha Sariga Koo Maha Sanaeh (Twin Sariga Love Birds)
Aehi Saarigaa Wandtaanang Maedtamputtasae Sinaeharadthang Saarigaa Laapo Pawandtumae Aehi Hying Chaay
Use for Calling Customers, Selling Wares, Convincing Speech, Flirting, and Mercy Charm
Save this product for later