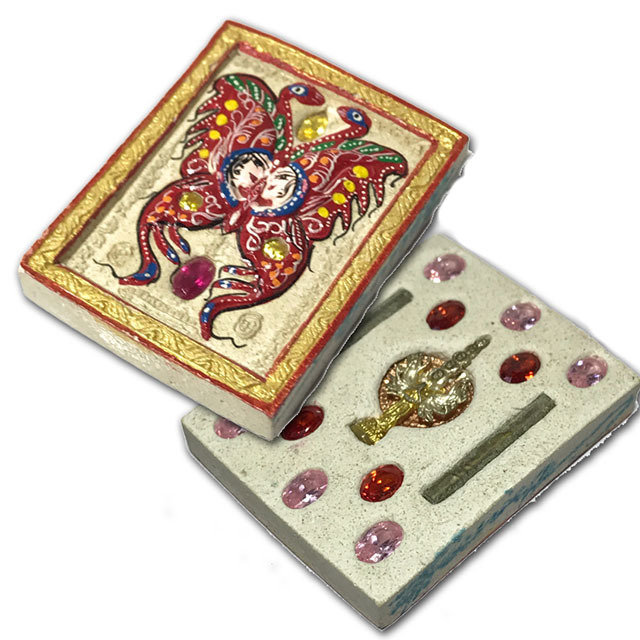 Taep Jamlaeng Pim Klang Asrom Sathan 2555 BE Red Butterfly 2 Takrut 14 Gems Kwan Yin Bodhisattva - Kroo Ba Krissana Only 55 Made
SKU 04209
Product Details
Taep Jamlaeng Pim Klang Asrom Sathan 2555 BE New Year Edition 2 Takrut 14 Gems 100 Arms Kwan Yin Bodhisattva - Nuea Khaw white Butterfly King and Kammathana Powders - Kroo Ba Krissana. An Extremely Rare limited edition amulet, with only 55 amulets Ever Made
The Taep Jamlaeng Pim Klang Asrom Sathan Butterfly King Amulet was released in the New year Wai Kroo Ceremony of 2555 BE at the Asrom Sathan. The amulets were made in two different kinds of Muan Sarn Sacred Powders, white (Nuea Khaw), and black (Nuea Dam), with only 55 amulets made in each coloured Sacred Powder. The front face of the amulet bears the image of the Taep Jamlaeng Butterfly King Taep Isworn Plaeng Roop (Transformation of Shiva Kali), with 4 Ploi Sek Maha Pokasap Enchanted Gemstones inserted into the Sacred Clay. The edge of the amulet has Kroo Ba Krissana's signature in ink on two sides.
The rear face of the amulet has ten large Ploi Sek Maha Pokasap Enchanted Gemstones wealth and treasure attracting gemstones inserted, two large silver Takrut Koon to double winnings, and a Mae Guan Im Pan Mer 1000 Arms Avalokiteshvara Kwan Yin Bodhisattva inserted into the central section.
Below you can see the Free Gift you will receive with this Amulet; Taep Jamlaeng Butterfly King Pim Jiw amulet in Nuea Nam Dtan brown herbal powders, hand painted Butterfly, and gemstone fragments in rear face, with free Waterproof Casing included. This model was released some years ago. (circa 2554)
This rare model Taep Jamlaeng Butterfly King Amulet is made in Nuea Pong Kammathan Pasom Taep Jamlaeng - Sacred Kammathan powders mixed with Pink Butterfly King powders and Nam Man Taep Ranjuan Prai Oil. Empowered with a total 15 Ploi Sek Maha Pokasap Enchanted Gemstones, 2 Large Takrut, and a Loi Ongk Deity Statuette of the Standing Posture version of the 1000 Arms Kwan Yin Bodhisattva.
Ploi Sek are not merely decorative gems, they are empowered with incantations and elemental magic, as well as of course possessing their own inherent magical and cosmic powers, for indeed, all gems are forged within the heart of stars with the power of 1000 suns, and for this reason, the Mages and Sages of the past have used gemstones for magical purposes.
The series was released in limited edition of 55 amulets of each type of sacred powder in Pim Klang the 2555 BE New Year Wai Kroo Celebration Ceremony to invite auspicious Blessings, at the Asrom Sathan. This Pim measures 4.5 x 3.5 Cm. The amulets were made in two different kinds of Muan Sarn Sacred Powders, white and black
Kroo Ba Krissana Intawano is one of Thailand's most sought after Masters for his beautiful miniature fine art in the form of his amulets, which are both aesthetically pleasing, as well as full of Metta Mahaniyom Maha Pokasap and Maha Lap Magic. Kroo Ba Krissana Intawano is also an accomplished Sak Yant Master, and renowned for his Holy water Blessings.
He is also very respected for his accomplishments in preserving Buddhism, such as the many expansions and construction of edifices for his and other temples he has brought into being.
The amulets of Kroo Ba Krissana Intawano are world famously powerful amulets for Metta Maha Lap Kaa Khaay Siang Choke, and Maha Sanaeh. The Taep Jamlaeng Butterfly King Amulet of Kroo Ba Krissana Intawano has been bringing lucky fortunes to gambling exploits, seducing lovers and customers, and improving Karma. Kroo Ba Krissana's amulets have already been tried and tested by thousands of devotees around the world since well over a decade and a half.
Their popularity needs little explanation, for this Master and his amulets have their own following who know about the benefits and beauty of his Wadthumongkol (auspicious amulets) and Krueang Rang (occult magical items). To make and empower amulets, Kroo Ba Krissana uses a very secret and mysterious Wicha named 'Montr Teerayaan'.
Kroo Ba Krissana studied this Wicha under his Kroo Ba Ajarn Phu Ruesi Bangbod in Laos. Besides the unique Wicha Montr Teerayan, Kroo Ba Krissana studied a number of many other Wicha in Cambodia. It took him about twenty years of intensive study and practice to fully master the teachings of the various great masters he stayed with during his time in Cambodia. Nowadays, the amulets of Kroo Ba Krissana Intawano are known around the world both for their immense power and their exquisitely detailed artistic design, and their individuality, each amulet being different in its fine details.
The Kata Aaraatanaa Pra Krueang can be used for any and all Buddhist Amulets;
The Mae Guan Im statuette in the rear face of the amulet is the 1000 Arms emanation of the Kwan Yin Bodhisattva. Kwan Yin is an Emanation of the Bodhisattva Avalokiteshvara, Bestowing Protection from all Fears and Relief from Suffering. Metta Mahaniyom. This type of amulet is highly recommended for good business but also as a general Mercy Charm and Protective Karma Improvement amulet with the watchful protective gaze of the Bodhisattva Kwan Yin to direct your fate and fortune in an auspicious direction.
Kwan Yin and Avalokiteshvara
Kwan Yin is an East Asian deity of mercy, and a bodhisattva associated with compassion as venerated by Mahayana Buddhists. The name Guanyin is short for Guanshiyin, which means "Perceiving the Sounds (or Cries) of the World". She is also sometimes referred to as Guanyin Bodhisattva (Chinese: 觀音菩薩). Some Buddhists believe that when one of their adherents departs from this world, they are placed by Guanyin in the heart of a lotus, and then sent to the western pure land of Sukhāvatī. Kwan Yin is also written as 'Guānyīn', and is an emanaton of the Bodhisattva Avalokiteshvara.
The word 'Guānyīn', is a translation from the Sanskrit Avalokiteshvara, referring to the Mahāyāna bodhisattva of the same name. Another later name for this bodhisattva is Guānzìzài (simplified Chinese: 观自在; traditional Chinese: 觀自在; pinyin: Guānzìzài).
It was initially thought that the Chinese mis-transliterated the word Avalokiteśvara as Avalokitasvara which explained why Xuanzang translated it as Guānzìzài instead of Guānyīn. However, the original form was indeed Avalokitasvara with the ending svara ("sound, noise"), which means "sound perceiver", literally "he who looks down upon sound" (i.e., the cries of sentient beings who need his help).
This is the exact equivalent of the Chinese translation Guānyīn. This etymology was furthered in the Chinese by the tendency of some Chinese translators, notably Kumarajiva, to use the variant Guānshìyīn, literally "he who perceives the world's lamentations"—wherein lok was read as simultaneously meaning both "to look" and "world" (Skt. loka; Ch. 世, shì). Direct translations from the Sanskrit name Avalokitasvara include: Chinese: Guanyin (觀音), Guanshiyin (觀世音).
Kata Bucha Taep Fa Din Jamlaeng Pamorn (Butterfly King).
Om Nama Siwa Na Maedtaa
Taewa Jidt-Dta Sip-Hok Chanfaa Sip-Haa Chandin
Kroo Ba Krissana Jao Khong Wadtumongkol Nee (add your prayers here)
Om Sanaeh Maha Sanaeh Om Na Maedtaa
Maha Maedtaa Om Na Maedtaa Taewa Jidt-Dta
Save this product for later