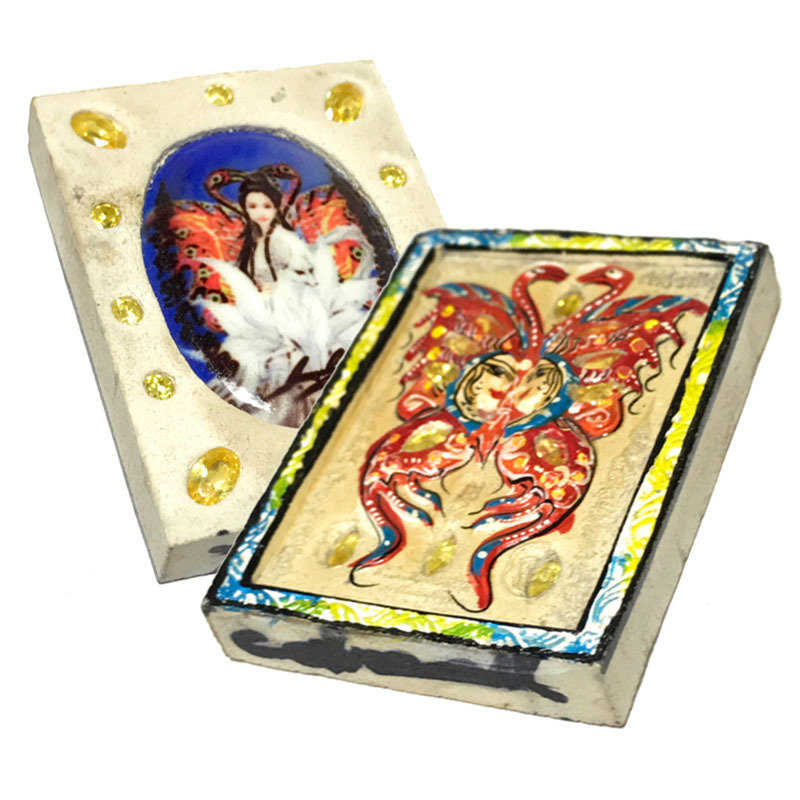 Taep Jamlaeng Pim Yai 24 Citrine Gems 9 Tails Fox Sao Ha Chadtr Mongkol Edition 2555 BE Kroo Ba Krissana
SKU 04214
Product Details
Taep Jamlaeng Pim Yai Fang Locket Nang Nang Jing Jork Gao Hang - Special Fifth Lunar Saturday Ongk Kroo large size Butterfly King amulet from Kroo Ba Krissana, with 24 Citrine Color Gems (12 in front and 12 in rear face), and 'Roop Khai' Oval Nine Tails Fox Locket Inserted, in limited series of only 380 Amulets ever made.
The Taep Jamlaeng Pim Yai 2555 BE series was blessed at the Samnak Songk Asrom Weluwan by Kroo Ba Krissana on the Sao Ha Lunar Saturday, which coincided with the Wan Chadtr Mongkol, and the Full Moon, as well as Being a Buddhist Religious Day,
In this most auspicious occasion, Kroo Ba sat and entered meditative state, and performed a long session of empowerment, and Wai Kroo Ceremony. This particular exhibit is made from Nuea Pong Wan Kammathan and has a Hand Painted Taep Jamlaeng Butterfly King on the front face, with 12 Ploi Sek Maha Pokasap Gems inserted into the wings and around the Butterfly King. The rear face has a further 12 Gemstones inserted around a Nang Jing Jork Gao Hang Nine Tailed Fox Prai Deva Locket.
Only 380 Amulets were made in all in this series. This Pim Yai measures 3.8 x 5 Cm, and was made with with both oval and square shaped lockets used in the rear face. Kroo Ba Krissana inscribed each individual amulet with black ink insignia on the bottom edge of the amulet.
This amulet is long since depleted at the temple of Kroo Ba, and is highly sought after for the auspicious multiple astrological alignments which assited in increasing the sacredness and miraculous powers of the amulet.
Kata Bucha Taep Fa Din Jamlaeng Pamorn (Butterfly King).
Om Nama Siwa Na Maedtaa Taewa Jidt Dta Sip Hok Chan Faa Sip Haa Chan Din - Kroo Ba Krissana Jao Khong Wadtumongkol Nee
(add your prayers here, and continue with);
Om Sanaeh Maha Sanaeh Om Na Maedtaa Maha Maedtaa Om Na Maedtaa Taewa Jidt-Dta
The Nine Tailed Fox is a Legendary Demon, known in Indian, Koran, Chinese, Thai and Japanese Spiritual Cosmology, legend and Myths. The nine-tailed fox (Chinese and Japanese: 九尾狐; pinyin: Jiǔwěihú; Korean: 구미호) is a mythological creature species that was depicted in the Nanshan jing, Haiwaidong jing and Dahuangdong jing of Shan Hai Jing as having the voice of a human infant.
It can be eaten by humans, and those who eat it can be protected from evil. Later in history books like Book of Zhou and story collections like Extensive Records of the Taiping Era, the nine-tailed fox was depicted as a beast of fortune. Sent by the heavens, the nine-tailed fox was seen as a sign of fortune, peace and luck. In the Han dynasty, it is the protector of royal blood.
However, it can also represent an omen of revolution when the emperor is not good. It is said that the Nine Tailed Jing Jork was born from a Demon who had practiced Austerities for so many Centuries, and who would grow a Tail every one hundred years, until the Demon would attain nine tails, which would then bestow immense Magical Powers upon the Demon.
The Nine Tailed Fox is able to enter and possess others, and is able to change its shape and form, a Master of Illusion. Its ability to attract the other sex and seduce them into the bed has gained Legendary status in all Cultures where stories of its existence have arisen.
Kata Bucha taep Jing Jork Gao Hang
U-Aaa-Aa Na Maedtaa Sangkang Imasming Dtaemaasang Ubpae Mad Tudti Dta Dti Ubpae Mad
Kroo Ba Krissana Intawano is one of Thailand's most sought after Masters for his beautiful miniature fine art in the form of his amulets, which are both aesthetically pleasing, as well as full of Metta Mahaniyom Maha Pokasap and Maha Lap Magic. Kroo Ba Krissana Intawano is also an accomplished Sak Yant Master, and renowned for his Holy water Blessings. He is also very respected for his accomplishments in preserving Buddhism, such as the many expansions and construction of edifices for his and other temples he has brought into being.
The amulets of Kroo Ba Krissana Intawano are not only seen to be powerful amulets for Metta Maha Lap Kaa Khaay Siang Choke, and Maha Sanaeh - bringing lucky fortunes to gambling exploits, seducing lovers and customers, and improving one's Karma in general. Kroo Ba Krissana's amulets have already been tried and tested.
Their popularity needs little explanation, for this Master and his amulets have their own following who know about the benefits and beauty of his Wadthumongkol (auspicious amulets) and Krueang Rang (occult magical items). To make and empower amulets, Kroo Ba Krissana uses a very secret and mysterious Wicha named 'Montr Teerayaan'.
Kroo Ba Krissana studied this Wicha under his Kroo Ba Ajarn Phu Ruesi Bangbod in Laos. Besides the unique Wicha Montr Teerayan, Kroo Ba Krissana studied a number of many other Wicha in Cambodia. It took him about twenty years of intensive study and practice to fully master the teachings of the various great masters he stayed with during his time in Cambodia.
Nowadays, the amulets of Kroo Ba Krissana Intawano are known around the world both for their immense power and their exquisitely detailed artistic design, and their individuality, each amulet being different in its fine details. Since the year 2015-2016, demand for the amulets of Kroo Ba Krissana increased at a massive rate, and many different sponsors made a lot of different editions, to cater for the rise in demand. The post 2556 BE Editions were hence made in much larger numbers than the Pre 2556 BE editions.
This has caused the older editions to become more highly valued and sought after, due to their rarity. His charitable editions of amulets have often served to finance the restorations and expansion projects of other poor temples around Thailand, and his tireless diligence to work for Buddhism is exemplary. The amulets of Kroo Ba Krissana Intawano are not only seen to be powerful amulets for Metta Maha Lap Kaa Khaay Siang Choke, and Maha Sanaeh - bringing lucky fortunes to gambling exploits, seducing lovers and customers, and improving one's Karma in general.
One can hence say, that all editions up to 2555 BE can be considered the rarest and most highly valued, with increasing rarity as their numbers deplete, as increasing numbers of devotees enter into collectorship of the amulets of Kroo Ba Krissana Intawano. Of course however, every year sees some very special Ongk Kroo amulets and limited series collector pieces released, even in the present day.
It is part of Kroo Ba's cult tradition to produce Masterpiece limited series models, and this tradition continues every year. Having said this however, the Early editions are now almost impossible to find, and are the pride and joy of the serious collector-devotee.
The post 2555 BE editions happily provide adequate availability for the increased numbers of foreign and Thai devotees, to have a chance receive Kru Ba's blessings and wear one of his beautifully designed originally painted amulets, as the early editions like these, become ever more impossible to encounter available anywhere. But ever fewer devotees will have the chance to own an amulet from these early editions, which were given extreme personal attention, with much more limited numbers made than recent editions, and the most diligent empowerment sessions of all, are found in the early era signature amulets.
Save this product for later