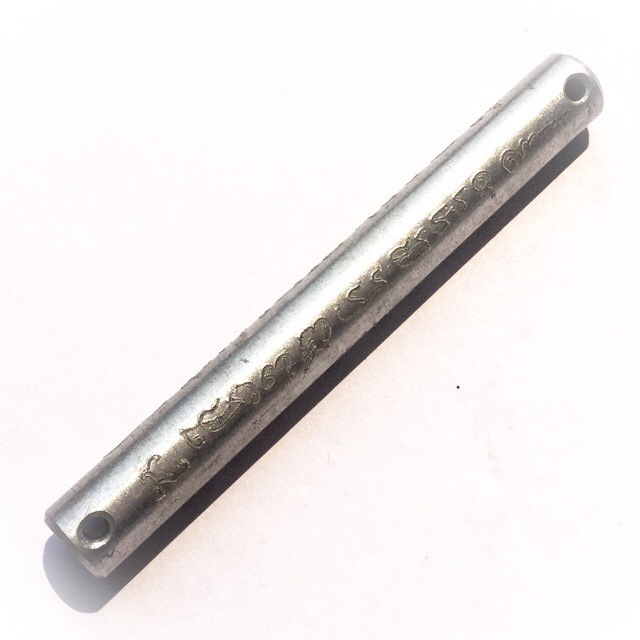 Takrut Grabork Aluminium Kong Grapan Chadtri - Luang Por Phern Tidakuno (Wat Bang Pra)
SKU 03620
Product Details
Takrut Grabork Aluminium sealed Takrut Scroll Spell with Khom Agkhara Kata Incantations on four sides of the tubular Takrut. The Takrut has two holes drilled in each end for attachment to a waist cord or pendant chain. If attached to waist cord can be used for the Wicha Maha Ruud, to slide around the waist to different positions for different purposes.
We provide the option of a Free Chueak Kart Aew cord belt for you, if you wish to wear the Takrut this way as a special offer. Select this option when ordering if wished. We will also provide stainless steel rings for attaching if you take this option. There are four lines of Kata on the outer surface bringing multiple magical Effects, as well as the Blessings of the Master of Wat Bang Pra.
Luang Por Phern Tidakuno (Wat Bang Pra) is the most famous Sak Yant Thai Temple Tattoos Master in World History. Luang Por Phern was the Grand Master of Sak Yant of Wat Bang Pra Temple, and is the focal point of Bucha and reverence for all Looksit of Sak Yant of the Wat Bang Pra Tradition. His great meritorious deeds are famous around the world, for his great Metta as well as of course the extrememly powerful magic which he wielded, and for which he is internationally famous for.
Sak Yant Masters of Fame and Grand Repute around Thailand can be seen to be devotees and students of the Lineage of Wat bang Pra and Luang Por Phern, and his legacy has brought Sak Yant tattooing to become an international phenomenon, which has brought Thai Buddhism and Thai Occult to the attention of millions of devotees around the world.
Use the Kata Aaratanaa Pra Kreuang, and the Kata for Luang Por Phern Tidtakuno, to charge power, and beseech blessings from Luang Por. Always hold Luang Por in your thoughts when praying and chanting to the , and beseech him for protection and Serm Duang Blessings.
Kata Aaratanaa Pra Krueang (youtube tutorial)
Kata Pongan Pai Kong Grapan (Protection Prayer)
Om Bpanja Potisammaa Samputtassa - Om Gagusanta Bpanja Potisammaa Samputtassa -Om Gonaakamana Bpanja Potisammaa Samputtassa -Om Gassabpa Bpanja Potisammaa Samputtassa - Om Kodtama Bpanja Potisammaa Samputtassa - Om Sri Ariya Maedtrai Bpanja Potisammaa Samputtassa - Om Tamma Muni Anusaawaga Bpanja Potisammaa Samputtassa - Om Gomaarapaj Anusaawaga Bpanja Potisammaa Samputtassa -Om Taaradti Anusaawaga Bpanja Potisammaa Samputtassa - Om Kaaleggan Anusaawaga Bpanja Potisammaa Samputtassa - Bpadto Maedtang Bparachiiwinang Sugadto Judti Jidti Mae Dta Nippaanang Sukadto Judti - Puttang Aaraatanang Tammang Aaraatanang Sangkang Aaraatanang - Puttang Bprasittimae Tammang Bprasittimae Sangkang Bprasittimae Puttang Raksaa Tammang Raksaa Sangkang Raksaa Taewa Raksaa
Sitti Kaarana Gae Agkhara Payanchana Nee Khor Hai Bpraab Phuudt Phii Bpii Saadt Bpraab Payaat Rokaa Bpraab Tang Bpern Phaa Hnaa Grabork Darb Hork Hlaaw Hlaem Lae Andtaraay Tang Bpuong Khor Hai Bpen Maedtaa Mahaniyom Mahaa Sanaeh Kaa Khaay Kon Haen Kon Rak Sadt Haen Sadt Rak Khor Hai Chai Chana Gae Sit Duay Terd
The part above in Italics is not in Pali, but in Thai. If You wish, you can use the prayer in your own language, for this part, which is a request for all the possible blessings available from this Amulet.
Translation of Thai part
Bestow these powers upon the spells written upon this amulet ward off ghosts demons and monsters, keep illnesses away, stop guns, knives, swords and other projectile weapons, keep away all physical and non physical dangers, let the spells contain Metta Mahaniyom and Maha Sanaeh attraction, and Kaa Khaay magic for good sales and prosperity, may both humans and animals feel Metta and Friendliness towards me when they see me, and may i succeed and win in all my Undertakings. So Be It!
Hand inscription has been performed upon the Takrut's outer surface
Wat Bang Pra is world famous for its yearly Wai Kroo Master Day ceremony to revere the Grand Master of Sak Yant 'Pra Udom Pracha Naat Luang Por Phern Tidtakunoe', and to bless the tens of thousands of Looksit who attend the ceremony.
Every year the crowds enter spiritual trances as the Monks perform incantations, which is a mysterious and miraculous phenomenon for which the temple is famous for, and the power of the magic of Luang Por Phern is seen to be present in the ceremony.
Pra Udom Phrachaanaat, Was popularly known as Luang Por Phern Tithakunoe, or 'Luang Por Phern' for short. Luang Por Phern Tithakunoe was Born in Thambon Bang Gaew Fa, in Nakorn Phatom on the 12th of August 2466 BE on a Sunday at 13:00 hours.
This time was in alignment with the first Lunar Quartal. Shortly after his Birth, his Mother and father decided to move to live in the small Village of Baan Tung Kork (CowshedVille, translated), in The district of Sorng Pi Norng province of Supanburi.
Supanburi was a territory that Teemed with "Nak Laeng (Gangsters), and Infamous Highwaymen of that era nearly all were from Supanburi: Famous names of the time; Suea Dam, Suea Bai, and not to forget Suea Mahaesworn.
At this time, Luang Por Phern was still a Layman, and found it wise to find some magic Charms to protect himself. Living in a dangerous Region and all. In addition to this, Luang Por Phern had always been attracted to themes involving Buddha Magic, used by Warriors in the Historic Past. Suffice to say, that he was seriously interested in all things paranormal. He sought out the Extremely Respected Monk of the time, Luang Por Daeng (Pra Kruu Suwannasatugij). Luang Por Daeng was based in the area at Wat Tung Kork, in Supanburi Province.
Luang Por Phern became a Lay – Disciple of Luang Por Daeng, who was in turn a disciple of Luang Por Hnoeng (Wat Klong Madan); an Expert in matters of Sorcery. At a later phase Luang Por Phern would "Buad Pra" (become ordained as a Monk), at the age of Twenty Six, to be exact. He would never leave Monkdom again. He was ordained by Pra Ajarn Huem, who was also his teacher in Buddha Magic and Sorcery for a while. Apart from that, Luang Por Phern was a Disciple of "Agkara Khorm" and a student of Yant design and application who came to be highly admired as an expert.
His Yant were renowned for their Aesthetic beauty and the power they carried with them. Luang Por Phern studied Vipassana Meditation with utmost dedication for many years and through these studies was able to become a disciple of the Great Luang Por Opasi, one of the Greatest monks of the time, known for his powers of white magic. After this, Luang Por Phern went to practise "Dern Tudongk" (walk aimlessly through the Jungle renouncing the comfort of the Wat), through the western border of Central Thailand, in the GanjanaBuri province. He crossed the border into the realm of Marit (Burma), through the remote areas of Saesawoe and Bang Graenggawia; Known in that time as being thickest darkest Jungle.
There were Jungle fevers, Mortal dangers such as Poisonous snakes, and other animals such as tigers and the like were teeming in this part of the wilderness at that time. According to Thai beliefs, there was also the added dangers of "Naang Mai" (wicked fairies and tree spirits), Phii Phoeng and Phii Phaa (Jungle ghosts) and all sorts of evil spirits. The inhabitants of this jungly and mountanous region are mostly "Gahriang" (Karen Tribe), and many of them became disciples of L.P. Phern, due to the fact that L.P. Phern " Mii Dii Hai Haen" (have good can see).Luang Por Phern seemed to be loved and respected wherever he travelled, due to the fact that he posessed such a transparent personality that allowed all to see his great Compassion and his power to help the folk with his Buddha Magic.
After this, L.P. Phern continued to "Dern Tudongk" through Thak Province, Rachaburi, and PaetchBuri and many other Provinces. Until one day L.P. Phern was called upon by the local folk to be "Jao Aawaas (Abbot) of Wat Tung Naang Hlorg (Temple of the field with the lady ghost), in Kanchanaburi. This was the first time he was to be Abbot of a Wat, but he was able to successfully develop the temple complex during his stay there of five years.After this, Luang Por Phern Tithakunoe returned to "Dern Tudongk" for many years. The Raasii of the Ramakiarn, probably the fathers of Yant tattoo, were the first to practise dern tudongk.This practise involve meditating in the darkest night in ancient graveyards and ruined temples, right in the middle of the thickest darkest jungle. This is supposed to strengthen ones mind and help to enlighten one, due to the extremely fearful nature of the meditation location.
In the Year 2509 BE - Admirers and Disciples of Luang Por Phern formed a comittee to erect a statue of Luang Por, in honour and respect of all the great acts of compassion he had performed for the folk of Nakorn Phatom province.At this time L.P. Phern was Abott (Jao Aawaas) of Wat Koeg Khaemaa in Nakorn Phatom, but after the erection of this statue, was very quickly allocated to be Abbot of Wat bang Pra temple.He stayed there to the date of his Passing away in 2004. part from being Nationally famous for the making of various Buddha images which became known and believed to be extremely powerful and sacred,he was also extremely well known for his custom of Sak Yant. Not only renowned in the kingdom of Thailand, but also with visitors from Malaysia, Singapore, Hong Kong, Taiwan, China, even from as far away as America and Europe.
Save this product for later