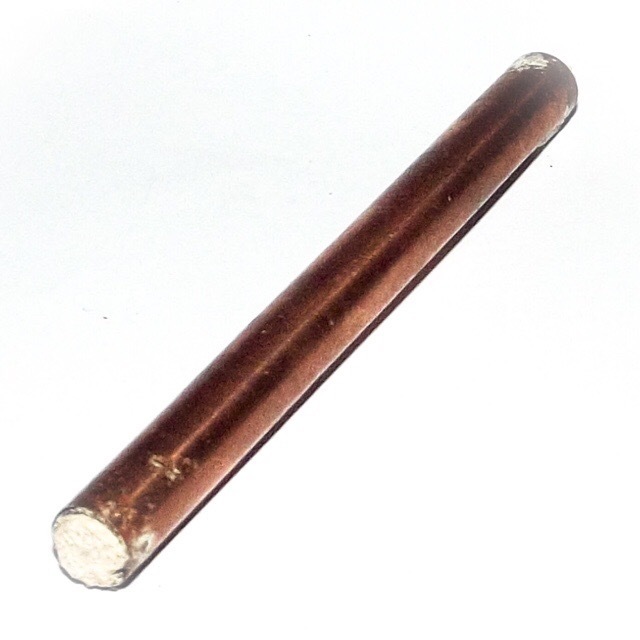 Takrut Ling Lom Sorcerous Slow Loris Yantra Spell filled with Prai Powders 8 Cm - Pra Ajarn Gorp Chai - Wat Mae Ya 2559 BE
SKU 03627
Product Details
Takrut Ling Lom Gamlang Hanuman Wicha Lanna Ud Pong Prai - Slow Loris (with Power of Hanuman) Magic Yantra Spell, filled with Prai Powders, from Pra Ajarn Gorp Chai of Wat Mae Ya with extra Blessings from Kroo Ba Ajarn of the Lanna Master Lineage.These Takrut Paya Ling Lom Gamlang Hanuman Slow Loris Takrut were also blessed in special solo empowerment at the temple specially, as an extra special secondary blessing, by the Great Luang Phu Kroo Ba Or. Kroo Ba Or is one of various top Lanna Masters who are Kroo Ba Ajarn to Pra Ajarn Gorp Chai.
Wicha Ling Lom is a very rarely seen Wicha in this day and age, for which we are extremely blessed to recieve the opportunity to be able to have such a Wicha in our possession for distribution to those who seek Bucha for this immensely uncommon Wicha.
The name of this Spell comes from the reputed Sorcerous Magical Abilities attributed to the Ling Lom (Slow Loris Primate), For Warrior Invincibility, to Protect against Black Magick, and Enchantment - The Ling Lom is famed for its immensely Seductive gaze which charms whoever looks it in the eyes. The Prai Powders within the Takrut serve only to strengthen these effects which include Kong Grapan Chadtri, Maha Sanaeh, Metta Maha Niyom, Gae Aathan and Gae Roke Pai Khai Jeb, to ward off evil, and illnesses derived from curses, as well as to attract merciful treatment and inflect seductive influence on others.
The Ling Lom is also an Omnivore, and hence a total survivalist in all its habitats, being able to eat almost anything that it finds. This insinuates the Maha Pokasap and Maha Lap aspects of thw Wicha imbued within
The amulets measure 8 Cm in length, and are filled with extremely rich Prai Powder. The yantra Foils themself were hand inscribed with Sacred Yant and Lanna Agkhara Spell Inscriptions, in form of Takrut Scrolls, have been made and empowered by Pra Ajarn Gorp Chai, of Wat Mae Ya, Ampher Ban Tak, in Tak Province, in a small limited edition of traditional Lanna Amulets, which adhere to the Ancient Wicha Lanna Methods of Creation and Empowerment.

This edition also received additional special empowerment and blessings from the Great Luang Phu Kroo Ba Krong Khadtiyo of Samnak Songk Ban Tam Magwaen in Lampang. The edition was blessed simultaneously with the Pra Khun Phaen Jantr Phaen edition amulets from Pra Ajarn Gorp Chai Ubpaso who made both editions to donate to Luang Phu Tin (current Abbot of Wat Mae Ya Temple), for raising funds in the coming times.
Luang Phu is a Maha Thaera Gaeji Ajarn of the Northern Lanna Master Lineage. added his empowerments to increase the power of the Takrut Ma Koo Nang with the Magical Power of Seductive Influence. The whole collection of both editions were sprayed with Holy water from three Great Master Monks; Luang Phu Rit (Wat Chonlapratan), Luang Por Jamnian (Wat Tham Suea, Krabi), and Luang Phu Hongs Prohmabanyo (Sussaan Tung Mon, Surin).

Kata Ling Lom Kong Grapan Chadtri
Cha Ha Bpa Dtā
Chant Seven Times for 'Hnang Hniaw'
Kaya Praya Pali Luub Hlang
Na Rangap Dab Tōsō Mō Lalāy Kwām Kid Put Lalāy Nam Jidt Tā Hai Lum Hlong Ya Nguay Ngong Piswās Dtua Gū Swāha Puttang Bprāb Theing Hua Jai Tammang Bprāb Tuk Khum Khon Sangkang Bprāb Theung Man Samong Ōm Jidt-Dtang Pālī Lūb Hlang Nāng Gaew Dārā Swāha Idthī Sajidt-Dtang Ēhi Pantang Bpiyang Ma Ma
Above; Pra Ajarn Gorp Chai holding Sincana Cords performing Blessings in Buddha Abhiseka Ceremony
Kata Ling Lom
Wing Wang Gangha Ji Dti Ju Dti I Dti I Dti Putto Uttang Atto Na Mo Put Taa Ya Jae Ja Dtang
About the Slow Loris
This animal might look like a harmless, big-eyed baby ewok, but the slow loris is one of the only poisonous mammals in the world. Its subtle nature makes it popular in the illegal pet trade, but unknowing humans should stay clear of its toxin, which is released from the sides of its elbows.
When threatened, the loris takes the toxin into its mouth and mixes it with saliva. The animal will also lick its hair to deter predators from attack. The toxin can cause death by anaphylactic shock. With the animal's poisoned bite, hiss-like noises, sinuous moves, and even the way it defensively raises its arms above its head, Smithsonian wonders whether the loris might have evolved to mimic the cobra. Researchers also suggest that the slow loris's markings resemble those of the snake.
Deep-rooted beliefs about the supernatural powers of slow lorises, such as their purported abilities to ward off evil spirits or to cure wounds, have popularized their use in traditional medicine. Despite local laws prohibiting trade in slow lorises and slow loris products, as well as protection from international commercial trade under Appendix I, slow lorises are openly sold in animal markets in Southeast Asia and smuggled to other countries, such as Japan.

Included in this small edition, were a series various models of Paya Khao Kham Wicha Paya Tae Krua (Lanna style of Pra Khun Phaen Paetch Payatorn), some powerful Maha Sanaeh Orientated Takrut Spells of two kinds: These Takrut Ling Lom, and the Takrut Ma Saep Nang (Ma Koo Nang), both filled with Prai Powders of the Wicha Paya Tae Krua and Ma Saep Nang, Paya Ling Lom.
In addition, in order to raise funds for the needed restorations and further Mainenaince of Wat Mae Ya, some very special Old Look Om Pong Prai Kumarn Luang Phu Tim empowered by the ex (deceased) Abbot of Wat Mae Ya Luang Phu Ban, were also removed from the Kru Hiding Place Chamber in the temple, to be released with this edition.
Above Pic; The Great Luang Phu Ban of Wat Mae Ya
The Look Om of Luang Phu Ban have been kept hidden for many years, to only be released in times of need. The contain a large amount of the famous Pong Prai Kumarn from Luang Phu Tim Issarigo of Wat Laharn Rai which was given to Luang Phu Ban to make the Look Om with, for which reason they are extremely rare and sought after items, of immense power.
This 2558 BE release is to assist the temple with severely needed funds for maintenance. The amulet works without much need of Bucha except for weekly offerings, but of course if you Chant to Increase the Power, it is always a benefit. However, the Prai Magic nature of this amulet is intended to work without the wearer needing to pay too much attention to Ritual Ceremony.
Each Takrut has a special Sacred Na spell as a code stamp on the outer surface, both to add power, and to distinguish the edition and mark its authenticity for future reference
Bringing into the Home for the first time
Light 12 Incense sticks, and inform the Local Devas and Spirits that you are bringing another Prai amulet into the House.
Before using the Takrut, you should perform 'Rap Khwan' for the Spirits of the Household by offering nine red or white (or mixed) flowers, incense sticks (light them) one glass of water.
Save this product for later