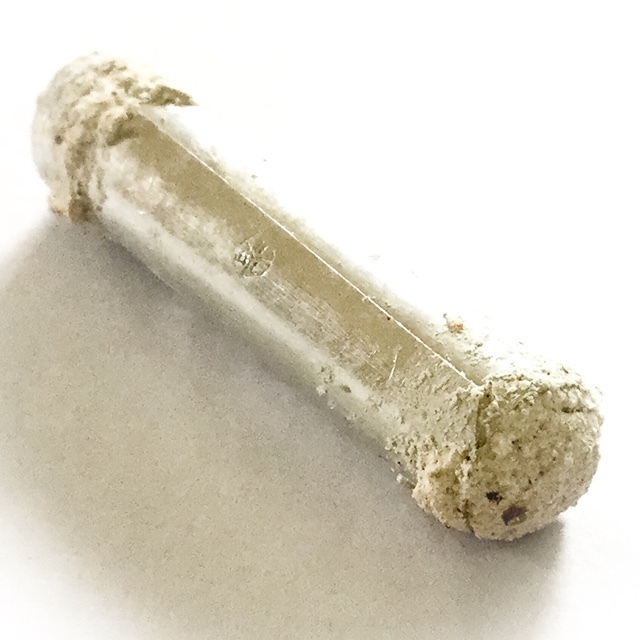 Takrut Mia Mai Heung Mai Krote 1st Edition Anti Jealousy Charm Silver Yantra Scroll filled with Puttakun Powders Pra Ajarn Gorp Chai Wat Mae Ya
SKU 03814
Product Details
Pra Ajarn Gorp Chai has created this very special edition release of Maha Sanaeh Metta Maha Niyom Silver Scroll Yantra spells, using ancient Lanna Wicha from the Grimoires of Wat Mae Ya temple and his Kroo Ba Ajarn, to invoke an extremely ancient and powerful Sorcery Spell, that is one of the most powerful 'Maha Laluay' (Heart Melting) Mercy Charm spells for evading the anger and vengeance of a jealous lover.
The Takrut is filled with pure Puttakun powders, from Pong Lob Yantra inscriptions on the sacred Gradan board, which is used to inscribe a series of 5 sets of 108 Yantra spells, and erase each spell by inscribing the next spell on top of it using Lersi hermit Chalk.
The resulting powder residue of the 5 x 108 Yantra inscriptions, is the sacred powder we can see be filled within the Takrut Mia Mai Heung Mai Krote. The Takrut Mia Mai Heung Mai Krote is yet another of the many Wicha which Pra Ajarn Gorp Chai possesses and masters, which is coming to reveal that Pra Ajarn Gorp Chai is one of the great Adepts of the present time, for the massive pantheon of small but original and hand made editions he has made, all with his own hand, and with his own knowledge and experience, passed down to him through his Kroo Ba Ajarn.
The Takrut is not only Metta Maha Niyom to induece mercy, and melt the hearts of others,, but is also highly imbued with great Maha Saneh power, to Charm and Attract the Desired people and targets.
The Takrut is made from pure silver Yantra foil, upon which Pra Ajarn Gorp Chai has performed inscription of Sacred Yantra, performing invocations and blessings throughout according to the principles of Lanna Sorcery. The foil is rolled into a scroll spell, using the evocation of the four elements formula and filled with powerful Puttakun powders, renowned for their immense Metta Maha Niyom Mercy Charm.
Contrary to how the name of the amulet may insinuate, the Takrut Mia Mai Heung Mai Krote can be used by both Men or Women, to pacify the your spouse and avoid them becoming too jealous or suspicious when you have been up to your antics.
The Takrut contains an ancient Yantra Spell with Incantations, of the ancient Dtamra in the possession of Pra Ajarn Gorp Chai at Wat Mae Ya. Pra Ajarn Gorp Chai has produced a large variety of different Takrut Yantra Spells derived from the annals of the Sacred Grimoires of Lanna Sorcery which he has amassed at the temple Museum.
He is preserving the various Wicha by making amulets using the formulas contained within these Grimoires.
The many different kinds of Takrut and other amulets he is making, are very rare and many have been lost to common public knowledge in modern times, for which Pra Ajarn Gorp Chai is meritoriously reviving their existence through creating these, and his other limited series amulets.
He also preserves their importance by not overproducing each type of amulet, preferring to make many varieties, but only very small limited numbers of each variety. He does not produce for major distributors, and only makes them for his devotees.
We are hence lucky to be devotees of Pra Ajarn Gorp Chai, who has allowed us to donate to support his causes and those of the temple, and to receive some of each edition from him, to present to you.
The Wicha Takrut Mia Mai Heung Mai Krote wife consoler spell, is hardly seen these days, and very few Masters of the present day possess the Wicha, or even know of its existence. Pra Ajarn Gorp Chai has thus not only brought us an authentic Ancient Sorcery Spell of Ancient Times, but has preserved the Wicha for many future Generations, by reviving true knowledge of its existence, uses and meanings, and methods of making, for the preservation of this truly inimitable spell of the Lanna Magical Arts.
We pray that Pra Ajarn Gorp Chai continues to present us with these highly limited editions of indvidually hand made Amulets, which Pra Ajarn inscribes and empowers, and constructs all by himself without any machinery or mass made methods of production. He creates them using the same methods as used in olden days, as the Lanna Masters would make the amulets with their own hand. He does this without the assistance of mass made components, or modern machinery.
Ancient Masters of olden days used their own precious time and efforts and Meditations to create and empower each amulet one after the other, passing through the hands and incantations of the Master one by one.
These days, it is truly difficult to find a Master who still uses this old-school method of personal applied Wicha and without assistance from third parties. We can most highly recommend the amulets of Pra Ajarn Gorp Chai most highly for this reason, that each amulet is made solely by the hand of the monk, and individually empowered in the process.
Pra Ajarn Gorp Chai is a lineage master of Wat Mae Ya, following in the tradition of his Kroo Ba Ajarn, Luang Phu Thin (Current Abbot) and the Great Luang Phu Kroo Ba Ban. Wat Mae Ya is the temple of the Late and Great Arya Sangha (said by his devotees to have attained. Pra Ajarn Gorp Chai is continuing the Wicha and Traditional Amulet making of the Great Kroo Ba Ajarn; Luang Phu Kroo Ba Ban, the ex Abbot of Wat Mae Ya temple.
He is proficient in the Wicha of Lanna Amulet making and in addition, a Master of Kata Akom and Agkhara Lanna Magical Script, and Sak Yant Thai Temple Tattoos. Pra Ajarn Gorp Chai refuses to allow himself to be tempted to invent any modernisations, and maintains the integrity of the Northern methods of Lanna Sorcery.
The amulets of Pra Ajarn Gorp Chai are amongst the most highly recommendable and authentically empowered with the inimitable personal touch of the master, which is becoming ever harder to find in modern times. it is our duty to discover and present you with the best amulets with authentic Wicha, and this is the reason why Pra Ajarn Gorp Chai has become one of our top recommended masters.
Kata Bucha Takrut Mia Mai Heung Mai Krote
Gōta Götē Na Chinē Gōtang Gōtawandtang Wināsanang Ēhi Dtamathang
Kata for Mercy Charm
Ma-A-U Na Mēdtā Mō Garunā Put Bprānī Tā Yin Dee Ya Aen Dū - U-A-Ma Tammō Mēnāthō Arahang Na Chā Li Dti I Ta Ka Ma Iswā Su Khidtō Hōmi Nittugkhō Hōmi Ēhi Jidt-Dtang Bpiyang Ma-Ma
Kata Rak Tae (True Love Enchantment Spell)
Om Namoputtaaya Puttang Saradti Tammang Saradti Sangkang Saradti Jidtang Samaaraema Ma Aehi Aehi Chayya Aehi Sappae Chanaa Pahuu Chanaa Aehi
Kata Maha Sanaeh
Janto Apagandtaro Bpidti Bpiyo Taewa Manussaanang Idthiyo Bpuriso Ma A U U Ma A Iswaasu Igawidti
Chant 3 times before going out to meet other people, and it will make those we are about to meet feel Metta and be attracted to us. You can also make the incantation and blow it into the palm of your hand for safe travels.
Below you can see Pra Ajarn Gorp Chai empowering some of his recently hand made amulets which he made specifically on request for Ajarn Spencer Littlewood (Proprietor of Thailand Amulets), for distribution to our friends and customers.
Kata Mad Jai (Fetters of the Heart Spell)
Na Phuug Mo Mat Put Rat Taa Reung Ya Greung Kare Om Swaaha Puttang Radtanang Tammang Radtanang Sangkang Radtanang
Chant before going to sleep to make Your partner think about and Miss You (fall in Love with You)
Kata Jai Awn (Heart Softener Kata for Mercy)
Bpanjamang Sirasang Khaadtang Na Ot Jai Na Gaaro Hodti Sampawo Dtiiwaana Na Gaarang Bpanja Sampawang
Use this when needing to Plead with your Debtors, or other similar situations where you need Mercy
Kata Jerajaa (Discussion and Conference Enchantment)
Na Mo Puttaaya Ma A U Yataa Put Mo Na U A A Iswaasu Sappatassa A Sang Wi Su Lo Bu Sa Pu Pa
Use before going into discussion, argument, in self defence, with your spouse, or accusers.
Save this product for later