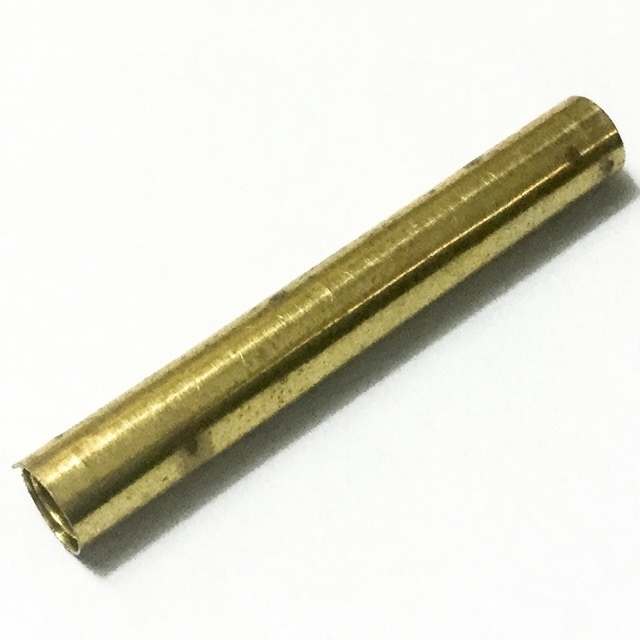 Takrut Mia Pae Phua La-Orn Chae Nam Kin Wicha Lanna - Yantra Scroll Spell for Love Potion By Immersion in Water - Pra Ajarn Gorp Chai
SKU 03844
Product Details
Takrut Mia Pae Phua La-Orn (Wife Gives in to her Younger Husband) - Magic Potion-Maker Takrut Scroll amulet, for Immersion in Holy Water, by Pra Ajarn Gorp Chai of Wat Mae Ya.
Pra Ajarn Gorp Chai is`currently flourishing in his Magical Trajectory, and has presented his Devotees with a large range of new amulets in the year 2016, which preserve and publicise the existence of many rarely seen and in danger of becoming forgotten Wicha of the Ancient Folk of the Northern Lanna Regions of Thailand and surrounding Borders.
This time, Pra Ajarn Gorp Chai has brought us an amazing, and very rarely seen Wicha in the form of a Brazen Alms Bowl Lid metal Yantra Foil scroll spell, with inscriptions and empowerments of incantations and meditative prowess, and the Buddhist Blessings of the Lineage Masters of Wat Mae Ya.
The Takrut Mia Pae Phua La-Orn is a very rare to encounter Wicha of the Northern Lanna people, which is not seen very often in the present day, for which this is a 'Serp Dtamnan' amulet, which meritoriously preserves an ancient sorcery formula, and protects the Wicha from becoming lost to Human memory.
The words 'Serp San Dtamnan Lanna', mean that this is an ancient amulet that is in danger of being lost to the modern era, and through its making and renewed explanation of its meanings, is not only a Magical Amulet of Ancient Times and Great Power, but that its making in the present Era, is an act of preservation of Ancient Thai Lanna Occultism.
Pra Ajarn Gorp Chai has thus not only brought us an authentic Ancient Sorcery Spell, but has preserved the Wicha for many future Generations, by reviving true knowledge of its existence, uses and meanings, and methods of making, for the preservation of this truly inimitable spell of the Lanna Magical Arts.
The Takrut is intended to be used as a potion maker, for making seduction potions and enchantments. The charm can be used with a basic method, by immersing the Takrut in a clean clear bowl of pure water, and performing incantations over it (Kata Chanting), and blowing the incantations into the water bowl. Some people prefer to encase the Takrut to prevent any wear and tear or corrosion, and others prefer to let the Takrut have direct contact with the water when performing empowerment though immersion. Please choose whichever method you prefer personally.
The water should then be used to drink yourself for Mercy Charm and Maha Sanaeh, and also to use as a Potion, to give to the person you wish to enchant or seduce to drink.
You should perform the Kātā Ārātanā Pra Krueang before immersing the Takrut in water, if you wish to specify any particular goals or wishes. Also perform it if you remove the Takrut to wear as an amulet when not empowering water (some may wish to leave the Takrut immersed).
Although not officially stated, it is indeed also possible to immerse this Takrut in sacred or perfumed oils, and spray the perfume on oneself to achieve a similar effect to the water, but the water immersion method allows the additional purpose of drinking the water, and of giving the water to others as a potion. The Takrut can be worn when not being used for immersion for Maha Sanaeh and Metta Maha Niyom attraction power.
Kātā Ārātanā Pra Krueang

Then use any Kata which may be pertinent for your purposes to empower the water with Maha Sanaeh, Metta Maha Niyom, Gāma Sūdt (Kama Sutra).
There are many different ancient Kata in existence for the invocation of Metta / Maha Sanaeh in the Practice of Thai Buddha Magic. Incantation is one of the base elements of Magical Empowerment, and serves many purposes from calling upon Devas and Spirits to assist, up to invoking the strengths or qualities of a particular animal or element to assist in achieving ones desired results.
Of the Metta Mahaniyom and Maha Sanaeh category of Magical incantation, the qualities available for application are those of Inducing Compassion, Popularity, Attractiveness, Charm, Attract generosity from others, Increase Popularity, Enchantment (Love Charms), Promotion (Popularity), and Good Business sales.
Kata Maha Sanaeh
Janto Apagandtaro Bpidti Bpiyo Taewa Manussaanang Idthiyo Bpuriso Ma A U U Ma A Iswaasu Igawidti
Chant into the water and drink it before going out to meet other people, and it will make those we are about to meet feel Metta and be attracted to us. You can also make the incantation and blow it into the palm of your hand for safe traveling.
Kata Rak Tae (True Love Enchantment Spell)
Om Namoputtaaya Puttang Saradti Tammang Saradti Sangkang Saradti Jidtang Samaaraema Ma Aehi Aehi Chayya Aehi Sappae Chanaa Pahuu Chanaa Aehi
You can make this Incantation and cast it by blowing into your holy water and drink it, or a bonbon or lozenge, and then suck on the lozenge when speaking with the person we wish to Enchant. They will become Enamored in You the more you speak.
Kata Mad Jai (Fetters of the Heart Spell)
Na Phuug Mo Mat Put Rat Taa Reung Ya Greung Kare Om Swaaha Puttang Radtanang Tammang Radtanang Sangkang Radtanang
Chant into holy water and drink it before going to sleep to make Your partner think about and Miss You (fall in Love with You).
Kata Jai Awn (Heart Softener Kata for Mercy)
Bpanjamang Sirasang Khaadtang Na Ot Jai Na Gaaro Hodti Sampawo Dtiiwaana Na Gaarang Bpanja Sampawang
Use this Kata when needing to Plead with your Debtors, or other similar situations where you need Mercy charm.
Kata Jao Nai Metta (mercy from your Boss)
Bpanjamang Sirasankhaadtang Naahaaya Na Gaaro Hodti Sampawo Iswaasu
You can chant this into holy water, face powder or perfume and use it before meeting with your Employer or Superiors, to make then feel favorably towards You.
Kata Metta Mahaniyom
Na Maedtaa Mo Garunaa Put Bpranii Taa Yin dee Ya Aen Duu Sappa Sittimang Biyang Ma Ma
Chant into your holy water, perfume, face powders and apply to your skin. Chant and blow into Yantra cloths or amulets.
Kata Samak Ngaan (Applying for getting a Job Spell)
Puttassaahang Niyaataemi Sariran Chiwidtan Jidtang Namo Midtaa Manussaa Ja Na Maedtaa Mo Garunaa
Kata Jerajaa (Discussion and Conference Enchantment)
Na Mo Puttaaya Ma A U Yataa Put Mo Na U A A Iswaasu Sappatassa A Sang Wi Su Lo Bu Sa Pu Pa
Use before going into discussion, conference or interviews, court cases etc.
Kata Kaa Khaay Dee (Good Sales)
Om Idtiputtassa Suwannang Waarach-Chakang Waamanii Waawadt-Dtang Waa Pappayanla Aehi Kaakachwandti
Use to chant and blow over your wares, or chant into prayer water and sprinkle on your wares in the store.
Alternative Version for Merchants, Salesmen and Shop Owners
Puttang Pahuu Chanaanang Aehi Jidtang Aehi manussaanang Aehi Laapang Aehi Maedtaa Chompuu Tiibpae Manussaanang Idthiiyo Bpuriso Jidtang Pantang Aehi
Pra Ajarn Gorp Chai preserves the ancient methods, as in olden days, as the Lanna Masters would make the amulets with their own hand, and not with the assistance of factory made components or modern machinery.
These days, it is truly difficult to find a Master who still uses this old-school method of personal applied Wicha and without assistance from third parties. We can but recommend the amulets of Pra Ajarn Gorp Chai most highly for this reason.
Pra Ajarn Gorp Chai is a lineage master of Wat Mae Ya, following in the tradition of his Kroo Ba Ajarn, Luang Phu Thin (Current Abbot) and the Great Luang Phu Kroo Ba Ban, Wat Mae Ya is the temple of the Late and Great Arya Sangha (said by his devotees to have attained Arahantship) 'Luang Phu Ban'.
Pra Ajarn Gorp Chai is continuing the Wicha and Traditional Amulet making of the Great Kroo Ba Ajarn; Luang Phu Kroo Ba Ban, the ex Abbot of Wat Mae Ya temple. He is proficient in the Wicha of Lanna Amulet making and in addition, a Master of Kata Akom and Agkhara Lanna Magical Script, and Sak Yant Thai Temple Tattoos.
Below; Pra Ajarn Gorp Chai recieving friendly blessings from one of his many great Kroo Ba Ajarn - Kroo Ba Or Bandita, of Samnak Songk Pratat Doi Jom Wae.
Pra Ajarn Gorp Chai has put many hours of work into inscribing and spellbinding each single amulet with his own hand, with constant empowerment through incantation and willful meditative intent, These amulets are made with exactly the same hand made applied methods as used by the ancient Lanna Folk.
Save this product for later