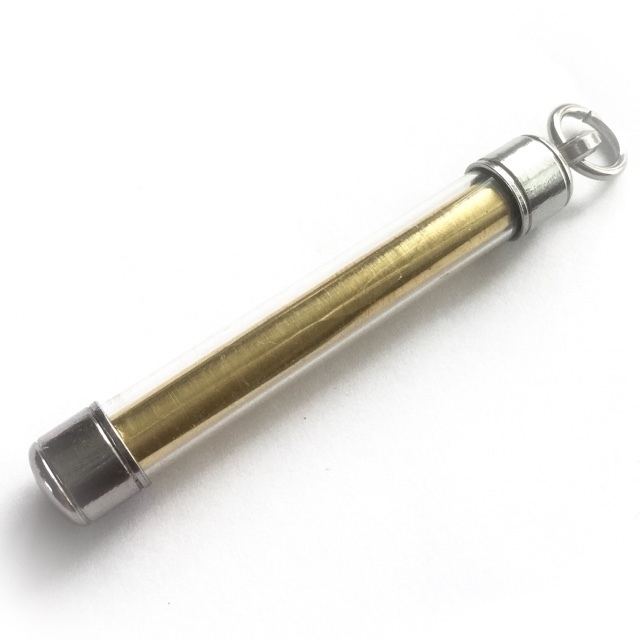 Takrut Rahu Kam Duang Rahu Asura Eclipse God Karma Improver Amulet - Nuea Tong Luang - Pra Ajarn Gorp Chai - Wat Mae Ya
SKU 03817
Product Details
The Takrut Pra Rahu Kam Duang of Pra Ajarn Gorp Chai, is an Astrological Horoscope Improvement Spell. The Takrut is created using an Ancient Sacred Geometry Formula of the Northern Wicha Lanna.
Its empowerment is aimed to improve Karma, and remove Bad Luck, counter backstabbers, and open up the paths of opportunity and fortune. Inscribed with the Pra Rahu Om Jantr Asura Eclipse God Yantra, with Invocations of the Rahu Asura Deva, to improve your Karma and Fate.
The Takrut Pra Rahu Kam Duang comes already encased with steel capped tubular casing, included in the price. The amulet is powerful 'Serm Duang'. Serm Duang, means to improve ones astrological alignments and influences, and remove negative Karma and Bad luck.
Paying Bucha to Pra Rahu is essential for turning ones Fate around in times of Trouble. Pra Rahu improves your Horoscope, and removes dark influences and Inauspicious Unlucky events. Correct and Regular Bucha to Pra Rahu bestows various blessings; Maha Lap, Serm Duang, Maha Ud, Kong Grapan, Choke Lap, Metta Mahaniyom.
This can usually be done by worshipping Pra Rahu Deity. If you feel that your Fate and Horoscope is not Auspicious, then it could be that Pra Rahu is interfering. You can solve this problem by making Bucha offerings to Pra Rahu every Wednesday, and on days when there are Lunar, or Solar Eclipses
The Takrut is inscribed and empowered with the Rahu Asura Deva Eclipse God, swallowing the moon and sun, who rules over Astrological Luck and Fate of Individuals, and indeed, the Entire Planet itself.
Kata Bucha Pra Rahu
Gusaedto Ma Ma Gusaedto Dtoraamo Ma Ma Dtoraamo Kuyhamo Ma Ma Kuyhamo Kudt-dtimo Ma Ma Kudt-dtimo
Chant this as a Maetta Sutta for Pra Rahu. The Kata is also Klaew Klaad (avoid dangers and inauspicious events), Maha Ud (gunstopper), and also prevents 'Rahu Saweuy Aayu' (Pra Rahu eating up your Fate and Destiny). Evil spirits and Demons won't dare to approach.
You should chant the Kata as many times as your age, plus one more recitation.
This means, that if you are lets say, 35 years old, that you should chant the Kata 36 times. This is known as chanting 'Tao Aayu'. Tao Aayu chanting will improve your Karma in the most effective ways.
Bucha Pra Rahu for Wednesday Ceremonies, and for the Eclipses
You should make Bucha offerings to Pra Rahu every Wednesday, and on days when there are Lunar and Solar Eclipses.
Kata Surya Buppaa (Kata to be chanted in the daylight)
Gusaedto Ma Ma Gusaedto-dto Laalaa Ma Ma Dtolaamo Tolaamo Ma Ma Tolaamo Ma Ma Tolaamodtang Haegudti Ma Ma Haegudti
Kata Jantrabupbhaa (Kata to be chanted in the night time)
Yadt-thadtang Ma Ma Dtangthaya Dtawadtang Mamadtang Wadtidtang Saegaa Ma Ma Gaasaegang Gaadtiyang Ma Ma.Gaadtiyang Ma Ma Yadtigaa
When you begin to Bucha Rahu Deity, you should make the first ever session in the Evening of a Wednesday (any time from 7 pm onwards). After you have done this once, you can make Wednesday Bucha in the daytime if you wish.
Kata Pra Rahu Kam Duang
Om Namō Hōdti Om Namō Puttassa Om Namō Tammassa Om Namō Sangkassa Seuyya Thītang Hurū Hurū Swāhāya
The Takrut is Stamped with the code stamp of Wat Mae Ya for Authentication purposes. This amulet comes with tubular steel capped casing included and already encased.
The first time you must include the food offerings of black foods as well as the black incense. The second time onwards only the incense is necessary in the daytime if it is a lot of trouble to get the food offerings. Light 10 black incense sticks ('Toop' in Thai), and five types of black offerings (e.g. black sticky rice, black jelly grass drink, black semolina or sago pudding and the like
This Takrut is very useful for Increasing Good Fate and Fortunes, Removing Obstacles, protecting oneself from Physical Dangers and Black Magic, and Increasing Wealth and Treasures
The Takrut contains an ancient Yantra Spell with Incantations, of the ancient Dtamra in the possession of Pra Ajarn Gorp Chai at Wat Mae Ya. Pra Ajarn Gorp Chai has produced a large variety of different Takrut Yantra Spells derived from the annals of the Sacred Grimoires of Lanna Sorcery which he has amassed at the temple Museum.
Below; Pra Ajarn Gorp Chai performing Buddha Abhiseka Ceremonial Blessings
He has Mastered and is preserving the various Wicha, by making amulets using the formulas contained within these Grimoires. The many different kinds of Takrut and other amulets he is making, are very rare and many have been lost to common public knowledge in modern times, for which Pra Ajarn Gorp Chai is meritoriously reviving their existence through creating these, and his other limited series amulets.
He also preserves their importance by not overproducing each type of amulet, preferring to make many varieties, but only very small limited numbers of each variety. He does not produce for major distributors, and only makes them for his devotees.
Pra Ajarn Gorp Chai has thus not only brought us an authentic Ancient Sorcery Spell of Ancient Times, but has preserved the Wicha for many future Generations, by reviving true knowledge of its existence, uses and meanings, and methods of making, for the preservation of this truly inimitable spell of the Lanna Magical Arts.
We pray that Pra Ajarn Gorp Chai continues to present us with these highly limited editions of indvidually hand made Amulets, which Pra Ajarn inscribes and empowers, and constructs all by himself without any machinery or mass made methods of production.
He creates them using the same methods as used in olden days, as the Lanna Masters would make the amulets with their own hand. He does this without the assistance of mass made components, or modern machinery. Ancient Masters of olden days used their own precious time and efforts and Meditations to create and empower each amulet one after the other, passing through the hands and incantations of the Master one by one.
Pra Ajarn Gorp Chai is a lineage master of Wat Mae Ya, following in the tradition of his Kroo Ba Ajarn, Luang Phu Thin (Current Abbot) and the Great Luang Phu Kroo Ba Ban. Wat Mae Ya is the temple of the Late and Great Kroo Ba Ban, considered to be a High Arya Sangha (said by his devotees to have attained Samabhatti). Pra Ajarn Gorp Chai is continuing the Wicha and Traditional Amulet making of the Great Kroo Ba Ajarn; Luang Phu Kroo Ba Ban, the ex Abbot of Wat Mae Ya temple.
He is proficient in the Wicha of Lanna Amulet making and in addition, a Master of Kata Akom and Agkhara Lanna Magical Script, and Sak Yant Thai Temple Tattoos. Pra Ajarn Gorp Chai refuses to allow himself to be tempted to invent any modernisations, and maintains the integrity of the Northern methods of Lanna Sorcery.
The amulets of Pra Ajarn Gorp Chai are amongst the most highly recommendable and authentically empowered with the inimitable personal touch of the master, which is becoming ever harder to find in modern times. it is our duty to discover and present you with the best amulets with authentic Wicha, and this is the reason why Pra Ajarn Gorp Chai has become one of our top recommended masters.
These days, it is truly difficult to find a Master who still uses this old-school method of personal applied Wicha and without assistance from third parties. We can most highly recommend the amulets of Pra Ajarn Gorp Chai most highly for this reason, that each amulet is made solely by the hand of the monk, and individually empowered in the process.
Save this product for later