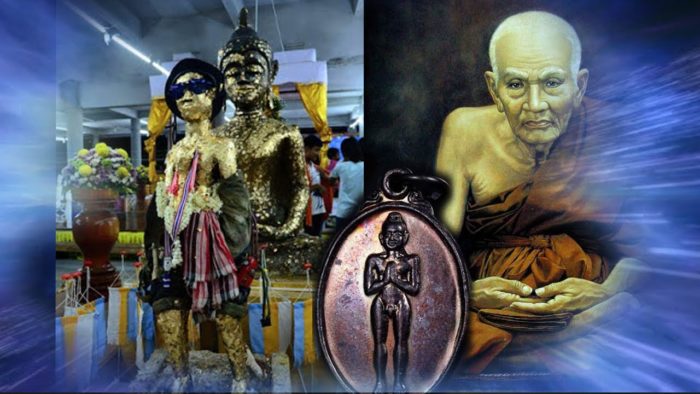 Ai Khai Dek Wat Chedi, is a Deva, who is famously represented as a statue in the temple of Wat Chedi in Nakorn Sri Tammarat, made of wood, representing a boy around the age of 9 or 10 years old. The statue wears a commando's uniform, and dark sunglasses. Devotees flock to the temple to beseech blessings of wealth every day, and lottery wins for themselves or family members.
On the 13th – 17th April each year, a ceremony to make merit and wash the statue of the Buddha as is ubiquitious in Thai Songkran (New Year). The image of Ai Khai is also bathed in this ceremony as the deity of the common folk, who raises them from poverty to riches.
Ai Khai Dek Wat Chedi, is a Thai Animist/Necromantic Child Ghost Deity, who is said to be the spirit of a young ten year old Samanera Monk. It is believed that Ai Khai was a young Samanera Monk who was on his travels with the Great Luang Phu Tuad, of Wat Chang Hai, who took him along with him on Tudong Forest Wandering. The legend states that when Luang Por Tuad stopped to 'Pak Glod' (set up umbrella and mosquito net for meditation in the forest, he saw that the temple of Wat Chedi and vicinity was full of great treasures, and the temple was empty and without any monks to stay there.
So he told his apprentice the young Samanera Ai Khai, to remain and guard over the temple. Apparently the young Samanera died, and his spirit remained to guard over the temple. Local folk believe that Ai Khai Dek Wat Chedi is empowered to fulfil all wishes, and to be able to invoke lottery wins, and other auspicious blessings. Devotees flock to the temple every day to pay respects and Bucha, and beg for lottery wins, riches, good jobs and for their friends and family to be bestowed with great blessings.

The image of Ai Khai has been made on various occasions as amulets for devotees to wear and worship, with the first edition being made in the year 2546 BE. The Deity Ai Khai, is said to work with similar powers to that of the Rak Yom and Kumarnm Tong, with the difference being that Ai Khai was a Samanera Monk with precepts, and will onnly work for the cause of the good and welfare of the devotee, but not to harm others, although will protect against all enemies and thieves without having to harm them badly.
The temple of Wat Chedi was empty and dilapidated for over 1000 years before it was restored and reinhabited by monks in around the year 2500 BE when it was found and restored to its original state. A new uposatha Building was installed, but as the workers were building who were sleeping in the area went to bed, many complained that they could not sleep, for the sensation of a little child pulling their arms and legs, and dropping objects on the floor.
The local folk and Devotees of Wat Chedi like to call this Guardian Spirit 'Ai Khai' and some others call him 'Ta Khai', and even 'Baaw Khai' (a southern term used for a boy or young man). It is however argued that his proper name should be 'Ai Khai', because 'Ta Khai' means 'Uncle Khai' and the Deva always appears as a little boy, the name of 'Uncle' is not fitting.
The name of the Deva only became 'Ai Khai' after the construction of his statue at the temple of Wat Chedi, when Ajarn Tiang had a Nimitta vision of the Deva appear and order him to arrange for the building of the statue, sometime around the year 2523 BE. In the Nimitta, the boy took of his outer clothing to reveal he was wearing a Jivara Novice Monk's Robe. The spirit then said that the statue should be made for his spirit to inhabit as a source of emanation of wealth magic, and said 'I am Ai Khai, Dek Wat Chedi" ( I am Ai Khai, the boy guardian spirit of Wat Chedi). Since then, the spirit has been known as 'Ai Khai'
Bucha Method for Ai Khai Dek Wat Chedi
Light three sticks of Incense, and make your prayer and request (such as 'let me win the lottery' or 'let my son get a promotion' and say what one will give in return if the wish is fulfilled, such as 'if i win 1 million, i will donate 100,000 to the temple' or 'if i win a million, i will donate 100,000 to help orphans, and share the merits with you' or whatever your decision of repayment may be.
Offerings to Ai Khai Dek Wat Chedi;
Milk, Sweet drinks, Red drinks, soldier's uniform items, or police uniform items, Fireworks (especially favored), rooster statues or statuettes, sunglasses, sweets, water to drink and bathe, toys and other things little boys like.
Important things to know about placement of the amulet for Bucha
Ai Khai should not be placed on the same altar as any Buddha images or monks, and should have his own separate Bucha area, facing northwest.  If your room has the bathroom to the northwest, then Ai Khai should not be placed facing the bathroom, and can be put inside a cabinet instead, or a special box on his altar.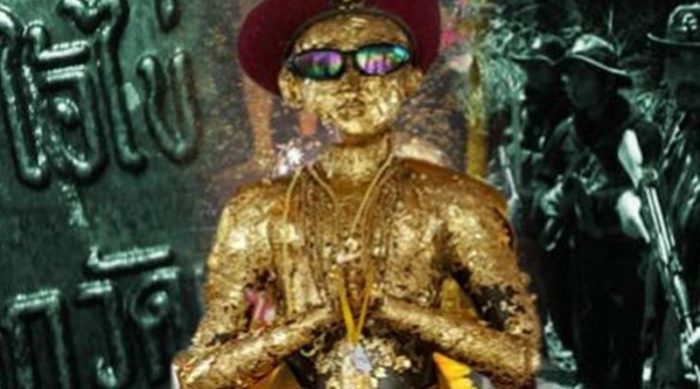 Do not use the receptacles, bowls and glasses used to give offerings to Ai Khai for your own use also, and keep them specially separated for the sole use of offerings. All the vessels (plates cups and bowls) used for offerings should be all placed on a tray together before offering, and not placed one by one on the altar. The receptacles should not come into contact with the surface of the altar, for which the tray is used instead.
Bucha Ai Khai on Saturdays and Buddhist Holidays (good for praying for good health), and if beseeching lottery or wealth, for yourself, at best perform Bucha and prayers on your birthday. Offerings need only be given on the above occasions, but his water should be changed every single day.
A piece of red cloth should be placed underneath the image of Ai Khai for proper Bucha.
You must never forget to repay wishes fulfilled by keeping your pacts with Ai Khai and paying your dues in whatever way you have agreed to as you prayed for the miracle.
Ai Khai loves truth and truthful people, and will bestow the highest blessings on those who remain in Truthfulness. if you need to avoid being truthful or speak an untruth, in the presence of Ai Khai, you should cover him with a piece of cloth, but remember,, you cannot cover your own conscience. Make sure the only times you lie or evade truth, is for positive and auspicious reasons, and never dishonest ones. if not Ai Khai will not bestow large blessings.
Kata Bucha Ai Khai Dek Wat Chedi
Idti Idti Kumarn Khai Chedi Ja Mahaa Thaero Laapa Laapaa Pawandtumae
---
---