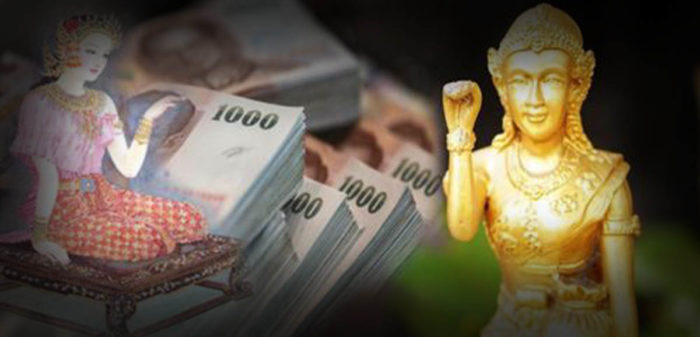 Nang Kwak, or 'Mae Nang Kwak', is the Thai Goddess for Beckoning wealth. Mae Nang Kwak, is seen as a statue or as an amulet, worshipped by almost all Thai Buddhist People. Nang Kwak amulets are used by merchants, shopkeepers, and also by those who wish to attract mercy charm from others, and kindness and generosity from those who one meets on one's daily travels, just like Nang Kwak herself.
Below; Nang Kwak Nuea Nga Gae Carved Ivory Amulet LP Derm Puttasaro Wat Nong Po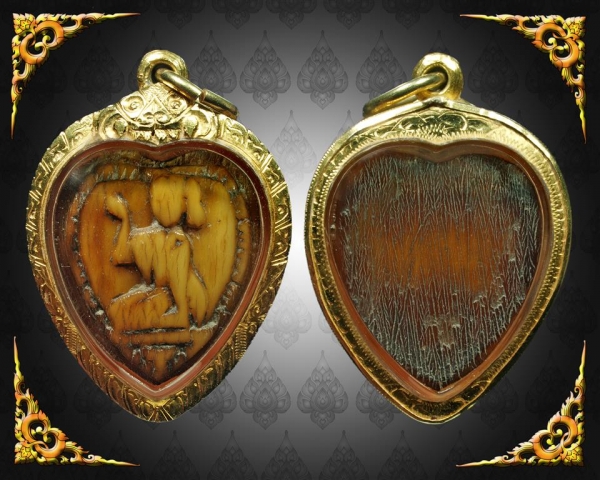 Nang Kwak is the helper of all shop-owners and merchants. The Nang Kwak Deity is normally seen placed on a high shelf (normally a wooden or red and gold lintel, called 'Hing' in Thai) . Nang Kwak is usually offered "Nam Daeng" (a red syrupy drink, often used in Bucha offerings to Deities in Thai Buddhist practice), Incense (5 sticks), and flower garlands are offered to please Nang Kwak, and to ask her to bring customers, and make good sales.
Kata Nang Kwak
Kata Nang Kwak is an Incantation used when paying devotional merits to Nang Kwak, who is used in the place of business to increase the amount of customers and sales you may ingress. Nang Kwak is a very popular statue, or even sometimes seen as a magic cloth Yantra (Pha Yant), used in most business establishments in Thailand. You can also see Nang Kwak worshiped as a miniature portable amulet, especially popular with ladies in the selling professions.
Below; Yant Nang Kwak, with Khom Agkhara spell inscriptions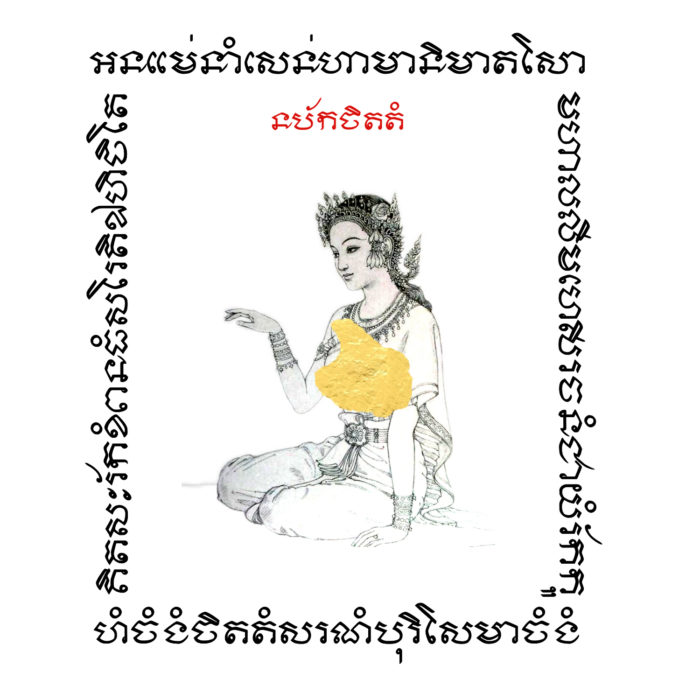 In Thai folklore, Nang Kwak holds a prominent place as a revered figure intricately associated with prosperity and unwavering devotion. This beloved deity has captured the hearts and minds of countless individuals, particularly those engaged in commerce and trade. As we delve into the origins of Nang Kwak, we embark on a scholarly journey to uncover the essence of this spiritual icon within the realm of Thai folklore.
Depicted as a beautiful woman, Nang Kwak is often portrayed donning a traditional red dress, inspired by Thai and Laotian cultural aesthetics. A golden crown adorns her head, signifying her elevated status. Positioned in a serene sitting or kneeling posture, Nang Kwak's right hand extends in the distinctive Thai gesture of beckoning, symbolizing the allure of prosperity. Meanwhile, her left hand rests calmly at her side or cradles a bag filled with golden treasures.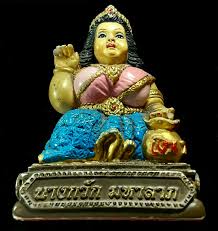 Nang Kwak's evolution can be traced back to her ancestral predecessor, Mae Po Sop, the Siamese rice goddess. While drawing inspiration from the Hindu goddess Sri Lakshmi, Nang Kwak's true roots lie in local folklore, interwoven with the rich tapestry of Thai cultural heritage.
According to one account by Spencer Littlewood, an esteemed authority on Thai mystical traditions, the tale of Nang Kwak dates back to a time preceding the widespread dissemination of Buddhism approximately 2500 years ago. In the Indian province of Sawadtii, within the small town of Michigaasandhanakara, a modest couple named Mr. Sujidtaprahma and Mrs. Sumanta eked out a humble existence as merchants, barely earning enough to sustain their modest family.
Their aspirations for a better future led them to expand their business endeavors. Acquiring a gwian, a cart that facilitated travel to neighboring towns and villages, they sought new markets and opportunities. Their daughter, Supawadee, often accompanied them on these journeys, lending a hand in their trade. It was during one such excursion that Supawadee's life took a transformative turn.
Fortune smiled upon Supawadee when she had the privilege of listening to a sermon delivered by Phra Gumarn Gasaba Thaera. Deeply moved by his teachings, she sought refuge in the Triple Gem, embracing the path of faith and devotion. Recognizing her unwavering commitment, Phra Gumarn Gasaba Thaera, an enlightened Arahant, bestowed blessings of prosperity and salesmanship upon Supawadee and her family. These blessings grew in potency each time she diligently immersed herself in the teachings of Dharma.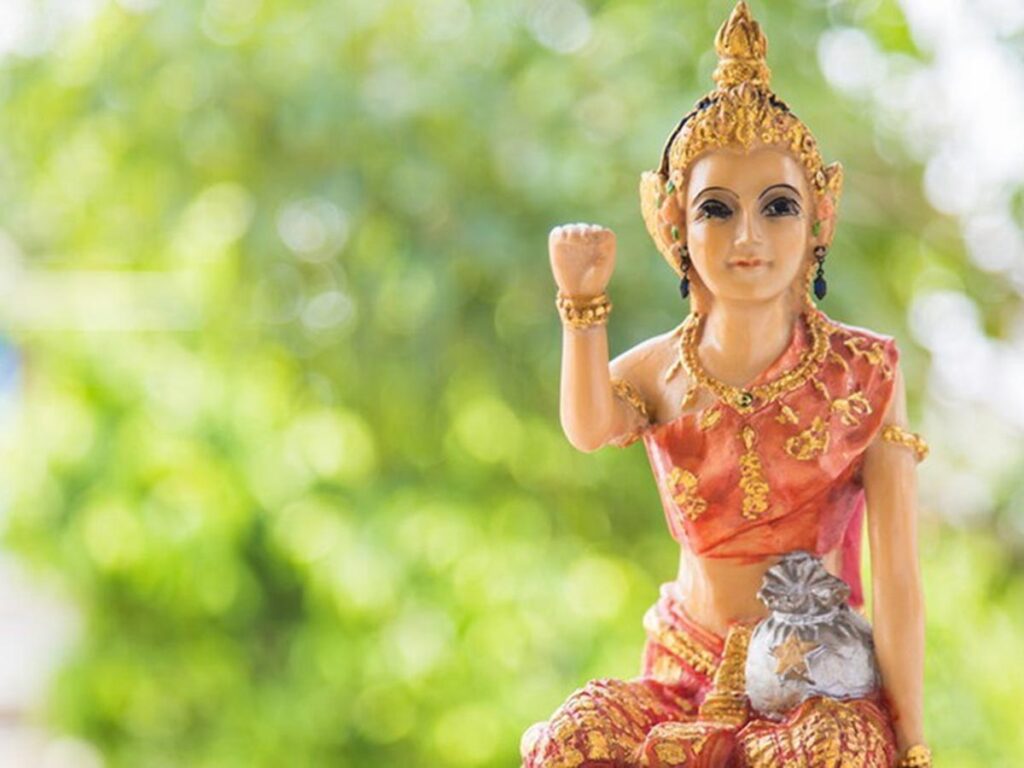 In an alternative narrative proposed by Ajarn Spencer Littlewood, Nang Kwak emerges as the daughter of 'Phu Jao Khao Khiaw,' known as the 'Grandfather Lord of the Green Mountain.' This mythical figure, also referred to as 'Pra Panasabodee,' held dominion over the Jadtu Mahaa Raachiga realm, a higher celestial plane of the four asura kings. Taw Gog Khanag, a friend of Phu Jao Khao Khiaw and an Asura demon, faced a curse inflicted by Pra Ram, the Thai adaptation of the legendary figure Rama. The curse bound Taw Gog Khanag to Pra Sumen, a symbolic mountain, leaving his daughter, Nang Prajant, to navigate life without her father's guidance. To ease Nang Prajant's struggles, Her father dispatched Nang Kwak to serve as her companion. Blessed with great merit, Nang Kwak attracted merchants and nobles from far and wide, bestowing her and her father with gifts of gold, silver, and wealth through their purchases. Nang Prajant's fortune flourished, and she enjoyed a life of abundance and comfort.
These legends, deeply rooted in ancient lore, have forged an enduring connection between Nang Kwak and the realms of commerce and prosperity. Throughout history, devotees have sought her blessings, employing figurines and cloth posters known as Pha Yant or Yantra Cloths in their homes and shops. Many wear amulets bearing her image, considering them indispensable talismans as they navigate the intricate world of trade and business in Thailand.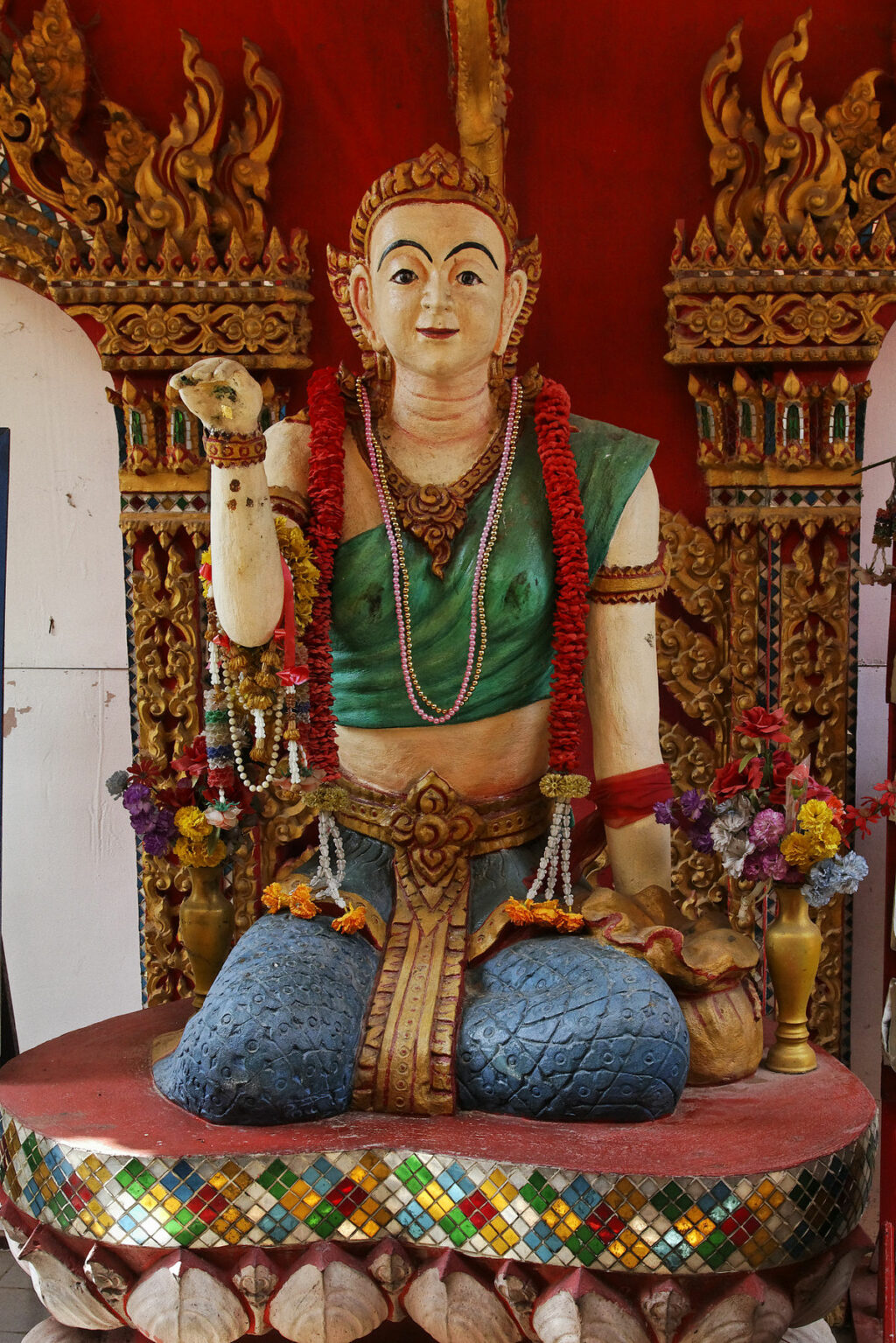 Reflecting upon the tales of Nang Kwak, we are transported to the realm of Thai folklore where devotion intertwines with material aspirations. Her image, an embodiment of prosperity and abundance, serves as a steadfast reminder that diligence, faith, and mindful practice can unlock the gates to success. Whether seeking her blessings in a bustling marketplace or within the quiet confines of a cherished abode, the legend of Nang Kwak persists as a beacon of hope, guiding merchants and devotees towards a prosperous future.
---